Here is some rare color footage of Hollywood fashion of the 1920s featuring actresses from the early talkies and the silent film era. This is the type of Hollywood glamour we try to replicate today. Are you a fashion designer, illustrator, model or a stylist? You should love this. A Mary Pickford Hair tutorial is included.
We see Laura La Plante, Corliss Palmer, Edna Murphy, Jeanette Loff, Barbara Bedford. The film ends with Ruth Elder who was an actress and a pilot. They even show her with her airplane.
Jeanette Loff worked with actors the likes of Rod La Rocque and James Parrott. In the silent film Love Over Night (1928), she costarred with Richard Tucker, the first official member of the Screen Actors Guild (SAG). Loff
was only 35 when she died in 1942.
Edna Murphy was voted "Most Photographed Movie Star of 1925" by ScreenLand Magazine. If that was today, Edna would be featured by entertainment TV shows and seen on magazine covers at every store checkout
stand in the country.
Link below to open links referenced on the video. Can close the popups and/or open the YouTube page in a new window.
Edna Murphy Film Daily June 12, 1921
Her films included
45 Minutes from Hollywood with Theda Bara, Laurel & Hardy and Janet Gaynor, Into the Net with Constance Bennett, Ridin' Wild (1922) and Tarzan and the Golden Lion with James Pierce and Boris Karloff.
Ruth Elder
Ruth Elder

"was a movie actress and aviation adventurer. Her first fifteen minutes of fame came at a propitious time in 1927 just five months after Charles Lindbergh crossed the Atlantic. She and Register pilot George Haldeman made an attempt to cross the Atlantic together in a yellow Stinson Detroiter named "The American Girl" (NC1384, not a Register airplane)." ....
In 1929, Ruth Elder was a competitor in what was known as the Powder Puff Derby. "In the shadow of the unsuccessful trans-Atlantic effort, Ruth kept her chin up and entered the first Women's Air Derby.
"She flew against the best of competition and finished in the money. Flying her Swallow NC8730, she placed a reasonable 5th behind the likes of Louise Thaden, Gladys O'Donnell, Amelia Earhart and Blanche Noyes."


-- excerpts from article, see below
You can drive along Laura La Plante Road in Agoura Hills, California. Her last films included King of Jazz (1930) with Bing Crosby, Arizona (1931), with John Wayne, God's Gift to Women (1931) with Joan Blondell and Man of the Moment (1935) with Douglas Fairbanks, Jr.
1921 Clay & Bock
Susini Tobacco Cards, Cuba
In May, 1954, Laura LaPlante (then Mrs. Asher) had retired from show business. She appeared on the show, You Bet Your Life with Groucho Marx. [Shhhh. The secret word was House.]
Corliss Palmer was in films with Walter Pidgeon, June Collyer, Noah Beery, Jason Robards Sr.,
Richard Barthemless and Thelma Todd, Alphonse Martell and even famous Strongheart the Dog. She is known for Leo McCarey's 1926 Bromo and Juliet which also featured Charley Chase and Oliver Hardy.
By the way, Stan Laurel and Oliver Hardy had both appeared in the same film before but not worked together. They would not make a film as a double act until Putting Pants on Philip in 1927.
Barbara Beford's birth name was Violet Rose. On the British comedy, Keeping Up Appearances, Hyacinth Bucket has sisters named Violet and Rose (and Daisy).
Barbara Bedford appeared in The Last of the Mohicans (1920) and a Tod Browning movie, Man Under Cover with Herbert Rawlinson, George Hernandez and William Courtright. She made The Big Punch with Buck Jones in 1921. Her 1922 silent film The Power of Love is said to be the very first 3D feature film worldwide. The flat or 2D version was screened with the title, Forbidden Lover.
Give yourself a Mary Pickford Inspired Hairstyle (1920's). She points out that yes they did have curling irons in the 20's! :-)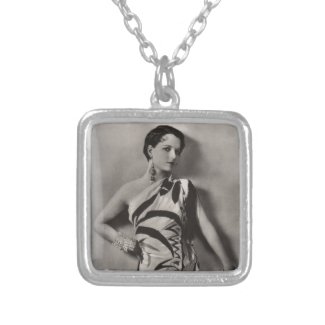 Louise Brooks Necklace
by
VintagePostcard
Make
custom photo pendants
There are many Louise Brooks and Ziegfeld items at Zazzle.
Mechanical Maria Vintage Movie Poster
by
VintageArtCabaret
Find more Vinatge Posters at
Zazzle
Related Pages of Interest:
Amelia Earhart Anniversary: Inspiration
William Powell and Carole Lombard married 1931-1933; their sapphires, My Man Godfrey. Pre-Jean Harlow and Clark Gable
Dressing Male Hollywood Film Stars of the 1930s-1950s, Provide your own clothes, tax deductions and more Clark Gable, Robert Taylor, William Powell, Spencer Tracy, Peter Lorre ....
Project Gemini Corned Beef Sandwich in Space, Gus Grissom
Laurel & Hardy Putting the Pants on Philip : Celebrate w/ Pants, Shirts songs
Ducks and Geese in film and classic television: Fowl on Film
Sources Cited, More Information:
Ruth Elder page at the Davis Monthan Aviation Field
YouTube web site to open popup links referenced on the Hollywood Glamour video above. These are some outstanding videos and they deserve Likes and comments.