Bill Powell, Jean Harlow and a diamond ring
From 1934 stories began buzzing about Jean Harlow and William Powell. Were
Powell and Harlow
Premiere of Escapade 1935

they a couple, would they marry or wouldn't they? As with every other couple in the news, any piece of jewelry adds to the speculation.
They appeared in two films together, Reckless (1935) and Libeled Lady (1936). They never had a love scene or so much as a passionate kiss in a movie.
In Reckless, Powell's character, Ned Riley finally accepts how much Harlow's character, Mona means to him, he decides to ask her to marry him.
He buys Mona a ring. Then he sees in the paper that she's eloped with someone else. He gets falling-down drunk and those closest to him say they didn't know how much he loved her.
Harlow, born Harlean Carpenter in Kansas City, Missouri, was the original blonde bombshell. Before Marilyn Monroe, there was Jean Harlow. Powell was raised in Kansas City. Though their families were in the same town,
they didn't meet until both were adults acting in Hollywood.

She was the original platinum blonde Hollywood star.
He was 19 years older than she was. Not an
Powell greets Harlow with
"a fervent kiss and a hug..."
Will they marry?
"The platinum blond, however
did not deny that a romance
was flourishing." July 1935

unheard-of age difference especially by Hollywood standards. The age difference in relationships can be 20, 30, 40 years and up.
In 1933, she made a pre-code film called Bombshell where she plays Lola Burns, a sexy blonde star of the movies. The character has to deal with a free-loading family and other problems that come with being an on-screen sex goddess, a vamp in movies. Aspects of this movie rang true with Harlow's life.
By the time she met William Powell in 1934 Harlow, age 23, had been married three times. He had been married twice. Later she called Powell the love of her life.
Joan Crawford was an original choice to play opposite Powell and Franchot Tone in the 1935 film Reckless.
MGM wanted to capitalize on the excitement over the Powell/Harlow romance. David O. Selznick cast Jean Harlow in the role instead. The film's trailer calls the pair, "The most talked about couple in Hollywood."
Another similarity between the Reckless film character and Harlow's real life: Her husband Paul Bern (like the husband of her character, Mona Leslie) had committed suicide two years earlier. Joan Crawford was Franchot Tone's real life wife at the time. Rosalind Russell was among the other stars of the film.
In 1935 and 1936 there were reports that Jean Harlow was helping to decorate Powell's house. Sometimes they said Harlow and Carole Lombard were helping him as a team! Gadget-lover Powell preferred push-buttons over doorknobs in his new home. Walls opened up to form larger rooms or make them smaller again.
Bill greeted Jean at the airport with a hug and a kiss. What did that mean?? Interest in the couple seemed insatiable. No Jean Harlow biography would be complete without covering her love affair with William Powell.
Jean Harlow, the authoress
There was quite a bit of talk about Jean Harlow, the authoress. Not all gifts that Powell gave to her were pieces of jewelry.
"Jean Harlow confided to a close friend not long ago that she had never been so much in love as she was with Bill Powell. 'I never knew what love meant before,' she said. 'I'm almost afraid of it.'
"How did Bill, polished suave gentleman of the world, intrigue the imagination of the lovely blonde Harlow whose sex appeal has caused many a gentleman to go into dithers?
"I know one thing he did that pleased Jean more than anything else. One day there was a ring at her door and there arrived two uniformed messenger boys carrying two huge and heavy packages.
"Jean opened them and found two enormous bales of writing paper, one yellow foolscap the other of white bond paper, with several boxes of clips, two erasers, and four dozen pencils. With the paper was a note from Bill which said, "Just fill these all up with words."
Jean Harlow and William Powell
It says they're "seen constantly together"
"Jean was hard at work on the one job that she adores above everything else, the writing of her book. Being an important screen star means nothing to Jean compared to becoming an important authoress. Bill had overheard her remark the evening before that she never seemed to have enough paper. And you know if you write, you never do!
"She loved the thought behind this present. She loved Bill's appreciation of her innermost heart's desire, to be a writer. The present meant more to Jean than half a dozen bracelets because it showed her that Bill really thought about Jean the person." -- Silver Screen, 1935
A while back I read something at a jewelry web site: In 1936, Powell proposed to Jean Harlow with a diamond ring. "Harlow accepted the proposal, but refused the ring. The platinum blond actress felt a large star sapphire would better fit her glamorous life style.
"Powell, no doubt chagrined that his first ring was rejected, acquiesced and purchased a large star sapphire, but one of lower quality. This time the ring was accepted and Harlow proudly displayed the bauble in her final film, Saratoga."
Jean Harlow, William Powell and Spencer Tracy in a scene from the colorized version of Libeled Lady. Myrna Loy also starred. Powell and Harlow's characters are pretending to be married.
1936 A Diamond Ring on her engagement finger...
Is that diamond on Jean's finger from Bill?
Fall 1935
"Jean Harlow, thrice-married platinum blonde movie beauty, today was wearing a diamond ring 'large enough to weigh down her engagement finger' when she appeared for work at the Metro-Goldwyn-Mayer studios.
"Appearance of Jean with the huge sparkler at once caused a revival of reports that she was engaged to marry William Powell, handsome motion picture star.
"Jean smiled in the manner of a school girl when asked if the ring had been given to her by Powell.
'I have nothing to say -- absolutely nothing to say one way or the other,' she blushed.
"And Mr. Powell was conspicuous -- by his absence."
When it came to the ring, for the most part, they were noncommittal, just flashing smiles if asked. Once, Powell told a reporter that the diamond ring was really a gift from Jean's mother. Too bad had it been sized incorrectly so it only fit on her engagement finger.
Powell also commissioned a custom bracelet made for her including charms in the likenesses of her two Persian cats.
A late 1936 newspaper tidbit found them in Santa Barbara, "a hundred miles from Hollywood shopping for kitchen equipment.
"'We couldn't get married even if we wanted to,' complained Jean. "Because my divorce from Hal Rosson isn't final yet.' Ah those kiddies!!" Later news flashes reported the two of them looking for utensils and pots and pans. Harlow married Rosson in September 1933. Their separation was reported in May 1934.
Suggestions of a Harlow-Powell elopement was just about the extent of the steamy stuff for this couple. It's almost as though what is not said is more telling that what is said. Compare it to this....
Myrna Loy starred in The Barbarian with Ramon Novarro. According to Loy, "'We became friends on that film, but the studio exploited it. I picked up a newspaper and discovered the intimate details of our torrid romance, which apparently was common knowledge to everyone but the participants."
--
Hollywood Romantic Comedy: States of the Union, 1934-1965
(from Loy's memoir, Myrna Loy: Being and Becoming)
Harlow and Powell
Newspapers had been counting down days until Harlow's divorce would be final suspecting that she and Powell would elope.
There was the story that the two of them were sharing the home of 'a friend out in the desert' where
Jean was enjoying keeping house and cooking. But of course a small group of friends was also living there with them.
Years after Harlow's death, her friend Marcella Rabwin, David O. Selznick's personal assistant said, "It was her greatest joy. They had a very, very happy time together and I know that they were planning marriage because she told me so."
An article tells us that in the early 1930s when dating and married, Bill used to write Carole Lombard "little notes almost every day of their lives. Tender little notes. Humorous little notes." Later, we read about his writing notes to Jean Harlow, too.
May 11, 1937
Another newspaper clipping;
Powell & Harlow don't want to spoil their relationship with marriage



"From 1912 to 1937 Powell has been in a continual state of love. He married two of the charmers who captured his heart, stage actress Eileen Wilson and screen star Carole Lombard. He was divorced from both of them emerging from his matrimonial brushes unsure that marriage could solve his need for feminine companionship.





"Today he loves and is loved by Jean Harlow, of the voluptuous curves and flaming appeal. But Bill is afraid to take the chance of destroying whatever is holding them together by the harsh realities of marriage."

May 1937
The next installment: That 152 carat star sapphire ring...
"William Powell just gave Jean Harlow a ring — a big, flashy, perfectly gorgeous ring such as any woman would give her eye-teeth to own. It boasts one 152-carat star sapphire, not to mention a few husky little diamonds .... '

"
-- excerpt from
Picture Play magazine, January 1937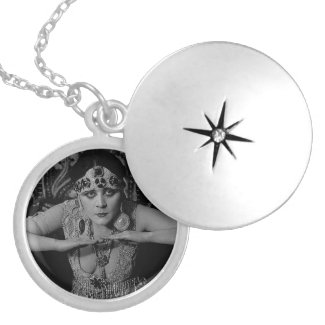 Theda Bara 1917 Personalized Necklace
by
twelfthhouse
Browse other
Theda Necklaces
Links to Related Pages of Interest:
Sapphires Old Hollywood, Symbolism, September Birthstone
Dressing Male Hollywood Stars in the 1930s-50s, Provide your own clothes Spencer Tracy, William Powell, Robert Taylor, Robert Montgomery, Cary Grant .....
Carole Lombard and William Powell married 1931-1933; their sapphires, My Man Godfrey. Pre-Jean Harlow and Clark Gable
Gems on The Mohs Scale of Mineral Hardness Diamond, Sapphires, Emeralds, Opals, Amethyst...
Engagement Rings: Colored Gemstone Sapphire & Emerald, Princesses Diana and Catherine, Joan Crawford and Elizabeth Taylor, Halle Berry and Penélope Cruz ....
Harlow, Powell, Rosalind Russell, Franchot Tone in Reckless 1935 Many more stars
About some of the sources quoted in posts:
Items in fan magazines, especially at that time, were usually at least approved by the studios. What's found then through today in magazines, newspapers, books, including biographies and even some memoirs can be accurate, partly accurate, misremembered and skewed for whatever reason. It's probably not always intentional. Then there's always something contradictory.
Since there's so much available and so much still to be written, I decided to focus mainly on accounts of the time they were living. And here a lot is about the jewelry.