Dolls and Wooden Dummies
of The Twilight Zone
Part two

This is part of a short series of pages on this topic. This page talks about:
The Dummy
Miniature
The New Exhibit
Some information on the silent film A Trip to the Moon

~* The Dummy *~
May 4, 1962 : Season Three
Cliff Robertson, as
Jerry Etherson, a

ventriloquist who becomes controlled by his dummy, Willie.
To escape the torment, Jerry tries drinking. He works with a different dummy, Goofy Goggles. Willie gets locked in a trunk. The plan is to leave town. Jerry's agent suggests the need for psychiatric help.
When Jerry asks a lady for a date, his manner becomes irrational and he frightens her away. Will Willie win??
And Why?
Twilight Zone Cliff Robertson Ventriloquist 8x10 photo
~o~o~o~ ~o~o~o~ ~o~o~o~
Pinocchio aside, puppets, ventriloquist's dummies, figures, marionettes, etc. have gotten a really bad rap in science fiction. In 1967, Season two of Voyage to the Bottom of the Sea had an episode called The Deadly Dolls. Part of the horrifying happenings include puppets, created by machines from the future that have traveled into the present!
Edgar Bergen is one of the most famous ventriloquists of all time. He even had a successful radio show. A ventriloquist on the radio is a successful ventriloquist.
Frank Marshall: Jerry Mahoney's Creator-- What's My Line, Paul Winchell on panel Word is Candice Bergen is doing a film about her father's life
WoodFellas Tshirt Are you a fan of the film, Goodfellas? :) by HeppCat
Retro Vintage Kitsch Romance Kiss Three's a Crowd T-shirts Is this guy a friend of Willie, the dummy in the Twilight Zone episode?
Will he start running your life for you? Watch out! The Dummy starred Cliff Robertson Willie, The Dummy, Articulated 8" Action Figure
Each exceptionally lifelike character features authentic fabric clothing Will he get along with Barbie and Ken? GI Joe?
"What's known in the parlance of the times
as the old switcheroo, from boss to blockhead in a few uneasy lessons. And if you're given to nightclubbing on occasion, check this act. It's called Willie & Jerry, and they generally are booked into some of the clubs along the 'Gray Night Way' known as the Twilight Zone." ... The Dummy
Rod Serling 1959 Interview pre-Twilight Zone interviewed by Mike Wallace
~* Miniature *~
February 21, 1963 : Season Four
Charley Parkes

(Robert Duvall) has trouble fitting in with society and with his sister and brother-in-law at home. Hanging out at the museum, he falls in love with a small figure of a woman in a dollhouse-type display
. He returns to the exhibit and believes she is coming alive before his eyes.
Put under the care of a doctor, he must convince them that he's fine so he can once more see the woman of his dreams. Will they reunite? Is this union meant to be?
Twilight Zone #14 - 16x20 Inches Photograph High Quality
'Trip to The Moon' : Awards, Home Decor : Ornaments Shhhhh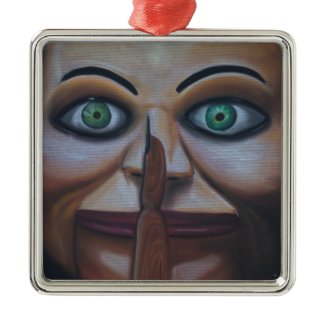 Shhhhh
by
joedragt
More Ventriloquist Ornaments,Decorations
Grace the Dummy mannequin at Saks Fifth Ave store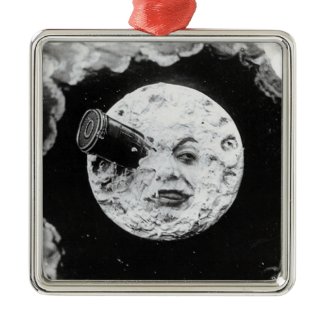 A Trip to the Moon
by
scenesfromthepast
A Trip to the Moon, Le Voyage dans la Lune, alternately Voyage to the Moon, is a 1902 French black-and-white silent science fiction film. It is based loosely on two popular novels of the time, Jules Verne's From the Earth to the Moon and H. G. Wells' The First Men in the Moon.
The Village Voice named it one of the 100 greatest films of the 20th century. The film was directed, produced, written and starring French film pioneer Georges Méliès. A Trip to the Moon is the first known science fiction film, and uses innovative animation and special effects, including the well-known image of the spaceship landing in the Moon's eye.
A Trip to the Moon was just one of 23 films Melies made in 1902. You can get an idea of his range in such titles as The Man with the Rubber Head, The Treasures of Satan, The Eruption of Mount Pelee and The Coronation of Edward VII.
-- Information thanks to TCM Turner Classic Movies and Wikipedia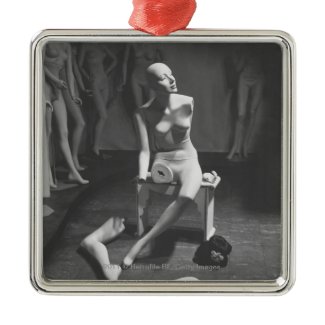 Mannequin with leg and arm removed
Tie on the outside of a package as a hint: I Fall to Pieces or That costs an arm and a leg by retrofile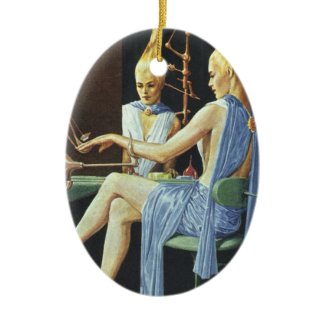 Vintage Science Fiction Spa Beauty Salon Manicures
by
YesterdayCafe
** I got this fun design on a T-Shirt
and I've been stopped twice already by people asking where I got it and who created the design.
Create a personalized photo ornament at Zazzle
Vintage Science Fiction Scientist in Laboratory Courier Bags I can make you a man by YesterdayCafe more Rickshaw messenger bags.
Have you seen the early horror film such as the 1935 Bride of Frankenstein with Boris Karloff as the Monster, Elsa Lanchester as Mary Wollstonecraft Shelley and The Monster's Bride and Una O'Connor as Minnie just to name a few of the players? This was the first sequel to Frankenstein (1931).
We see Dr. Pretorius (Ernest Thesiger) show Dr. Frankenstein (Colin Clive) some homunculi, miniature people whom he's created including a miniature queen, king, archbishop, devil, ballerina, and mermaid. They are in glass containers.
Interesting note, in the original novel Frankenstein or The Modern Prometheus, Dr. Frankenstein's first name was Victor. In these 1930s films, his name is Henry. Some refer to him now as Victor Henry Frankenstein. A later film shows his tombstone bearing the name "Heinrich."
In a 1936 Tod Browning movie, The Devil Doll starring Lionel Barrymore and Maureen O'Sullivan as his daughter. Barrymore's character is able to shrink people to miniature size and some of these mini people do dastardly deeds at his command.
~* The New Exhibit *~
April 4, 1963 : Season Four
Martin Senescu

(Martin Balsam) is an
employee of a wax museum. The museum is set to close and be replaced by a strip mall of sorts. Martin asks if he may have
five wax figures, murderers, from his department--Jack the Ripper, Albert W. Hicks, Henri Bluebeard Landru, Hare and Burke. Mr. Ferguson lets him take them home.
He spends a lot of time with the murderous wax quintet. His wife, Emma isn't pleased to see them, they terrify her. Dave, her brother has an idea of how to destroy the figures. When Emma sneaks off to carry out the plan, in the middle of the night no less, her life is in danger!
"The New Exhibit became very popular at Marchand's. But of all the figures, none was regarded with as much dread than Martin Lombard Senescu. It was something about the eyes, people said; it's the look one often gets after taking a quick walk through the Twilight Zone." ... The New Exhibit
Did you see Vincent Price in the film, House of Wax? Other movies like that? What are your favorites?
Also Available:
Glamour Mannequin Drama Queen Laptop / iPad covers
This is part of a limited series.
Freeze Frame - "Metropolis" - Maria Bag
by
moviebuffs
Design a
custom beach bag
at Zazzle
Links to Related Pages of Interest:
Jessica Tandy and Claude Rains on Alfred Hitchcock Ventriloquist Stories
Where the woodbine twineth- Dolls that may comfort and frighten
Books to help parents and kids going to the hospital For parents, kids, family members going to the hospital; Inform, Prepare, Ease Children's Fears