Ventriloquist's Dummies, Bad Dolls on
The Twilight Zone
This is the third and final part of a series. Talks about the episodes:
Living Doll

Stopover in a Quiet Town

Caesar and Me

1947, 1949 Puppets on TV milestones

~* Living Doll *~
November 1, 1963 : Season Five
Annabelle (Mary LaRoche)

gets her daughter, Christie (Tracy Stratford) a doll called Talky Tina.
The doll repeats "My name is Talky Tina and I love you very much!"

Her stepdad, Erich (Telly Savalas) doesn't like the fact that Annabelle spent the money on a doll.
On this famous episode of The Twilight Zone, Talky Tina and the stepfather don't see eye to eye. The doll has special powers. She is indestructible and the man is not. Tina quickly becomes irritated because Erich does not treat anyone in the house, including the doll well at all. Do you have a fear of evil dolls?
Voice-over artist June Foray was the voice of Talky Tina.
Talky Tina, referred to by some fans as Talking Tina, has some unflattering words for the stepdad such as "My name is Talky Tina and I don't think I like you." Only he hears her say these things.
The episode's original score is by Bernard Herrmann. Have you ever heard Cliff Richard and The Drifters' version of the song, Living Doll from 1959?
4th Dimension iPhone 4 Case
Talky Tina Doll Replica : Gift Idea Photo Opp Talky Tina Action Figure : Comic Con Exclusive, Oooo what she said. Display your creepy dolls for an event, Halloween, Day of the Dead or everyday.
The Twilight Zone Talky Tina Doll Replica - EE Exclusive
This authentically reproduced black-and-white Talky Tina Doll Replica from The Twilight Zone is a lifelike piece that stands 18" tall and features rotocast Vinyl head, arms, and legs; a soft fabric body and fabric clothing; rooted hair; eyelids that open and close and a talking mechanism.
This is an individually-numbered, limited edition of just 1,000 pieces, If you always wanted your own Talkie Tina doll or you want to give one as a gift to the fan in your circle of friends, here's a chance to get a licensed item that will be appreciated and admired.
~* Stopover in a Quiet Town *~
April 24, 1964
Bob and Millie Frazier

(Barry Nelson, Nancy Malone) wake up in a strange house, in a deserted strange town. They vaguely recall leaving a party the night before. Who was driving?? Oh yeah, remember that
on the way home, a large shadow appeared over the car. That was unusual.

Strangeness multiplies inside and outside the house as appliances are only props, food is fake, the phone doesn't work. Animals and even trees outside are fake. No one is around but they hear a girl's laughter. Are they dead? What's going on??
"The moral of what you've just seen is clear: if you drink, don't drive. And if your wife has had a couple, she shouldn't drive, either. You might both just wake up with a whale of a headache, in a deserted village, in the Twilight Zone." ... Stopover in a Quiet Town
~* Caesar and Me *~
April 10, 1964 : Season Five
Jonathan West (Jackie Cooper) is unsuccessful as a ventriloquist.
Little Caesar or just Caesar, his dummy suggests he commit robberies to supplement his income. The dummy has nothing to do with the famous film starring Edward G. Robinson, nor does he have anything to do with the famous pizza chain.

The niece of West's landlady knows the story and will expose him. Will Jonathan go to jail? What's to become of the ventriloquist doll, Caesar? How about the annoying niece? Will she get her due?

Young Candice Bergen joins her father, ventriloquist Edgar Bergen on stage on Hollywood Palace December 1964
1947, 1949 Puppets on TV
October 13 1947: The puppet show series Junior Jamboree, later known as Kukla, Fran and Ollie, premieres on WBKB in Chicago, Illinois
December 27: Puppet Television Theater (later called Howdy Doody), a children's television program, makes its debut (NBC) (1947-1960).
January 25, 1949 : First Emmy Awards
The first person to win an Emmy Award was ventriloquist Shirley Dinsdale (& her puppet Judy). Shirley is star of the children's show Judy Splinters. The awards are given solely to Los Angeles programs.
May 19, 1975
Ventriloquist Shirley Dinsdale appeared on Tom Snyder's late-night program, Tomorrow, live from Hollywood. The other guest was comedy writer Paul Keyes.
In The Big Broadcast of 1937, a group of performing showgirls at a nightclub sit down, pull out top-hatted ventriloquist's dummies and sing along with them.
Actor Don Knotts was a ventriloquist early in his career
Ventriloquist Shirts to Customize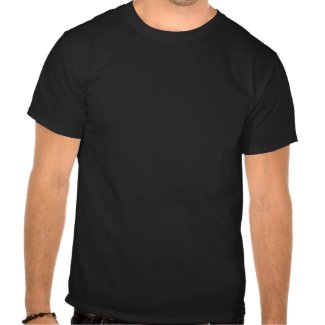 Double Throat Ad T Shirts by clarachandler
Create your own custom tshirts at Zazzle Lots of fun for a dime
Creepy Shirt by mhaukom1
See other Dummy T-Shirts at zazzle
Your Image or Text Here T-shirts by CelebrationZazzle Your own artwork, business logo, image, text, maybe a drawing made by your child :: Size, quantity and style of your choice
Design unique customizable clothing online at Zazzle.
BE HAPPY Clothing by ErniesShop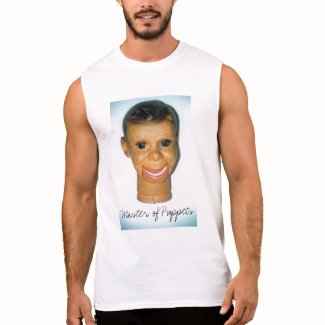 Master of Puppets T Shirt
Charlie McCarthy T-shirts
C

reate your own shirt
online at zazzle.com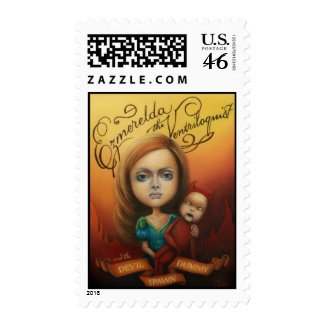 Ezmerelda Postage Stamp
See the assortment of Mobile Phone Cases for iPhone, Samsung Galaxy & Blackberry