Bill Powell, Carole Lombard, Jean Harlow
and Hollywood's biggest star sapphire
Thanks to Willie... "Evidently Bill Powell feels better when his girl friends wear
sapphires. When wed to Carole Lombard he gave her a colossal one set in a ring. Now, thanks to Willie, Jean Harlow owns the largest star sapphire in the movie colony, a hundred and fifty-two carats."
-- The Australian Women's Weekly February 27, 1937
Some of the most famous star sapphire jewelry of the golden age of Hollywood, the 1930s, is the jewelry given to Carole Lombard and especially that given to Jean Harlow by actor William Powell.
Lombard and Powell were married 1931-1933. He was 16 years older. It was her first marriage, his second. They remained very good friends until Carole Lombard's death in a tragic 1942 plane crash. She was married to Clark Gable at that time. Powell was on the list of friends invited to attend her funeral.
Powell was half of another Hollywood super-couple with another blonde bombshell, Jean Harlow. They'd been together for about three years. In December 1936, Powell gave her that huge star sapphire ring. Was it an engagement ring? Tragically, Harlow died unexpectedly just months later. She was just 26 years old.
About William Powell
With Myrna Loy in Libeled Lady: "Bill, have you been proposed to much?"
Actor William Powell, Nick Charles to Myrna Loy's Nora Charles in The Thin Man films, was well liked in Hollywood. Powell and Loy made so many films together that people thought they were married in real life. They were good friends in real life, but only that. Both feared anything more might ruin the close friendship they shared.
Loy and Powell made fourteen movies together. Only six were part of The Thin Man series.
Film critic,

Roger Ebert was a big fan of the films, once saying that Powell "is to dialogue as Fred Astaire is to dance." The Thin Man came out in 1934 and there were five sequels. First was After the Thin Man in 1936 and then Another Thin Man in 1939. The last was Song of the Thin Man in 1947.
Asta, the dog in The Thin Man Movies, was a wire fox terrier whose real name was Skippy. He appeared in other hit movies such as The Awful Truth with Cary Grant, Irene Dunne and a short-haired black cat and Bringing Up Baby with Grant, Katharine Hepburn and a leopard.
William Powell and Carole Lombard wedding
June 26, 1931
Powell was known for maintaining good relationships with girlfriends and wives after breakups. He was also if not a pessimist, certainly a worrier.
In November 1931, Warner Brothers gave Powell a questionnaire to fill out for newspapers and movie magazines. They printed questions followed by Powell's answers. We're told that he used his very own portable typewriter.
His eyes are blue, hair dark brown, height six feet.
William Powell and his wife, Carole Lombard at the races,
Hollywood on Parade Newsreel appx 1932
"What was your ambition during your school days?
Mr. Powell's reply was: 'She had curls. ...'
"What does he do to keep fit?
Carole Lombard Color magazine photo info.
Sapphire ring was a gift from William Powell
She and Jean Harlow gave him decorating
advice on his new home...
'I have a swimming pool. Every day I go up to it and give it a long, piercing
look. I think a lot about tennis and talk a very good game of golf.
"'I worry about almost anything (a very fine worrier in fact). That makes me lose weight and I am fittest when I am lean, so there you are. ...
Favorite outdoor sport? 'Tennis'
"Favorite indoor game? 'Bridge'
His hobbies? 'Carole Lombard' -- who as the reader is probably aware, is none other than Mrs. Powell."
A similar type of article from 1936 tells us that although he's supposed to be one of the screen's best dressed men, Mr. Powell doesn't know much about fashion, in fact he doesn't really care for clothes at all.
He likes to walk around his home naked, "except when it's necessary to wear a dressing gown." His bed is seven feet long, extra wide and he has a special triangle shaped pillow. He likes plenty of room in bed so he can turn in all directions.
He's proud to be an actor. His one big secret is that his middle name is Horatio. Do fan magazines still talk about things like this?
By the way in 1934, the publicity department was talking about William Powell as being "a new star in the MGM sky." Give that man a martini.
Nick Charles knows the right way to shake a cocktail. Surely he'll teach you the dances that go along with the rhythms of the shaking.
Interesting how sometimes when you see Nick and Nora Charles and others in old movies drinking martinis, they're using such small glasses. These days when we watch the James Bond movies, something like Jeeves and Wooster or Sex and the City, we're used to larger Martini Glasses with a generous cone shape on a taller or shorter stem. The glass works for for martinis, Manhattans or margaritas.
Chefs are using the vessels for serving desserts and side dishes. You might even see them at weddings presenting anything from ice cream sundaes to the famous mashed potato bar. The Thin Man would be intrigued.
Carole Lombard and William Powell
Powell and Lombard first met while working together on 1931 films, Man of the World and Ladies' Man. In June of that year they were married.
It's reported that he gave Lombard an 80 carat star sapphire ring.
She chose not to wear a traditional white wedding dress. "She wore a blue afternoon gown and Bill's wedding gift -- a perfect platter of a pin, composed of two star sapphires surrounded by diamonds.
"It would protect her from a machine gun in a front line trench in any old war!
"The sapphires by the way match the color of Carole's eyes. Maybe you think that didn't occur to Bill!"
-- Motion Picture, December 1931
July 1933, in a
Louella Parsons

story about their divorce Lombard simply said, "I must like the man or I wouldn't have married him in the first place."
In December 1933, newspapers reported, "Carole Lombard still wears the engagement ring given her by William Powell -- and prizes it very highly."
Powell suggested Lombard for the role of Irene Bullock in the screwball comedy,
My Man Godfrey. That's always been one of my favorite Carole Lombard movies.
The film would be nominated for six Academy Awards including Powell and Lombard's being nominated for Best Actor and Actress. The classic comedy is a favorite of many to this day. If you want to throw an old Hollywood themed party just watch one of these sumptuous films and it will give you an idea of how to get the look, the setting, the glamor of the 1930s Hollywood fashion and more.

"Carole Lombard and William Powell are having a grand time working together in their new picture My Man Godfrey, in spite of the fact that they were once husband and wife. She is wearing a gorgeous sapphire ring and when someone commented on it she said, 'Bill gave me that.'

"Then she asked Powell, 'Did you give it to me when we were engaged or after we were married?'

"And now of course everybody's matching them up for another union. But Jean Harlow is still the centre of Mr. Powell's existence and Carole is still running
about with Clark Gable." July 1936. Later would be the Gable Lombard days. She and Clark Gable would marry in 1938.
"Show Carole Lombard a star sapphire and immediately she goes stark, staring screaming mad and there's really nothing to be done about it until she buys that star sapphire!
'You'll die in the poor house,' shrieks Fieldsie (her personal assistant and best friend).
'Yes,' says Carole, 'but isn't it beautiful.'"
Another article from the same issue talks about William Powell's new house where he's got every gadget known to man.
Fieldsie was Madalynne Field a former Sennett Girl, bathing beauty. She married director Walter Lang.
-- Screenland magazine, January 1937
The next installment:
William Powell and Jean Harlow are making a movie and are reported to be a couple. .... More sapphires (and diamonds) on the way.
Carole Lombard was known for her "blue language." In the short blooper footage from My Man Godfrey there's some off color language.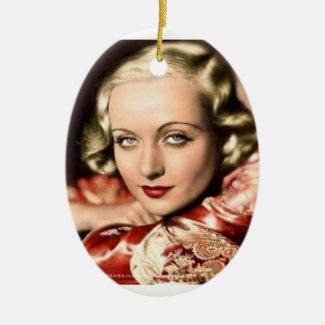 Carole Lombard Wall Hanger/Ornament
Customize text on the back
Give as a prize, Look at more Ornaments/Wall Hangers at zazzle
Retro Martini Charms, Wine Charms
For your wedding buffet, your next party
Create your own from scratch, view other wine charms at Zazzle
Links to Related Pages of Interest:
Sapphires Old Hollywood, Symbolism, September Birthstone
William Powell and Jean Harlow, A Diamond Ring
William Powell, Jean Harlow 152-Carat Star Sapphire Ring
Colored Gemstone Sapphire, Emerald Engagement Rings, Princesses Diana & Catherine; Joan Crawford & Elizabeth Taylor, Halle Berry, Penélope Cruz...
Another Thin Man 1939 The Return of William Powell: Wrap-up of series, A bit about Powell, Lombard, Gable and Loy after Jean Harlow, their final films
Gems on The Mohs Scale of Mineral Hardness Diamond, Sapphires, Emeralds, Opals, Amethyst...
Have a Mermaid Movie Party Mr Peabody and the Mermaid / Miranda, William Powell/Ann Blyth Glynis Johns
Movie Trains, Travel with The Thin Man, Powell Loy; North by Northwest Grant and Saint... The Production Code
The Death of Jean Harlow: Goodnight, my Dearest Darling
Actors' Final Films: The Misfits, last film of Clark Gable, Marilyn Monroe. Final movies of Tyrone Power Jr and Tyrone Power Sr.
Source of some images: Open Library Archive