A little about Project Gemini... Space Mission Patches, Napkins, Sandwich in space?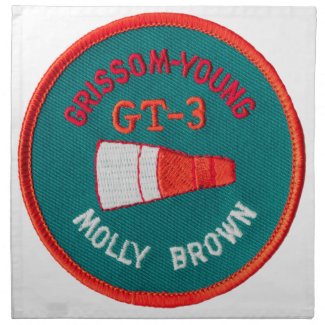 Every rocket or astronaut party has space food. Have you heard about the corned beef sandwich that went into space? It wasn't on the list of NASA-approved meals.
Fly me to the moon and let me eat around the stars....
Napkins for your space food.

Yum
Project Gemini: GT 3: Grissom / Young Cloth Napkin by NASA_and_Beyond Very cool for a party or every day
NASA offers an impressive historical and current variety of items, art, postage & invitations, clothing and for your electronics and home, more.... *This is the real thing, items created and licensed by the National Aeronautics and Space Administration.
Think of Father's Day, birthdays and holidays. Have in your workshop, your cabin, picnic basket.

Encourage your kids to greatness and never forget
Set of 4 napkins. Choose size: Size 20"x20" (dinner napkins) and 12"x12" (cocktail napkins). 100% grade A woven cotton. Fabric is made from natural fibers.
Machine washable.
Made in the USA. Teach your young astronauts to be tidy and stylish.
What's on Special? Check out All Zazzle Sale Items, Coupon Codes Customize! Create Your Own.
George Bailey: What is it you want, Mary? What do you want? You want the moon? Just say the word and I'll throw a lasso around it and pull it down. Hey. That's a pretty good idea. I'll give you the moon, Mary.

Mary: I'll take it. Then what?

George Bailey: Well, then you can swallow it, and it'll all dissolve, see... and the moonbeams would shoot out of your fingers and your toes and the ends of your hair... am I talking too much?
-- Jimmy Stewart and Donna Reed, It's a Wonderful Life 1946
Project Gemini was the second human spaceflight program of NASA
Crew: Virgil I. "Gus" Grissom, Command Pilot
John W. Young, Pilot
Back-up Crew: Schirra, Stafford
On March 23, 1965, the spacecraft, nicknamed Molly Brown, performed the seventh manned US spaceflight, and the 17th manned spaceflight overall (including X-15 flights over 100 kilometers).
It was also the final manned flight controlled from Cape Canaveral, Florida before mission control functions were shifted to the Manned Spacecraft Center in Houston, Texas.
Project Gemini was conducted between projects Mercury and Apollo, with ten manned flights occurring in 1965 and 1966
Gemini 3 was the first manned mission in NASA's Gemini program, the second American manned space program
Grissom was at the time the first person to fly in space twice. Sadly, Project Gemini would be his last flight. He was killed in the tragic Apollo 1 fire on January 27, 1967.
The Gemini 3 capsule was unofficially dubbed Molly Brown in reference to the Unsinkable Molly Brown of Titanic fame.
Grissom's capsule sank and was lost during his first space flight, Mercury MR-4, thus precipitating this Molly Brown nickname.
Considering napkins for your party, for your home?
Here's another interesting historical tidbit regarding the Project Gemini Mission:
A corned beef sandwich had been smuggled on board the spacecraft. Grissom reportedly only took a few bites for fear of the potential safety risk that would be caused by any crumbs floating around the cabin.
A sandwich was not the normal type of space food prepared for the astronauts!
-- Information from NASA
sites
Retro Vintage Kitsch Biscuit Space Boy

Tees and more

Sandwiches in Space??! by seemonkee
The Right Stuff (Two-Disc Special Edition)
Gus Grissom is depicted in different films and TV shows, but perhaps the best is
The Right Stuff
from 1983. You can rent the movie and stream it or catch it on cable now and then. It's good to know our history.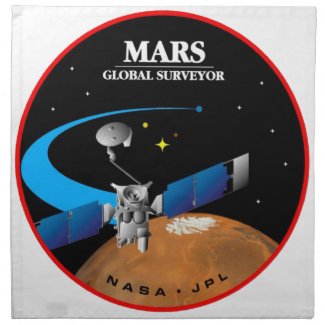 Mars Global Surveyor Printed Napkins by NASA_and_Beyond
Project Gemini video footage Missions 3-12
A rough edit in chronological order of the Gemini missions from III-XII. Contains clips from suit-up, ingress, launch, on-boards and recovery. There are a few audio clips from crew members.
-- amazing footage, from description
Can your kids
dress up
like space men or like astronauts?
Encourage them to use their
imaginations and make up stories
.
Recycle materials for costumes, make your own equipment, and have fun with it!
The more they learn about science the more ideas they'll have.
Vintage Kitsch Mr. Spaceman Astronaut Illustration Tshirt
Kids, Mens sizes, too
Browse other
Spaceman T-Shirts