In the Christmas Season Dumps?
Think everyone has a better holiday than you?
The holidays where they felt as cuddly as a cactus or as charming as an eel.
1977 London
When their whole lives seemed like one big bad banana with a greasy black peel.
Remembering a few of the miserable, the ill, the hurt and tough times around Christmas and New Year's -- for old Hollywood actors and actresses.
Some of the older newspapers and the oldest film magazines and featured stories by celebrities where they recounted their worst holiday memories. "One Christmas was little less than terror for poor me," said Mary Pickford. The stars' most miserable Christmases. "My awfullest Christmas eve," by Maurice Costello."
We're not the only ones who have Blue Christmases.
Here are some items from life-changing situations to the simply absurd. Some are good reminders for us to think about what's really important and to be safe this time of year and all year.
Jim and Marilyn recall a miserable Christmas, 1945
After having been in a minor car accident just before Christmas 1945, young Norma Jean Dougherty got a call from a modeling agency. Her marriage to husband, James 'Jim' Dougherty, was strained. Norma, later better known as Marilyn Monroe told a magazine in 1952.
It would be "a nice paying job up in the mountains to be taken with some pictures in the snow. Jim wanted her to cancel so the family could be together on Christmas Day.
"Marilyn pointed out that if she refused to go, she'd not only lose the job but others. It was a part of what you had to put up with in the modeling profession. Anyway he could come along with her."
He was stubborn. He felt that he'd look silly tracking along after her and she
Marilyn Monroe/Norma Jean is
Mrs. James

Dougherty

didn't see it that way. They stayed home. That was the most miserable Christmas either of them every spent.
The couple divorced September 1946. Norma Jean began using the name Marilyn Monroe in 1946.
The article isn't entirely clear if they're referring back to Christmas 1944 or 1945.
Christmas 1937 actress Carole Lombard will not issue statements about Clark Gable or talk about him in any way. A reporter wonders if their relationship has cooled off?
"Joel McCrea's ambitions suffered a rude blow when he received a pair of rainbow hued garters from a farmer boy in North Carolina with the following note. 'I saw your picture in a movie magazine. Your socks were hanging down over your shoe tops. You looked like a big hick. Here's a pair of garters. Please send me an autographed photograph.'"
Oh the fans.
Holiday-time 1933.
Christmas 1955: Irene Dunne "fell in her home Friday and had to eat her Christmas dinner from a wheelchair. She said she feared at first she had seriously injured her hip but x-rays showed no broken bones."
In
1964, Alfred Hitchcock has a select group of friends over for one of his Blue Food Christmas Dinner Parties. While it is memorable, two of his guests, Cary Grant and Dyan Cannon suffer the gastrointestinal after-effects once they arrive home after the party.
By the way, years ago we took care of a baby who'd recently eaten a piece of Sesame Street Cookie Monster themed cake, with blue colored frosting. You need to warn babysitters and caregivers about these things so no one worries about how everything, um, comes out in the end. :-)
Lot of 10 Different 1935 Carreras Famous Film Stars Tobacco Cards
Included in this lot are:
#10 - Nancy Carroll
#24 - Ann Sothern
#30 - Alice White
#38 - Genevieve Tobin
#47 - Irene Dunne
#59 - Karen Morley
#62 - Helen Twelvetrees
#78 - Lionel Barrymore and Mary Carlisle
#87 - Charles Laughton and ZaSu Pitts
#93 - George Arliss (he was a strict vegetarian)
.... Each card measures approximately 1-5/16" X 2-9/16 inches
Traffic wasn't much better in the good old days
Be extra careful driving on holidays, particularly in bad weather and more so if you've been to a party.
Ann Sothern narrowly escaped death Christmas night when another motorist crashed into her car and drove it against a tree.
Cecelia Parker's car was also smashed over the holidays but it was parked and she wasn't in it at the time.
Her vehicle went out of control and hit a utility pole. She was hospitalized and underwent surgery on her ankle.
Harold Lloyd's press representative, Joe Reddy, is sporting a beautiful shiner after a traffic argument.
He says he's willing to give his opponent a chance a the other eye and besides he'd like to see what the other guy looks like today.

January 3, 1936
Christmas Eve 1935 jurors are deadlocked in trial of Busby Berkeley.
"Jurors voting for acquittal said they had a reasonable doubt of the state's charge that Berkeley was intoxicated and driving recklessly when his automobile crashed into two other machines September 8 killing three persons."
The director will have another trial with a deadlocked jury. The case will dismissed later in 1936.
-- Spokane Daily Chronicle - Dec 25, 1935
The Case of
Roscoe Fatty Arbuckle
In the news over
Christmas-New Years 1922/23
In 1921-1922 Roscoe Fatty Arbuckle became the center of one of the first big Hollywood scandals when aspiring actress Virginia Rappe became ill and died after a party where she and Arbuckle had spent a time alone in a room.
A medical examination found no evidence of sexual assault. Her autopsy concluded that "there were no marks of violence on the body, no signs that the girl had been attacked in any way." The trial and story filled with fact, hearsay and legend is famous to this day. A link to a book is below.
Roscoe Arbuckle 1919
Christmas-New Years 1922/23 Will Hays, presiding over the MPPDA, Motion Pictures Producers and Distributors of America Hollywood's censor board, makes statements about Fatty Arbuckle, determining his fate in the industry.
"Every man in the right way and at the proper time is entitled to make good. It is apparent that Roscoe Arbuckle's conduct since his trouble merits that chance.
"So far as I am concerned there will be no suggestion now that he should not have his opportunity to go to work in his profession. In our effort to develop a complete co-operation and confidence within the industry I hope we can start the New Year with no yesterdays. Live and Let live is not enough; we will try to live and help live."

December 20, 1922
"Arbuckle will not appear again on screen, but becomes director of comedies."
--
January 30, 1923 headline
Roscoe Arbuckle will not appear again on screen. He will become a director but his acting days are over. The final stage in the so-called Arbuckle case was reached today when Mr. Arbuckle himself issued a statement which read as follows:

"I signed to day a contract with Reel Comedies, Inc to direct comedies. I am done with acting. My great ambition is to make the world laugh and I can do this best as a director of comedies. This is my chance to make good in the right way and in the business that I know and love and in a way that should meet the approval of all. I will start work at once and from now on you will not see or hear from me except through the comedies that I direct."
--Exhibitors' Trade Review
The Twelve Pains at Christmas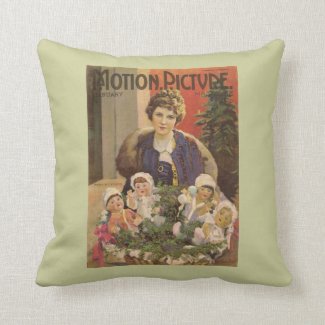 Home and Work Accidents
These may be on the rise due to the excitement of the season, parties and decorations. In the old days more candles were used.
The films of actress Bodil Rosing include Sunrise: A Song of Two Humans, You Can't Take it with You and It Must Be Love.
"Goodness, I've certainly known tragedy and hard sailing,"
Rosing said in an interview.

"When my youngest girl was six her dress caught fire from a Christmas tree. She was burned terribly."
In 1938, Bette Davis told the story of being burned by candles at Christmastime when she was a little girl. At ten years old, Bette Davis was sent to a boarding school.
"My first year at school was marred by an accident which nearly cost me my life. It was at Christmas time and I was proudly playing my first acting part, that of Santa Claus in a Christmas tree ceremony. My costume caught fire from a match I had struck to light the candles and before they could put out the flames my whiskers were ablaze with the result that my face was severely burned.
"I was sent home to mother and for two weeks she nursed me day and night, applying wet pads to my face every 15 minutes, getting what sleep she could between applications. The doctor the teachers and my mother all thought I would be scarred for life.
"I am sure if were not for the heroic treatment my mother gave me with practically no sleep for herself the entire course of my life might have been changed.

"While Mrs. Bing Crosby was taking down the Christmas tree, a short circuit set fire to the tree, curtains, rugs ... and the house. Bing's brothers, Larry and Bob, rescued his wardrobe of 100 suits, although some were soaked and smoke damaged. In one pair of black and white sport shoes, Bing found two thousand dollars in greenbacks, unscathed. Who said that women and their teacups are the only amateur bankers?
"Timmy, the children's pet cocker spaniel was suffocated, but Big Boy the Great Dane was saved. The whole family was taken in by Mr. and Mrs. Bob Hope until Bing bought a house in Holmby Hills. Considering the current income taxes and salary ceiling, Bing's loss was a severe jolt but do you know what he said? 'I'm lucky, Dixie and the boys are safe.'"
-- 1942 article
There was so much fear of kidnapping in the 1930s.
When young "Jane Withers gayly waved from the Christmas float, while behind Santa Claus hid her bodyguard." The article said that some Hollywood children, both performer and the children of actors, directors, etc were terrified.
-- Modern Screen December 1938
Elvis will have a
Blue Christmas
without you, from his 1968 comeback special
End-of-year, Early-year Accidents and Illnesses
Trouble and Worries. Most of these had nothing (to my knowledge) to do with the holidays.
Gracie Allen is an absolute favorite of mine.
The year of her birth of

has always been disputed 1895, 1896, 1902 or 1906? The internet probably has added some more years to the mix. Her crypt says 1902 and that year was given by her husband, George Burns. Regardless, I almost always see her birth date as July 26th.

The story has always been that this event happened when Gracie was a toddler, just 18 months old so it would have been the end of the year around December. She reached up to the stove and pulled down a pot of boiling water. Her left arm was badly scalded to the point that they worried they would have to amputate her arm. They were able to save the arm but she was scarred for the rest of her life.
Gracie always wore at least 3/4-length sleeves to cover the scars. George Burns said that of course he saw her arm but also his children saw her bare arms when she went swimming for instance, but that was it.
File this one under "It helped to have a really strong husband...."
December 28 1932: Mary Pickford was knocked unconscious when a heavy studio lamp fell on her. Douglas Fairbanks, her husband lifted the lamp off of her as she lay prostrate. A physician was summoned to reviver her. Miss Pickford later resumed her role and it was announced that she was not hurt.
-- The Schenectady Gazette
Charles Boyer narrowly escaped death and Walter Hoffman, a workman was painfully injured when a pistol discharged during filming
Invitation to Happiness
(
changed to
I Loved a Soldier?)
--The Evening Independent,
January 1936
"William Powell estimates that his recent long illness deprived him of around
William Powell
Myrna Loy
The Thin Man

$300,000 in film and radio salaries." T
he actor had colon cancer

. During some of Powell's illness, particularly during his convalescence, he was able to appear on radio when he was still unable to get back to film work.
-- The Spokesman-Review December 8, 1938
Some good news; December 1930: Dolores Del Rio is pronounced out of danger by the doctors. She had been in bed ever since a week after her wedding that past August to Cedric Gibbons suffering from a severe form of kidney trouble. She had been in danger of death for several weeks.
December 27, 1936, something supposedly overheard at a Hollywood gathering. "Just think I'll soon be 33 years old groaned Cary Grant at a recent party. Don't worry soothed Bob Riskin. In nine years you'll be able to play Gable parts." Riskin was a playwright and screenwriter. He wrote the screenplay for the 1934 Clark Gable, Claudette Colbert classic It Happened One Night.
Hoping everyone has a safe and happy holiday season.
Related Books and Pages of Interest:
Gracie - A Love Story - George Burns - 1988
The Lonely Life: An Autobiography and This 'N That books by Bette Davis
Roscoe "Fatty" Arbuckle: A Biography Of The Silent Film Comedian, 1887-1933
Buzz: The Life and Art of Busby Berkeley (Screen Classics)
Dear Cary: My Life with Cary Grant
The Forgotten Films of Roscoe "Fatty" Arbuckle DVD Set includes Leap Year
.
The film Leap Year was released after the trial but withdrawn due to public pressure. Arbuckle played "A stammering socialite whose every aborted utterances to a girl is instantly accepted as an offer of marriage. ... Too much of its content -- women pursuing him, back-flips into boudoirs... The formula would have meant another successful comedy had there been no scandal."
Surviving an Anniversary Reaction
Errol Flynn's 32nd birthday party ends in brawl 1942
William Powell 1938 and beyond, The Return of The Thin Man