Gift ideas from the stars
Thank you! Thank you very much
Robert Taylor
Barbara Stanwyck
1941
Making your gifts personal. Customizing a gift can show you thought of them in particular, commemorate something special in your lives. If someone wants something simple, it can be all in how you present it that makes it memorable.
Choosing a theme like someone's hobby or job can be an idea. Maybe a gift basket when it comes to friends or coworkers. Simply fill up a coffee or soup mug. Nice idea as a get well or thinking of you gift, too Tailor gifts to the recipient's hobbies.
Think of something beyond the expected. Are they going through a tough time? What might bring them some comfort, lift their spirits?
Of course if they're stars, they could reach for the moon and treat their loved ones to wonderful things such as jewelry and cars. When did husbands and wives buy one another pets one another pets?
Remember Christmas 1968? There's a Christmas Eve message from the Apollo astronauts on video at the end of this page. Relive the memory of the message that interrupted Christmas programming back in 1968.
Gifts for your Hobby
Choosing a theme like someone's hobby can also be an idea for a gift basket when it comes to friends or coworkers. Simply fill up a coffee or soup mug. Nice idea as a get well or thinking of you gift, too.
William Powell's youthful bride has had an imitation chief train made for him and a ruby ring. Bill is crazy about trains. Myrna Loy is also catering to that hobby by giving him a stop whistle as well as a mandarin tree.
Lana Turner's present to Tony Martin is a set of golf sticks.
Edward G Robinson's eyes sparkled when let it be known that he simply wants a nice new painting and a box of cigars from London ...
Dick Powell would like a new set of sails for his boat. He'll be spending the holiday at home with his wife Joan Blondell ...
Ginger Rogers will be in her new home with her mother, cousin and some close friends. She's looking forward to a complete outfit of painting brushes and other art paraphernalia.
-- Christmas 1937
Arline Judge gets her son a motor scooter
The wives of Clark Gable and Fred MacMurray gave them hunting equipment.
Are you a woodworker? We have a luthier in the family. My husband designs and builds guitars. He has apprentices who are learning to make ukuleles.
The trailer from the movie, Reckless focused on more than just the movie




One of Jean Harlow's avocations was writing. She'd mentioned that she kept running out of the items she needed to write. An interview with a friend of Jean Harlow's, where the friend told of a gift from Bill Powell.

"I know one thing he did that pleased Jean more than anything else. One day there was a ring at her door and there arrived two uniformed messenger boys carrying two huge and heavy packages.
"Jean opened them and found two enormous bales of writing paper, one yellow foolscap the other of white bond paper, with several boxes of clips, two erasers, and four dozen pencils. With the paper was a note from Bill which said, 'Just fill these all up with words.'"

-- 1935
Joan Crawford gave her husband, Franchot Tone a room. She re-did a room in their home all for him.
"Franchot's room is a combination of artistic beauty and masculine comfort. Typical of Joan she kept it a secret until Christmas eve. Promptly at five in the afternoon seven men in a huge truck drove up in front of the house. Orders had been given weeks before and everything was in readiness. When Franchot went down to the library to wrap some last-minute packages, Joan turned up the radio to full blast.
"The men were then given the signal to start work. Exactly 30 minutes later Franchot Tone was the proud possessor of a brand new room. Furniture had been placed, rugs put down, draperies hung with each man having his own particular job to do. Brown and white is the color scheme. ...
"The moment the workmen were finished Joan raced downstairs. Grabbing Franchot by the hand, she made him close his eyes as she led the way. Piloting him to the center of the room, Joan cried, 'Merry Christmas!'"
- Christmas 1935
I've got you a Brand New Car!!
Tom Gallery, Zasu Pitts and their children
Ray Milland will give his wife an automobile in 1940.
Olivia de Havilland wants a 'snorky sports roadster.' She's set a goal for herself that she must have a certain amount in her savings account or no car.
Christmas 1924
Caption said Douglas Fairbanks, Jr. got a car from The Thief of Bagdad
aka his dad, Douglas Fairbanks, Sr.
Stuart Erwin and June Collyer Last Christmas in the morning all of the presents were wrapped under the tree and there was a tiny box for me with a card in it reading 'Mommie dear your present is too big to go under the tree. It's in the garage!" Christmas 1935
1937, John Barrymore is "looking a new motor cars."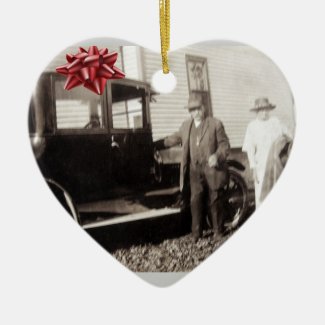 New car for Christmas!
Funny old photo late 1920s Customize Christmas Ornament
Joan Crawford wants an autographed photo of Garbo.
Shirley Temple wants to be a boy scout, knife merit badges and all.
Janie Withers wants to captain a professional football team. 1939
Jackie Cooper's Christmas Party 1931
Bling, Please
Barbara Stanwyck will find "a pair of matching bracelets in gold and set with sapphires. Robert Taylor is her Santy, of course."
Christmas 1935 Carole Lombard mentioned the gifts she's given to her friend and secretary, Fieldsie. Gifts included a couple of evening gowns, an evening bag and other luxurious accessories.
Madeline Fields Lang was a former Sennett bathing beauty. You'll see her first name spelled a number of different ways.
Christmas 1935 Fred MacMurray surprised
Lillian Lamont

with the breakfast set for her dinette that she'd asked for. They were married in 1936. That Christmas it was written that he gave his wife "an armload of jewels."

Ida Lupino's gift from Louis Hayward is a sapphire ring.
An article told how Harlow was among the Hollywood hostesses planning a big Christmas dinner in 1936. Bill Powell sat at the head of her table. Powell gave Harlow a nice amount of jewelry.
Dolores Del Rio who will probably be Mrs Orson Welles within the year is giving him a suede lamp.
This year Wallace Beery will surprise little Carol Ann Beery with a collection of dolls, one from almost every country in the world which Wally collected himself on his recent trip to Europe. Christmas 1935
An interview with a toy dealer in 1922:
"Last year the Charlie Chaplin doll was very popular. But no one wants them now. The Jackie Coogan doll has come in and is all the rage.
"The Kewpie dolls which were so popular for many seasons are giving way to other character dolls. Of course we still have a steady demand for the old-fashioned golden-curled doll but most new dolls are made to look more like babies and real children and the little girls seem to prefer them."
This was over a decade before anyone would hear of a golden-curled child star by the name of Shirley Temple. Are you an Addams Family fan?
Gifts of Comfort
Mrs. Jean Bello mother of the late Jean Harlow received an unusual present from William Powell - a trip to New Orleans Cuba and New York. He is paying for everything. Christmas 1937
"During all these months I saw almost no one except Bill Powell, the Baby's Poppy, whom she loves so dearly. I went nowhere. Bill hoping that a change might help me. He persuaded me to take a sea trip to go on to New York. I wen to please him in appreciation of his thoughtfulness and his gift. For my trip was his Christmas gift to me. But I took my grief with me and found that I was more desolate away than I was at home."
A 1938 article, Without My Jean, "By Jean Harlow's Mother"
Loretta Young would like some comfy slippers, enough pairs for one in every room of her house, including her dressing room on the set.
A 1931 interview revealed that in Greta Garbo's bedroom she had "a big rough wooden box in plane sight shoved under a dressing table. It arrived soon after Christmas," said the housekeeper. 'Filled with an assortment of canned anchovies, sardines, caviar and liver pate. Miss Garbo had the cover ripped off and the box left in her bedroom.
"'She must have gotten up in the night and lunched on the canned delicacies as we often found empty tin boxes in her bedroom in the morning. Other times we found them in the kitchen sink. It seemed that Garbo never has learned to take American food. .... The housekeeper said she also had "a mania for watching a burning fireplace."
Families of more than one religion
Celebrity families, like many others, have to deal with what to do when couples of different religions marry. George Burns and Gracie Allen, Debbie Reynolds and Eddie Fisher, Harpo and Susan Marx talked about how they raised their children. Burns and Allen always had a Christmas tree. It was one of Gracie's favorite times of year.
Debbie Reynolds and Eddie Fisher celebrated all the holidays his and hers. At Christmas they had a tree but they also had a Menorah for Chanukah with more candles burning each night till all were lit. When they had children they thought the kids would be taught the principles of both religions and be allowed to choose their own.
All five Marx brothers 1961
An appearance they made on the Tonight! show
From left, Harpo, Zeppo, Chico, Groucho and Gummo
The Marx family, too had a Christmas tree. Harpo Marx tells a cute story in his book.
"When I asked her what she wanted for Christmas that year she said that just for once she she'd like money. She'd like a thousand dollars to spend any crazy way she felt like, on paints, brushes, sewing machine attachments, curtain fabrics, rose bushes, whatever. To Susan, who was very practical with dough, this sounded like a mad splurge. It would have been dull to put a single envelope under the Christmas tree for her.
"That was no kind of present and lousy showmanship.So I went to work long before Christmas up in town at Hillcrest. Early in December mysterious cards addressed to Susan and marked personal began to trickle in. Ten of them came together. Inside each was a card made out to Susan in some odd meaningless amount like $82.97, $73.33 or $26.56. Each was signed by some absolute stranger, a name that meant nothing to her.
"She decided not to worry me about the checks until after the holidays so she hid them. She herself was plenty worried. She was sure it was some kind of new extortion racket. On Christmas morning she found seven more cards with checks inside beneath the Christmas tree.
"These checks were also made out to her for odd amounts but they weren't signed by strangers. They were signed by George Burns, George Jessell, Danny Kaye, Harry Ritz, Eddie Cantor, Jack Benny and Milton Berle. Susan puzzled over them for a minute.
"Then she gave me a sly smile. She ran to get the mysterious checks hidden in her dresser drawer, and her adding machine. The seventeen checks added up to one thousand bucks on the nose. She said it was her nicest Christmas ever."
-- Harpo Speaks!
by Harpo Marx, Rowland Barber
Esther Williams had been working on helping blind and visually impaired children learn to swim. Christmas 1950, she and her her husband Ben Gage presented a school for blind children with a specially constructed swimming pool. Esther trained the teachers in instructing the children how to swim.
Pets in our lives
Buddy Rogers
and Baron
For a happier and less stressful outcome, person or a family should adopt a pet together after thinking considering that you're signing up for a life-long relationship that can last 10-20 years depending on the animal. Best to leave this sort of gift to very close family members or the recipient themselves.
Buddy Rogers' German Shepherd dog, Baron was a Christmas gift.
Christmas 1937 Clark Gable gave Carol Lombard a sheep dog. Lombard had received some ducks from friends at work and she had at least one rescue cat. When the sheepdog came into the family, there was a period of adjustment especially between the dog and Lombard's Siamese cats.
Jeanette MacDonald gave her husband Gene Raymond an Irish setter for Christmas 1935
Claudette Colbert has asked for a cat. Claudette has had five cats and they refuse to stick around. She wants to try again. Barbara Stanwood wants a dog. "Alas she is allergic to dog hair and sneezes to beat the band when a canine shows his face around her. Dion, he son owns a pooch but it has to stay in the stables."
Marlon Brando gave Josanne Mariani a dog and myna bird, Christmas 1954.

The Legend of Silent Night aired on Christmas Day 1968. Kirk Douglas, the on-camera host narrates the story at the United Nations surrounded by a group of children who belong to the United Nations dignitaries. To add drama to the telling, James Mason, John Leyton and an international cast bring it to life in a film set in the Austria of 1818 where it took place."
Christmas 1968, special newspaper sections
were devoted to Christmas programming.
The above message about Apollo 8 coverage
appeared alongside.
During the first ever manned trip to another space object, while orbiting the Moon for the very first time by human beings, on Christmas Eve 1968 the crew of Apollo 8: astronauts Frank Borman, Jim Lovell and Bill Anders have appropriately decided to send a message to Earth by reciting first 10 verses from Book of Genesis (English King James Bible version).
-- description
Related Pages of Interest:
Harpo Marx Comedy Legend
Samantha Stephens' Bewitched Pave Heart Necklace
Stars from around the world celebrate Christmas
Princess Bedrooms, Pink Rooms, Furniture Bed and crib crowns, cornices and coronas : How to choose, design and style, Selecting the right paint colors....
William Powell, Jean Harlow and that 152-carat sapphire ring
Oliver, a poodle fit for a princess, Grace Kelly getting married
Rocketship space playhouses, DIY recycled cardboard Astronaut videos, Rocket Man
Hospital Gifts, Footzyrolls, Custom Greeting Cards for Caregivers, Patients, Survivors
Clara Bow vintage hat advertisement Tshirt by Jakestuff
Get fast custom shirts online at zazzle
The Palm Beach Post - December 12, 1937
Modern Screen Magazine 1938, 1952, 1957
The Milwaukee Journal - December 22, 1935
The Evening News - December 15, 1922
The Miami News - December 25, 1937