Wilma and her BFF Betty were single and working as cigarette girls at a resort. Just so happened that buddies Fred Flintstone and Barney Rubble were working at this same resort as bellhops.
Was this stone-age synchronicity? Another story of a carefree redhead and a leopard-skin clad bad boy who were destined to be together?? Were it a different time and place, Leo McCarey and Garson Kanin might be working on the idea. How would they cast it as a screwball comedy?
Wilma's mom couldn't stand Fred. Endora disliked Samantha's husband, Darrin. On
I Love Lucy
, did Lucy's mother like Ricky? I don't think, if memory serves, that Ricky Ricardo's mom was really fond of Lucy at the beginning at least.
The Flintstones
was a Hanna-Barbera production, running from 1960 to 1966. It's considered to be the first prime time cartoon or animated series. Homer Simpson and Peter Griffin can tip their hats to Fred.
The show lives on in repeats and its many spin-offs. Two live action feature film versions were made of
The Flintstones
, and you can find everything from dinnerware to toys to vitamins in their likenesses.
The famous
Wilma Flintstone Costume
is modeled after
the program and the feature film. This deluxe costume includes the dress, Wilma wig and her trademark
pearl
/rock necklace. You can get the components separately too. The costume is available in teen and plus sizes.
Fred and Wilma have a daughter, Pebbles. You may have heard the controversy around Wilma's maiden name. Slaghoople is generally used in spin-offs and feature films, but in some episodes of the show, her maiden name was given as Wilma Pebble.
Whether you want to be Fred and Wilma, Barney and Betty, Pebbles and Bamm Bamm -- famous film and television characters -- or you want to be a cave woman, a lady barbarian, there are costumes and accessories for you!
Flintstones character costumes
include Bamm Bamm and Pebbles in sizes from toddlers to tweens to adults! There's even Dino the dinosaur.
The Flinstones Kids
, a 1980s spin-off, shows Wilma, Betty, Fred and Barney as children who play together. Adorable mom and baby Halloween costumes.
On the original show, the suggestion was that they'd met when the girls were working as cigarette girls and the guys as bellhops. But as I read in an interview with someone from Hanna-Barbera, continuity was never of huge concern with
The Flintstones!
Wilma's hair color and style is so famous, it was part of a hair challenge on the show
Shear Genius!
A Lucy Ricardo
I Love Lucy Adult Wig
may be used for Wilma.
Unleash your inner
Cavewoman and go
out in a outfit described as having a "plush faux fur animal print dress featuring a lavish leather corset and coffee brown suede underlay." There are a bunch of clever accessories,
cave jewelry, clubs
, and more
to add to the costumes.
This comes in multiple sizes and is just one of prehistoric cute outfits to choose from. Some are in plus size. If not Cave Man and Cave Woman, you can also be
Tarzan and Jane
.
I got a kick out of the
Cave Dog Costume!
The Zelda pet costumes are always terrific!
Just like with people,
the best pet costumes & props
are those that don't obstruct a pet's vision or mobility and aren't too tight on them.
Best to always have your pet in your presence if he or she is in costume or dressed up. Pieces can shift when they're moving around.
Both of the live-action feature films,
The Flintstones Yabba-Dabba Pack
(The Flintstones/Viva Rock Vegas)
DVDs are available together.
In
The Flintstones
1994 film Wilma was played by Elizabeth Perkins, she's now Celia Hodes on the show,
Weeds
. John Goodman was Fred, Rick Moranis was Barney, and Betty was played by Rosie O'Donnell. Jean Vander Pyl who voiced the animated Wilma 1959-1999, made a cameo in the movie at Fred's surprise party (in the conga line).
Halle Berry plays
Sharon Stone
, Fred's coworker. Elizabeth Taylor as Pearl Slaghoople, Wilma's mother. Mel Blanc, Jonathan Winters and Harvey Korman are also in the film, some with voice roles.
The Flintstones in Viva Rock Vegas
(2000) is a prequel film. Wilma was played by Kristen Johnston. We see the couples before they get married including Fred and Wilma's wedding in the Rock Vegas Chapel of Love! Wilma's mother Pearl is played by Joan Collins. Thomas Gibson and Alan Cumming are also in the film.
Though while Pebbles was young, Wilma was primarily a stay at home mom, when Pebbles was in her teens, Wilma went out to work. She and Betty got jobs as reporters for the Bedrock newspaper, the
Daily Granite
. Once Pebbles had grown and left home Wilma and Betty began a successful catering company! Role models as prehistoric moms, fashionistas
and
entrepreneurs!
Dick Clark's
Flintstones House
was up for sale
The house, with its unique curvelinear architecture, sits on 23 acres in Malibu near the Santa Monica Mountains National Recreational Area. It is built using light materials combined with concrete. The inner walls are made of wood while the ceilings used steel beams covered with concrete to get that rock-like look.
The home apparently came from a suggestion of Architect Phillip Jon Brown to create a house that looked like a rock formation to blend in with its surroundings. Modern appliances and materials such as granite counter tops were used, despite appearances. The park conservancy let them build the house in that location with that appearance.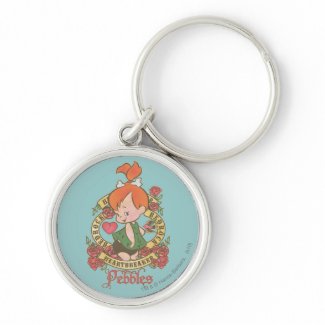 Pebbles Heartbreaker 2 Key Chains
Fred gives her the keys to his car!
By
hanna-barbera
Browse more
Pebbles Keychains
Bamm-Bamm Wings Tshirt
by
hannabarbera
Make a
custom print t-shirt
at zazzle.com
Pebbles Wild Child T-shirts
by
hannabarbera
Design your own t-shirt
online at Zazzle.
Get the
Wilma Flintstone Handcrafted Painted Metal With Great Detail Metal Lawn Art Figure
shown at the top of this page. get her alone or with some of her family and friends.
What other TV Moms will be on the list
of 10 Costume-worthy Mamas?
Who do you think belongs on the list?
Cher, Samantha Stephens & Endora, Cersei Lannister,
Lily Munster, Julia Baker, Thelma Harper and now Wilma Flintstone.
The Moms and Dads are in no particular order
Previously there was
The Famous TV Dads Costume Ideas list
**

The

10 Famous TV Dads Costume Ideas Series
began with Andy Taylor from The Andy Griffith Show
.
Andy Taylor from The Andy Griffith Show
Gomez Addams
George Jetson
Paul
Teutul Sr. from American Chopper
Ricky Ricardo in I Love Lucy
Herman Munster
Ben Cartwright from Bonanza
Homer Simpson
King Friday the 13th from Mr. Rogers Neighborhood
Bruce Jenner were the 10 Famous TV Dads.
Information is from various sources
When significant updates are added to pages, there will be a message with the date of last update.
Page updated September 2013