When Jean Paul Gaultier designed the costumes for Madonna's Blond Ambition Tour, I wonder if they knew the costumes would become so famous.
Is your pet is a real Material Girl? Is she set to participate in a Howl-a-ween pet parade for charity? Find some Pet Fashion and Safety Tips toward the end of this page.
Will she walk the catwalk in a fashion show or have her photo taken for greeting cards, maybe a new family calendar? Your pup may be the only one in a Madonna costume!
The wig Madonna wore on tour may have resembled that of Barbara Eden on I Dream of Jeannie, they say it was a take-off on the vintage doll, Tressy, a hair-growing doll from the 1960s.
Madonna Cone Bra : Pop Queen Pet Costume.
Please check out pet costume and Halloween tips at the end of this page. If you're wearing a pop star costume, having your pet in a complementary costume will put your look over the top! Ice cream cone celebration but you're on a diet? Here's the next best thing. :)
Always check sizing, your pet's measurements and the sizing on costume and its accessories. What Katie Did 1940s Vintage Bullet Bra What color/shade do you need?
Be that pinup Sweater girl.
Gaultier also designed the costumes for Kylie Minogue's international KYLIEX2008 tour. Recently, Madonna lent two iconic cone bra corsets from her 1990 tour to the popular and often sold-out touring exhibit, The Fashion World of Jean Paul Gaultier: From the Sidewalk to the Catwalk.
The exhibit spanned 35 years of the designer's career. Included were other pieces with the bullet bra feature, such as a strapless gown in shirred velvet with cone bra cups. This was from the Barbès collection. The Women's prêt-à-porter fall/winter 1984–1985.
Do you pamper your pets and think they, like the rest of your family, deserve the very best in clothing and costumes? If your dog thinks even the doggie Wonder Woman costume is so 2011, then these pop diva costumes are right for her. You don't want to pay the price for designer dog clothes.
They wonder how could the Katy Perry bikini be any more cute than it already was?! For the pet fashion show, the bake sale... Cupcake Girl Pet Costume
lets friends and family see your dog in a bikini! (Well, sort of. It comes with the wig, glasses and the top.) This is great for the family photo shoot.
Are you attending the opening of a new puppy boutique?
Get some buzz for a friend's new cupcake shop! Don't limit them to pet events, they're members of our families after all.
A local pet boutique in our area was raising funds for the victims of the earthquake in Japan. Having an event with costumed dogs would attract interest and attention for your cause.
These costumes come in different sizes. Whether you're looking for puppy costumes through large dog costumes, check them out.
When the pet adoption fair asks you to bring your pets in funny dog costumes (maybe there's a contest) do you think the Lady Gaga inspired Pop Sensation Pet Costume
Choose size. Complete with Lady Gaga wig
might be a real contender?
Italian designer Giorgio Armani has custom made outfits for Lady Gaga and she's worn clothes by Versace. Are you wearing a Lady Gaga costume? That's a classic Lady Gaga wig.
It also comes with a disco-dot bodysuit and glasses. Was she born this way? Let the neighborhood know it.
Here's your opportunity to make a killer dog video. Dogs on YouTube and cats on YouTube are fun to watch. Do you have a pet with talent? What can you do to get your pet noticed amidst all the other pet videos out there?? It's really ruff out there.
Pet beauty pageants and parent and pet pageants are popping up all over. Pet fashion shows, especially those highlighting the latest in dog fashion are becoming regular events.
Rock star divas need rock star dudes and your boy dogs have looks to choose from! 1950's party or pet parade? Pet Pop King Is your pet a thriller?? The jacket, wig and glasses are included.
Does your dog dance? Dress your other dogs as zombies and do a little number for the camera. Can they imitate the famous video?
If he wants to be The King of Rock & Roll, there are a few costumes to choose from and one is a new one that comes with a wig! Rock N Roll King Dog Costume
Double check on size for your Hound dog so he won't be all shook up. Was Elvis
thinking of this when he sang, "You ain't nothin' but a Hound Dog?"
If your girl dog likes bad boys maybe she'd like to be photographed with a dog dressed in the Zelda Punk Dog Pet Costume
a black jacket, matching pants, a studded collar and a red spiked wig that may be able to be used later for a Troll doll costume! This is the one I saw a guy put on a T-Shirt, a photo of himself and his dog.
Check each shop's shipping policy. They often have specials in mid-October to get your purchases to you by Halloween if you order by a certain date.
In September of 2012, on Americas Got Talent, The Olate Dogs were announced the winners! The Popovich Comedy Pet Theater appears regularly in Las Vegas at Planet Hollywood. As their site reminds us, each of the show's 15 cats and 10 dogs were once strays, rescued from animal shelters. Shelter pets are some of the best pets!
The Rapper Pet Costume comes with a hat, bodysuit with silvertone necklace. (temporarily out of stock)
At holidaytime, we may hear Jingle Cats or the Jingle Bells dogs, animals who steal people's hearts as they meow and bark out favorite Christmas carols. There's even The Beatle Barkers, a Beatles tribute band made up of canines. Paws Up to that.
Finally, not so much a musical icon as an American hero of sorts. The Bacon Dog Costume comes in several sizes
This costume may get some applause from the crowd. Looks a little like a Super Hero costume. Hmmm.
Halloween for Pets:
Fashion and Halloween costume tips to make it safe fun for you and your pets...
* Chocolate is toxic to dogs and cats, don't share people's treats with the pets
* Check sizing on costumes, measure your pet before you buy
*

If you put an outfit or costume on your pet, don't let any part of it interfere with his breathing or ability to see. Could it shift when s/he moves, wrap around and choke him?
* If you need to, make physical adjustments to the costume including cutting eye and ear holes or removing whole portions of the costume to increase their ability to see, hear and breathe.
* Never leave a costumed/outfitted pet alone
* Never force a pet to wear a dress, costume or a part of a costume. They can be frightened or aggravated and may struggle to get it off, even trying to chew a part of it off. You could end up with a trip to the vet or worse.
* Human, even child-sized costumes, wigs and accessories and those meant for dolls should not be used for our pets.
* Pets can be frightened and unpredictable around trick or treaters or Halloween parties; let pets stay safe and in a secured separate area during Halloween festivities
* Make sure pets should always have identification and registration tags on their collars. more important during this time of year when they will be exposed to many opportunities for escape. Think about this on other holidays such as 4th of July.
* Keep tabs on your cats, especially those that are black, white or even dark gray. Cats in particular may be victim of pranks around Halloween. We've always had black cats. Even when our cats went outside we kept all of the cats, regardless of their color, inside around the holiday. They didn't like it, but we knew it was the right thing to do.
Now they're indoor-only so that isn't as much of an issue, but a couple of them still get spooked by the stream of trick-or-treaters
Full disclosure, the only 'outfit' we'd ask any of our cats to wear is their walking jacket or harness, such as the Kitty Holster Cat Harness, (Tiger Stripe is fun) which has worked for most of them,
when they go for a walk on the leash. Our two big boy cats wear jackets that look pretty much the same but they have buckles because they're more feisty and we want them to be safe.
61653, Bad to the Bone Tshirt
Create your own custom shirts online at zazzle
If you've got a cat
or if your pet of any kind doesn't want to wear a costume,
how about photographing him or her in a holiday setting?
You still get the fun and bonding experience
and much less of the grief :)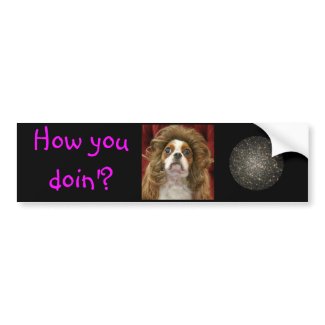 How you doin'? bumper sticker
Browse other Humorous Bumper Stickers
Kidorable has many cute and trendy styles of rain gear and knitwear including The Lucky Cat Collection.
More information in the Pet Costume Tips & Tricks article at PetSmart