Update on the piano deconstruction. A friend who empties abandoned homes has given us three pianos (so far). They were on their way to the dump.
Francois asked about the first one, saying he'd like to take it to use its parts. Our neighbor was more than happy for him to take it!
Two of the pianos were beyond repair. The third we're still evaluating though it's in pretty bad shape.
We've harvested the wood from the first two destroyed pianos.
It's already been used for shelves and it's slated for other purposes.
There isn't a manual on deconstructing an old, dilapidated piano.
At the time we were tearing these apart, Francois had a master plan for the harps of the pianos and he set it into action right away.
First their insides had to be exposed. Which saw, which chisels and mallets would be best to cut through and remove what was left of the wooden soundboard?
Dr. Frankenstein was in the house!
As a long-time woodworker and furniture maker as well as being a luthier (guitar maker) -- now working with apprentices on ukuleles, he's not at a loss for tools.
I don't remember how many different types of saws were used!
We haven't received a piano yet that's had real ivory keys on the keyboard.
I make jewelry and Francois would like to use them for inlay on his instruments, they wouldn't go to waste.
Regardless, when you recycle instruments, there are many parts you can find to use for jewelry, artwork and other creative endeavors. Don't ever pass up something that may be repurposed.
On a side note, a while back we were able to donate some instruments we hadn't played in a while to a high school music teacher.
There are so many cuts to funding to arts programs in schools. If you have anything gathering dust in a closet or attic, think about how someone else may be able to use something that you have.
Every neighbor within a ten mile radius must've heard the GONG! sound as we hit the metal harp in attempts to remove the last pieces of wood.
Francois had been using salvaged wood already in his instruments and furniture pieces, so this was something he was used to doing.
He likes the challenge of taking someone's unusually shaped scrap pieces and forming them into one of his skinny leg tables, for instance.
His repurposed furniture, including parts of a once sad old piano, will probably have really good karma. :-)
The hammers are stained and, like the keys themselves, some were broken off completely.
The harps from the pianos have been used in our garden, per his master plan. You'll need a pal to help in moving the heavy metal harp into place.
One of the harps is for peas to climb. The other (from the player piano) is covered with climbing tomato vines.The player piano's harp is more square shaped and even this late in the season it's still virtually covered by vines.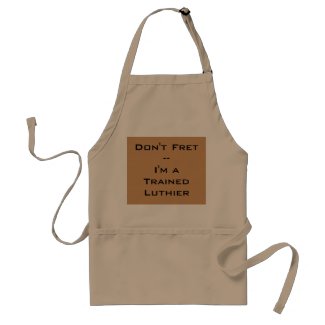 Don't Fret I'm a Trained Luthier Apron
T-Shirt available, Add your name
Luthier Guitar Builder T-Shirts : Shop Hat & Aprons : Customizable Gifts for Guitar Builders, Musicians & Players
Upcoming: Photos & Post about the Ukulele Adventure. The making of a ukulele. A bunch of folks, a bunch of ukes in production. There's talk of a new Ukulele Orchestra in the end. Will it happen? We'll see.....
Piano Harp in the Garden