"In Walnut Grove, you win or you die. There is
no credit at the Mercantile."
Rumor has it that Harriet Oleson may have said this to daughter, Nellie in the back of their general store.
Oleson's Mercantile was the general store in Walnut Grove, Minnesota in the late 1800s. It was owned and run by husband and wife, Nels and Harriet Oleson.
The couple had two children, Nellie and Willie. Later when Nellie Oleson had grown, they adopted little Nancy. The show was
Little House on the Prairie.
It ran from 1974-1983.
The Oleson women would be delightful to portray because you get to think about Victorian costume, 1800s clothing just to start. Mrs. Oleson and her girls were town terrors who usually got theirs in the end. As ostentatious and nasty as they were, they may fall off a stage coach into a mud puddle at the end of an episode.
The
Sleeveless Satin Party Gown Gothic Victorian Ruffles Prom Lolita Dress
comes in different colors
(right). Looks like a real theater dress, "a
The
Victorian Sadie Dress Theater Costume
looks like something from
The Titanic
. It comes in three colors and different sizes.
Hats are usually sold separately.
great costume that can withstand excessive wearing."
Harriet was played by actress Katherine MacGregor and her husband, Nels, as kind as his wife was conniving, was played by Richard Bull.
Little seems to be known about Harriet's childhood. Nels says in one episode that she was spoiled, she got whatever she wanted. We heard that she was an only child.
In another episode they revealed that twenty-five years earlier she'd been engaged to a preacher who broke off their engagement. Some fanfiction has even been written to fill in the gaps.
With costumes, I like to think about updating the character. Some Steampunk dresses can work. Mrs. Oleson wore a variety of styles. Was she dressed up or was it just another day working at the Mercantile? The
Steampunk Victorian Desdemona 2-pc ensemble (choose size).
Create a DIY costume. Do you have a maxi skirt and a ruffled blouse? Pin up your hair and use a brooch that you already have. The
Renaissance Gothic Skirt
is a costume-type skirt you could use again and again. Mrs. Oleson would probably have worn
a cotton petticoat
.
For a contrast and more of a group costume, you can have someone wear more what they call
pioneer colonial
. Choose a beloved member of the Ingalls family
such as Caroline Ingalls, to wear an adult pioneer dress.
Everything I've read suggests that Nellie Oleson on the
Little House on the Prairie
tv show is a composite of different children who the real Laura Ingalls Wilder grew up with.
The closest one would be a child named Nellie Owens, hence the name. Nellie Owens' parents ran the local Mercantile in Walnut Grove.
Many patterns are available, and there are some good books.
Costumes with Character
has had some positive reviews. "Make Your Own Costumes from Eleven Time Periods with One Dress!" Clever idea that you may like to look at if you sew.
The book will turn a dress into Colonial, Quaker, American Revolution, Young Republic, Romantic Era, Pioneer, Civil War, Sailor, Victorian 1880s & 1890s and Turn of the Century versions. It's a history lesson as well as a sewing guide.
The Waltons tv show
was on the air at the same time as
Little House
. The show was set in rural Virginia in the 1930s-40s. They also had a general store run by what you might say was a somewhat mismatched couple, Ike and Corabeth Godsey. They adopted a daughter, Amy Godsey (Aimee Godsey). That program was also based on a real-life person, John-Boy Walton based on the show's creator, Earl Hamner, Sr.
For
Harriet's hair
, you'll need dark hair in a bun or some other type of updo. Occasionally she had a very elaborate style. For a budget-friendly wig, try a
Geisha wig
or maybe, in the same style but smaller, the
Japanese lady wig
Are you going to add a hat or a fascinator? Again, Mrs. Oleson had a wide variety of hats. This can influence what you do with your hair or what wig you choose.
I like thinking out of the box, especially when you're updating Harriet. The
Retro French Twist Wig
would be a style she'd wear. Always double check on wigs. They're updated and may note match photos here but can be similar. For a costume, see what will work for what you need. Is it a competition, trick or treating, a small party?
Don't forget
Victorian, Renaissance & Medieval Costumes
, wigs and accessories cross over into different genres. Harriet Oleson one day can be tweaked and you're ready for the Vampyre Ball in a few months! Assemble your own Steampunk costumes and turn them into different characters getting the most for your money. Swap with friends, too.
A
Nellie Oleson wig
(and as it follows, a Nancy Oleson wig) is much easier to find.
There are a lot of adorable mini hats that are easy to wear and easy on the budget. A Victorian ladies' hat, even a good reproduction is something that can set you back a bit.
For something more
traditional, there is the Green Mini Victorian Costume
hat. A
Mini Red Lace Top Hat
(right)
updates Mrs. Oleson and gives her a whole new sense of attitude for our time and hers.
Give her a
ruffled parasol
. Mrs. Oleson was known for carrying different colors and types of parasols.
Give Harriet
a Black and White Cameo Pendant Necklace
or brooch. She was often seen with such a piece of jewelry.
Remember the episode when she noticed a cameo was missing from stock?
The
Little House on the Prairie DVD Set: The Complete Television Series
is a set that contains nine seasons + three TV movies.
Do you remember the spin-off,
Father Murphy?
What were your favorite episodes of Little House on the Prairie? The set has high marks from customers. Did you
love to hate
Mrs. Oleson?
As nasty as she could be, she always seemed to get hers by the end of the episode. The few times that the Olesons' marriage appeared to really be threatened, they always got back together. Nellie ended up
tamed
by her husband, Percival, becoming a mom herself to twins and actually friends with Laura Ingalls when they were adults.
The Olesons' adopted daughter, Nancy came across as even more rotten than Nellie ever was. When they went to adopt her, they were told how she behaved....
Miss Mason: In the four weeks that Nancy's been here, she has set fire to her bed, broken more windows than I can count, poured plaster into the indoor plumbing and bitten half the children in the orphanage.
Mrs. Oleson: Well, girls will be girls!
The Complete Little House Nine-Book Set.
Included is Little House in the Big Woods, Little House on the Prairie, Farmer Boy, On the Banks of Plum Creek, By the Shores of Silver Lake, The Long Winter, Little Town on the Prairie, These Happy Golden Years and The First Four Years.
Don't miss
Alison Arngrim's book
,
Confessions of a Prairie Bitch: How I Survived Nellie Oleson and Learned to Love Being Hated.
You can also get the book in Kindle eReader edition.
Nellie's
mother
taught her well.
There are memoirs such as
The Way I See It: A Look Back at My Life on Little House
by Melissa Anderson who played Mary Ingalls,
and by
Melissa Gilbert, called Prairie Tale.
Melissa Gilbert was Laura Ingalls Wilder.
Laura Ingalls Wilder has an author page
: Find items by and about her. Share the books with your family.
If you're looking for a
Laura Ingalls Wilder biography,
there are many good ones to choose from. There was much to her life beyond just what we saw on the television show.
In July of this year, Alison Angrim was among the esteemed guests at the annual
Laurapalooza in Mankato, Minnesota
. The event appears to be a mix of the fan gathering and the scholarly symposium, held at Minnesota State University Campus. The topics sounded interesting. Early in the year the have a Call for Proposals. The topics may include historical issues from women's rights to farming, folk music to food preservation.
This Family Feud Special is from 1981. Katherine MacGregor is in the second game about point 21:00. Along with Richard Dawson, you'll see Susan Lucci, Joan Collins, Mackenzie Phillips, Marla Gibbs, Col. Gordon Cooper, and so many more! She played a nurse on
Mannix.
Some of the cast reunited on The Today Show to celebrate the 40th anniversary of Little House on the Prairie. You may be able to catch actress and activist Alison Arngrim who played Nellie Oleson. She is touring in a one-woman show promoting her book, Confessions of a Prairie Bitch.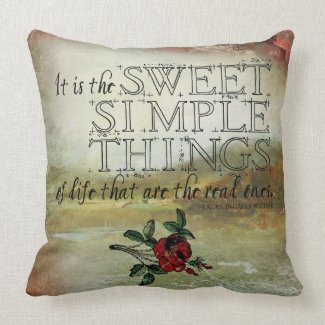 The Sweet Simple Things of Life Pillow
Browse other
throw pillow
designs on Zazzle.
What other TV Moms will be on the list
of 10 Costume-worthy Mamas?
Who do you think belongs on the list?
Cher, Samantha Stephens & Endora, Cersei Lannister,
Lily Munster, Julia Baker, Thelma Harper, Wilma Flintstone
and now Harriet Oleson.
The Moms and Dads are in no particular order
Previously there was
The Famous TV Dads Costume Ideas list
**

The

10 Famous TV Dads Costume Ideas Series
began with Andy Taylor from The Andy Griffith Show
.
Andy Taylor from The Andy Griffith Show
Gomez Addams
George Jetson
Paul
Teutul Sr. from American Chopper
Ricky Ricardo in I Love Lucy
Herman Munster
Ben Cartwright from Bonanza
Homer Simpson
King Friday the 13th from Mr. Rogers Neighborhood
Bruce Jenner were the 10 Famous TV Dads.
Information is from various sources
When significant updates are added to pages, there will be a message with the date of last update.
The quote at the beginning is a take-off on the "When you play a Game of Thrones you win or you die" quote by Cersei Lannister.