Love Your Local Paleontologist
Madge Kennedy 1920
Between Scenes
The Truth
If you set a love story in an unusual place it will add to the fun. A seemingly mismatched couple heightens the audience's interest. Will they get together or are they just too different? Clips from the 1923 Adam's Rib and the famous 1938 Bringing Up Baby are below.
There were a couple of movies in the early 1920s, Adam's Rib and The Truth, that at least had scenes that took place in natural history museums.
If you're looking for dinosaur movies, these might not come to mind at first. Have a movie night after a field trip to the museum. When were the remains of a stegosaurus first found? What cool dinosaur facts could you write up to go along with the movies?
The Truth (1920) starred Madge Kennedy, Thomas Carrigan and Frank Doane. It was produced by Samuel Goldwyn.
Kennedy plays Becky Warder who, like her daddy, tends to tell little white lies. Her fibbing has caught up with her. Her husband has had enough. The movie deals with how she changes her habits and wins back her husband's affections.
In 1923, Cecil B. De Mille released Adam's Rib. One or two DVD sets including this movie may still be available.
This silent movie does not feature Katharine Hepburn and Spencer Tracy. Their version came out in 1949.
The 1923 film stars include the young Pauline Garon as Mathilda who is smitten with Elliott Dexter as Nathan Reade, paleontology professor. The plot-line zigs and zags as Mathilda tries to win the love of Dr. Reade but also to help her mother.
Cecil B. De Mille with Pauline Garon
Between scenes
Adam's Rib 1923
Hansa T-Rex
:
An awesome learning toy, maybe this is a better option for your family to start with than what Mr. De Mille has above? This company makes some amazing large plush animals.
Mathilda's mom's lost the love of Mathilda's father and falls in love with a king. Will Mathilda find the happiness she desires with Nathan?? Will she or her mother become Queen of Morania or will Mom go back to Dad?
Significant stars of the era are also in the movie. Milton Sills plays Mathilda's father and Anna Q. Nilsson plays her mother. Theodore Kosloff is Monsieur Jaromir, King of Morania. He's said to be the deposed king actually, so I guess no one's becoming queen in that case truth be told.
A short scene from the film has been uploaded onto YouTube. What do you think those dinosaurs are made out of?

I See Bones, Allan Sherman excerpt:
From My Son, The Nut
I see bones
I see gizzards and bones
And a few kidney stones
Among the lovely bones
I see hips
And fourteen paper clips
Three asparagus tips
Among the lovely bones
I see things in your peritoneum
That belong in the British Museum
I see your spine
And your spine looks divine
It's exactly like mine
Now doesn't that seem strange ....
If you're a fan of the 1938 screwball comedy classic Bringing Up Baby starring Katharine Hepburn and Cary Grant, you should also enjoy the silent movie, Adam's Rib.
Katharine Hepburn and Cary Grant
in Bringing Up Baby 1938
I love the assortment of Bringing Up Baby posters
that are available, especially those from different parts of the world. It doesn't matter that he's already engaged to Miss Swallow. That kind of thing happens a lot in romantic comedies. The question is, how will we free him of the stuffy Miss Swallow so he can hook up with the feisty and fun Miss Susan? He's also on a search for his intercostal clavicle. Things just might turn out okay in the end.
Halloween Maternity shirts, Movie Vampires. They come in all different styles and colors.
October 15th is I Love Lucy Day! The show premiered on October 15, 1951. Lucille Ball was an amazing physical comedienne.
Lucy is also the nickname given to the female Australopithecus afarensis skeleton discovered in 1974. They suppose that she walked upright on two legs and estimate that she lived 3.2 million years ago. Her skeletal make-up looks to be somewhere between that of an ape and a human being. Celebrate Lucy today, one or more.
funny MATERNITY, sonogram,x-ray image Maternity Shirt
Browse other Halloween Maternity Shirts
SF Giants fan? Orange and black is available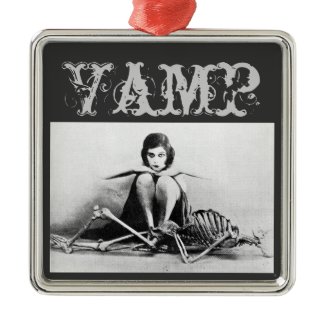 Vamp Wall Hangers, Halloween, Christmas Ornaments
Give as a Prize, giveaway, use as a table setting
Theda Bara was one of the first Film Vampires
Links to Related Pages:
Ricky Ricardo, Famous TV Dads Costume Ideas
Bringing up Cary Grant and The Oscars
10 Great Stunt Women in the 1910s: Read something about Olga Celeste, the animal trainer who worked behind the scenes in the making of Bringing Up Baby
Sources of images
Picture Play Magazine August 1920, January 1923
Publicity Still Bringing Up Baby