The Big Screen's First Latin Lover




I shall be again the romantic lover, It is what I do best and it is what most people want

--

I shall try to be human, understandable
He was the first Latin lover of the silver screen, the first order of beefcake, first one to have us stammering, "Hubba hubba."
"The interviewer is confused, frankly, rattled. One has heard so much about this man and dreamed so much more that when one finally is in The Presence, words simply desert or worse still, mutiny and intelligent questions become chaotic stammerings. Yes, one is a little excited.
"Not so Valentino. He is smoking cigarets in an inordinately long and preposterously slender ivory holder. If the couch is neutral-tinted, he is not. He wears a shining gun-metal grey-satin lounge suit with collars and cuffs and frogs of bright Chinese red. His voice is soft, a little throaty, musical as all Italian voices are. There is only a trace of accent, utterly charming. ...
"'After all who is this Valentino that he should lord it over others? And so I do not let my head be turned. And that is harder than you think ... so many letters I get ... Such crowds come to watch us dance .... But I cannot forget that once I was nobody.'
"Valentino smiles once more and when he smiles it is like the sun coming out."
It's the early 1920s. Rudolph Valentino and his wife Natacha Rambova were preparing to leave for a belated honeymoon in Europe. Valentino is giving an interview before the trip, it is to be titled, When I come back. The interviewer is more than a little enraptured with her subject.
"'I shall be again the romantic lover. It is what I can do best and it is what most people want. I do not mean the matinee-idol type. Heaven forbid! But romance and drama are what most lives lack and I shall try to supply it.
"'And above all I shall try to be human, understandable. I shall play characters that may be made comprehensible to everyone. ... I believe I know the thing that universally appeals to people. I promise to give it to them.'"
Sadly in 1926, he was the first film superstar who died suddenly at a young age. To this day, we hear celebrity deaths and funerals compared to his. You certainly did years ago. Not that many years after his came Harry Houdini, Irving Thalberg, Valentino's friend June Mathis, Jean Harlow, Carole Lombard, so many others.
The country mourned, throngs of fans who were able went to see his body and then went to his grave site. Poetry was written for the fallen star. Women claimed to have given birth to his illegitimate children, to have been his secret brides.
If you've only seen Rudolph Valentino in The Sheik, you owe it to yourself to see his other films to see the actor in different roles. Try to see The Son of the Sheik and Camille.
For years they tried to finance a memorial to Valentino. Plans were drawn up. One such memorial being designed in the late 1920s was to include the inscription:
His films brought high romance into lives oppressed by harsh realities. A Valentino picture meant music to lives that were monotonous. For millions of men and women he crowned dark days with colorful evenings.
In Valentino, men and women upon whom life had forgotten to smile, found escape from themselves and their environment. For a fleeting hour he brought to them the priceless boon of bright illusions.
BOSS Hugo Boss Men's Helion Scarf, One Size



A warm,soft scarf is a great holiday gift idea for any man;


tell him he's the sheik in your life. This one gets great reviews
and is soft with a cashmere blend. Choose any pattern, brand or style.
More in the Series: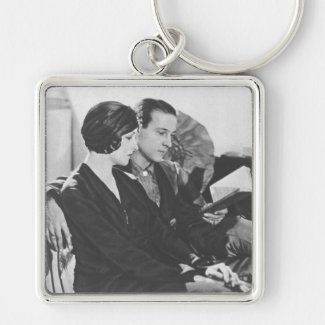 Italian actor, Rudloph Valentino with wife Natacha
Look at another Keychain, Create One
King of the Silents
is a great song from the Gallagher and Lyle Pop Duo Legends album/CD. It tells the story of a silent movie star who is sure that talking pictures are just a passing fad. Maybe he isn't sure that he has the voice to be as big a star in the talkies? Enjoy the whole CD or just the song on MP3.
** This is the beginning of a series, one that's appropriate for the season
. Do you believe in spirits, haunted houses? Do you believe that Valentino's ghost would come back walking through his former home, Falcon's Lair? Does he haunt his grave? Does he send messages?
Sources
Motion Picture Classic December 1923
New Movie April 1932
Photoplay November 1926