Fangirls in the 1930s out for Gable
Clark Gable's Offer, circa 1934: "If the person who found my wrist watch lost during my
They ripped off his buttons
[Even his
mustache is gone]

tour will return it to me I will be happy not only to send that person a duplicate of the watch but I will also pay a cash reward of fifty dollars."

"The watch was a gift from my wife therefore it has much sentimental value to me. If the finder, or taker, will return it to me, I will be happy not only to send that person a duplicate of the watch but I will also pay a cash reward of fifty dollars and ask no questions."
Below are four Gable / Fan incidents.
The watch was white-gold and attaches to the wrist by means of a white-gold link chain. On its back were two initials C.G. Do you know who has the watch? If you do be sure and explain Clark's reward offer.
He was pawed, his possessions pilfered. Even those signature ears of his weren't safe from the pecking of adoring Clark Gable fans. Here are some movie magazine tales. What happens when fans meet their heroes, Mr. Gable's encounters with some adoring fans back in the golden days of Hollywood.
These fans were after autographs and the kinds of movie memorabilia that's one of a kind, movie star memorabilia, maybe celebrity news an experience to share. Was there any
talk of stalkers in the 1930s?

A character in the Jean Harlow film Bombshell suggests that they did have obsessed fans even then.
These girls may have been our mothers or our grandmothers, though I'm sure they weren't really. :-) He was married to Maria Franklin Gable, her nickname was Ria, when most of these events were going on.
What's your favorite Gable movie?
In the 1920s when Rudolph Valentino made his way cross country hundreds of thousands of frantic females literally shed their dignity and honor to get close to Valentino to see him to touch him to cling to him.
In the early 1930s, Clark Gable went from New York to Hollywood with a couple of stops in between. He had some pleasant, not-so-pleasant and even dangerous experiences with fans.
Note in a November 2014 Bonhams - TCM Turner Classic Movies auction the wedding ring given to Clark Gable by Carole Lombard was auctioned off for $40,000.
A toll of Gable's losses on his short trip included the following articles:
27 silk handkerchiefs
33 buttons torn from his clothes
1 complete sleeve of a dress-shirt
1 lapel from the coat of a business suit
1 pair of bedroom slippers
1 top half of a pair of silk pajamas
And that one wrist watch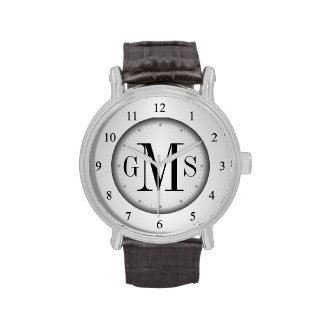 Men's Classy Personalized Monogram Watch
Choose style of watch band, customize monogram
William Clark Gable was born Feb. 1, 1901 in Cadiz, Ohio
Design your own from scratch, Look at additional Watches
The girl nipped one of Gable's ears with her teeth....
In Baltimore a girl rented the hotel room adjoining the suite occupied by Clark, Mrs. Gable and a constant guard who rarely left the actor's side. Beginning early one evening the girl knocked at the door of the Gable rooms. She was answered by the guard who politely but firmly told her that Clark was not in.
At intervals of about one hour the girl continued to knock but each time she was greeted by the vigilant guard. Perhaps the girl thought that the guard would eventually go elsewhere in the hotel because she kept calling and knocking.
Finally about two o'clock in the morning the guard informed her, "Beg pardon Miss, but I remain in these quarters all the time. No need for you to knock on the door I'll always answer you." Whereupon the girl thrust out her tongue and uttered that rasping noise known as the bird.
The following morning as Gable stepped alone into the elevator to go downstairs for breakfast this same girl stepped in behind him. Barely were the doors of the elevator closed before she threw her arms around Clark and began to rain kisses upon his cheek and neck. When he attempted to turn away from her, the excited girl rudely (such, such manners!) proceeded to nip one of his ears with her teeth.
In the midst of this latter display the elevator reached the lobby and the doors were opened. A crowded lobby of people were treated to a show that caused Gable to break away from the girl roughly and dash for the front doorway. As for the brash young lady she only grinned and pocketed a button from her idol's coat. Gable never returned to that hotel.
Back to top
1939 Premiere Gone with the Wind
Gable and Lombard, Olivie de Havilland, Vivien Leigh are all there, and a few fans show up
.
2014 marks the 75th anniversary of Gone with the Wind. At the time these articles came out, that film was several years in the future.
Stroking Gable's cheek while smiling tenderly at him....
A chambermaid in another hotel owes the fact that she still holds her job to the good sportsmanship of both Clark and his wife. To designate the hotel or even the city might lead to the maid's identification, therefore such information must be withheld. At any rate the Gable suite usually consisted of a living room and two bedrooms one of which was occupied by Mrs. Gable and the other by Clark.
This arrangement was of necessity because often Mrs. Gable would go to the hotels and retire early. Gable returning later from theatres would occupy the other bedroom rather than awaken his wife with the noise of his homecoming. Perhaps the chambermaid did not understand this arrangement.
At any rate, the first morning of Clark's stay at this particular hotel, the maid entered the rooms, and went almost at once to the bedroom where Gable was sleeping. The actor was awakened with a start and discovered the woman standing beside the bed. She had been stroking Gable's cheek while smiling tenderly down at him.
Perhaps more roughly than he should have spoken he snapped, "What's the idea?"

And with that the maid fairly burst into tears. She confessed that she'd long been in love with Gable on the screen. When she had learned that she was to clean his rooms her heart had overflowed. She wanted only to touch him to be close to him. That was what she had dreamed of since seeing his first picture.

At that moment Mrs. Gable came to the door. Thanks to her sense of humor she laughed heartily at the sight of her husband sitting bolt upright in bed with the covers drawn close around him while the husky chambermaid poured out her tale of love for him!

The maid was terrified. She opened her mouth to beg for forgiveness but before she could speak, Mrs. Gable interrupted. With the sense of humor that is typical of the woman Clark married, she told the maid to go about her duties but the next time be sure and pick a man whose wife is not so close by.


Back to top
The next Mrs. Gable probably
would have had a good
sense of humor as well,
Gable with Carole Lombard




He screeched around the corner on two wheels at 70 miles an hour...
We were driving down a busy boulevard in Los Angeles, Clark and I in his car. Two girls spotted Gable and chased him. They caught up, crowded his car over toward the curb. All of a sudden I almost went through the seat.
Clark gunned his car forward like a jackrabbit, twisted it straight for two tall buildings. Luckily an alley was in between. I didn't know that. Clark did. We screeched around the corner on two wheels at 70 miles an hour.
"What are you trying to do?" I gasped when I got back my breath. "Kill me?!"

"Sorry," Clark said when it was safe to slow down."What if those kids had bumped me or I'd bumped them? An accident, maybe somebody hurt or killed. Whose fault? Clark Gable's. When you're in pictures, you're on the spot. That was trouble," said Clark, "so me, I just got out of the way!"
-- A 1948 Modern Screen reporter describing a very memorable car ride.
Back to top
A tearing noise, then "Autograph this!" She cried....
One daring girl managed to sneak backstage at the theatre in Baltimore. She made her way unseen into Clark's dressing room. When Gable completed his turn behind the footlights. he found the girl awaiting his return. He had closed the door behind him when he saw her for the first time. He stopped short and demanded, "What are you doing here?"
She asked stammeringly, "Will -- will you autograph something for me, please, Mr. Gable?"
"Gladly," Clark answered believing this the easiest way to dismiss her without any fuss.
"Autograph this!" She cried. With that there was a quick tearing noise, and the girl brought into view the brassiere she had been wearing.

Stern-lipped Gable threw open the door that opened his dressing room out on the back stage runway. That was for protection. Then he seized a sheet of writing paper from his make up case, scribbled a hasty autograph and gave it to the girl.
Before she quite realized how she got there, the girl was outside the theatre, but clamped in one had was her autograph in the other hand the brassiere without the Gable signature.
-- end of excerpt
Back to top
I don't know if he ever got that watch back. Hope he did. Maybe Cary Grant might have given him one inscribed CG? I hear the two actors did silly things like that around holiday-time.
The Gable assessment....
"Our country is famous for its hero worship. I think the public is partially hypnotized by its very willingness to idolize. Even when fans see the stars in person and have that opportunity to discover that we are just human beings like themselves they continue right on with their unbelievable worship."
Have you ever met a big star who you admire? How did you react?
Related Pages, Books of Interest:
You can tell them Clark Gable left his jacket at your place
American Legends: The Life of Clark Gable bio
Kindle ebook or paperback
Clark Gable's Final Film, The Misfits
Academy Awards Spielberg, Collecting, Auctioning, Memorabilia
Masculinity and Film Performance: Male Angst in Contemporary American Cinema
Kindle ebook or paperback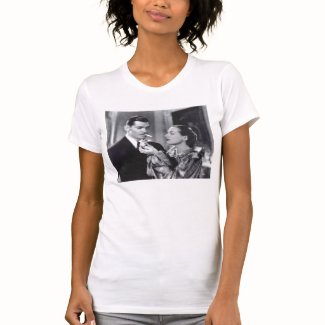 Joan Crawford Clark Gable vintage movie T-shirt
by
Jakestuff
Custom print shirts
online at zazzle
Sources of excerpts
New Movie, Screenland magazines 1934
Modern Screen 1948