Black Cats Brought Celebrities Good Luck
13 Stars with 13 Black Cats
Clara Kimball
Young
1) Clara Kimball Young was from Chicago.
In 1915 Clara Kimball Young was an actress. She would go on to become one of the first female film producers.
2)
Edna Purviance, was born in Paradise Valley, NV, 1916.

(right)
In 1915, Purviance was working as a secretary in San Francisco when actor and director Charlie Chaplin was working on his second film with Essanay Studios, working out of Niles, California.
She was Chaplin's leading lady in many short films.
3) Mae Marsh 1917 was from New Mexico.

Mae Marsh was a prolific actress many films particularly in the teens twenties and thirties.
She appeared in D.W. Griffith's The Birth of a Nation (1915) and Intolerance: Love's Struggle Throughout the Ages (1916).
Later she was in The Grapes of Wrath (1940), How Green Was My Valley (1941), The Quiet Man (1952).
Cats that can be all-black
Of our most popular and beloved breeds of cat, some will naturally have all-black coloring. Here's just a partial list:
Persian
Norwegian Forest Cat
Maine Coon
American and British Short Hair
Scottish Fold
Devon Rex
Manx
Sphynx
4) Dorothy Gish 1917.
Dorothy Gish

Younger sister of Lillian Gish, around the time this photo was taken she was appearing in Gretchen the Greenhorn (1916) and Her Official Fathers (1917).
The only time Lillian Gish directed was the 1920 silent film Remodeling Her Husband, which starred Dorothy Gish. Lillian Gish went on to produce films.
Peggy Hyland
5) Peggy Hyland 1917. She was born in Birmingham, Warwickshire, England, UK.

(left)
Around the time this photo was taken, actress Peggy Hyland appeared in Sally Bishop (1916) and Her Right to Live (1917). The article said she took in stray cats and cared for them.
Peggy Hyland went on to edit films and she was also one of the early woman screen writers and directors.
6) Ruth Roland has one-day-old kittens in a basket. 1917
Ruth Roland
Born in San Francisco, Ruth Roland was an actress who would go on to also produce films and be an acting teacher. She did some of her own stunt work.
Around the time this photo was taken she was appearing in The Sultana (1916), The Devil's Bait (1917), The Fringe of Society (1917) and Cupid Angling (1918).
7) Pauline Starke 1919. She was from Joplin, Missouri.
Captions from the side-by-side photos below:
"In the cinema profession black cats are considered unlucky if they cross your path, but Pauline Starke defies all superstitions.
Pauline Starke
"These photographs were taken of Pauline the last time the thirteenth of the month fell on a Friday, Friday March 13th. On this day she defied three superstitions.
"She has just walked under a ladder, crushed with her foot a mirror and you see the black cat is about to walk across her path. Pauline says that all these things that are considered unlucky by other girls are lucky to her and she looks happy enough, doesn't she?"

Starke was selected as one of the WAMPAS Baby Stars in 1922. She starred in a number of films from 1916 to 1935.

Pauline Starke has a star on the Hollywood Walk of Fame at 6125 Hollywood Blvd, for her contributions to Motion Pictures.
Mary Pickford
8) Mary Pickford 1916. A famous article in Picture Play magazine ran this photo with the caption,
"Mary Pickford and one of her many cats." Hard to tell if some of these cats are black or grey. Doesn't really matter.
Bebe Daniels
Pickford was a famous actress and a pioneer in the movie industry, a producer and writer. She was one of the original founders of United Artists.
She was also one of the first people to leave her imprints outside Grauman's Chinese Theatre, along with Norma Talmadge and Douglas Fairbanks.
9) Bebe Daniels 1920. She was advertised as "The good little bad girl" and part of a Hollywood super couple with her handsome husband, actor Ben Lyon.
When she was nine, Daniels was Dorothy Gale in the 1910 short film The Wonderful Wizard of Oz.
U
nfortunately many of Daniels' movies are currently considered lost films.
Though a few that she did in 1920 where the Good Little Bad Girl campaign was on, Why Change Your Wife?, The Dancin' Fool , You Never Can Tell and Sick Abed (where she played a nurse) are out there.
Helen Mundy
10) Helen Mundy in 1927. She was born in Knoxville, Tennessee.

(left)
When she was 16, a talent scout saw her in a drug store and gave her a motion picture contract.
A fan magazine said that her black cat brought her lots of luck.
Majel Coleman
Miss Mundy decided she didn't want to be an actress and made only the one film, Stark Love with Forrest James.
11) Majel Coleman was born in Ohio. She poses with her black Persian cat.

(right)
They were all made about the time this photo was taken.
Her best known films include Almost Human (1927), West of Broadway (1926) and The King of Kings (1927).
Glenda Farrell 1933
12) Glenda Farrell and black cat 1933. Glenda Farrell, like James Mason were known as a real cat lovers.
Farrell particularly adored Siamese cats. In those days Siamese cats tended to have crossed eyes and Ms. Farrell famously bought one of her cats a pair of glasses.
Both actors had other pets but they especially loved cats, they were proud ailurophiles.
About the time this photo was taken, Farrell was in many films such as Little Caesar, Lady for a Day and Three on a Match.
13) George Nader

was from Pasadena, California. This photo is from 1954.
He appeared in movies such as Phone Call from a Stranger (1952), Congo Crossing (1956), and The Female Animal (1957). Nader was a writer as well as an actor. He wrote some science fiction. His novels include Chrome and
The Perils of Paul. I have sometimes seen his name spelled George Nadar. Not only is Chrome a good science fiction story but it also is relevant because it is a gay novel.

Actresses Marie Prevost, Carole Lombard, Joan Crawford and Elizabeth Taylor also were known to have had black cats.
Questions: Are you superstitious??
How many products can you think of that have (or had) black cats as part of their logos?
In the 1960s, Max Factor launched Sophisti-Cat. His perfume was presented in miniature bottles with a cardboard cat presented under a dome. In the beginning the cats were black but soon they came in other colors such as green, blue, yellow and lilac purple.
Black Cats and Luck
Because in stories and legends, black cats have long been associated with witches and Halloween they are considered bad luck.
Once while standing in line at the vet's office with our black cat some women didn't want to stand behind us when they looked in the carrier and saw our cat was black! They said he was bad luck. I couldn't believe it and thought they were kidding.
People are told to keep their black (and white) cats inside around October 31st. It isn't safe for any cats to be outdoors. It's a good idea to keep your cats inside all the time regardless.
Speaking of being free of superstition, I'd read that when Jimmy Stewart placed his handprints and footprints in cement at the forecourt of Grauman's Chinese Theatre in 1948, he had done so while standing under a ladder with a black cat next to him. The only photos I've found are cropped close but I don't see evidence that this is correct.
I haven't seen that James Stewart was hyper-superstitious but he was superstitious about the day Thursday, and I tend to doubt that he would have done his hand and footprints in this manner. Does anyone know if this is true?
Black Cats in Movies
Some of the many early movies featuring black cats. In some of the films they're bit players, in some they have more featured roles.


Black Cat (1934), Theodora Goes Wild (1936), Easy Living (1937), The Awful Truth (1937), Christmas in July (1940), To Catch a Thief (1955), Footsteps in the Fog (1955), Tales of Terror (1962) and Tomb Of Ligeia (1964).
Instagram/Photo Cats Cat Water Bowls
Check out more Zazzle Pet Food Bowls
We have these bowls for our cats. They're good quality and they stand up to both hand washing and the dishwasher. We added both text and multiple photos. The kitchenware items on Zazzle are good quality and I like that they are so customizable.
Ziggy Marley's song, Black Cat, Here's an excerpt from the lyrics:
"Black cat one day things will change, I'm gonna wipe away your bad name
my friend tells me you're no good, and I say hey I'm not afraid

"Black cat you're beautiful, why does everybody run away
has anybody told you, I care
has anybody told you, I love you."
Could your cat act in a film? The American Humane Association puts a statement at the end of films to say that animals were not harmed in the making of movies.
Ralph Crane photographer; poster
Owners with Their Black Cats, Waiting in Line For Audition in 1962 movie Tales of Terror
Related Pages of Interest:
Siamese Cats in Movies, Books, Television
Rocker Dogs, Pet parades, runways, weddings, photos
10 Early Women Film Producers of the 1910s
Siamese Cats: Traditional (Apple Head) Thai Cat vs. Modern (Wedge Head) [Being revised]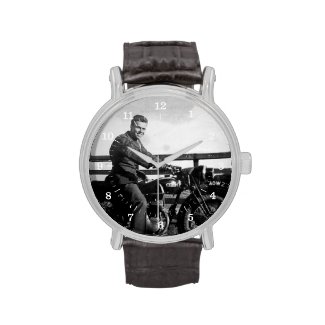 Personalized Photo Watches
Check out Personalized Watches online at zazzle
GoCat Da Bird Pull Apart Rod and Bird Cat Feather Toys, Assorted Colors
Our cats, young and old, go mad for this toy. Da Bird. Great for bonding with them and exercising your pets.