Strange Experiences at Valentino's Grave
Did you know that:
Crypt of Rudolph Valentino
Ten people inquire every day for the specific location of Valentino's burial place

There are societies all over the world pledged to keep the grave ever fresh with flowers?

A woman dressed always in black came to the grave every week for three years?

A girl came all the way from Chicago just to get a rose petal from the grave?

Over a hundred people visit the cemetery every day
In 1932, six years following the actor's death, New Movie Magazine talked to Roger Peterson, known as Pete, an attendant at Hollywood Cemetery mausoleum. The major part of his duties have to do with inquiries concerning Valentino. He had to assist and clean up after people when necessary.
Wake for Rudolph Valentino August 1926
Pete said there are thousands of people who are genuinely interested in Valentino and they talk with him about the star. Facts above are also from that article called My Strange Experiences at Valentino's Grave.
"Unfortunately he also has to deal with hysterical sometimes unbalanced people who make a Roman holiday of their visits to Valentino's crypt. His handling of such semi-psychopathic cases would do credit to a physician. Pete has kept a diary since he has been on the job at the Hollywood cemetery." The diary began September 7, 1926, the day that Rudolph Valentino was laid to rest in the mausoleum.
The location is now called the Hollywood Forever Cemetery. An annual memorial service is held each August 23rd.
"The crypt in which he now lies belongs to Miss Mathis. In the tier below lie her
June Mathis 1922

mother and stepfather. The space next to Valentino is reserved for Miss Mathis' husband. (Note: upon the death of June Mathis Balboni, July 26 1927 Valentino was moved to the next crypt and she was given her own. She is best remembered for discovering Rudolph Valentino and writing such films as The Four Horsemen of the Apocalypse and Blood and Sand.)"
There are a few spiritual and somewhat spiritual things from his diary that were in the article. Unfortunately too much of his time was spent with with souvenir hunters and vandals who tore flowers and plants apart. People chiseled pieces off of memorial statues to the point that they toppled over.
"September 10
, 1927: Still more people and a particularly violent fit of hysteria. It is a shame that sincere affection for a public figure such as Valentino must be besmirched by exhibitionists.
"September 30: A woman came to the mausoleum today with the wildest delusion yet. She claimed she was about to become a mother and Valentino was the father of her child. This thirteen months after his death. The woman asked permission to have a cot placed before Rudy's crypt where she might stay until her baby was born. She went up to the cemetery office and somehow or other they got rid of her."
A 1961 retrospective article in The Sarasota Herald-Tribune reported that "35 women claimed he had fathered illegitimate children by him. All claims came after his death. There was no Valentino heir from the two marriages he had." There were one or two famous cases where women claimed they had been secretly married to Valentino and he had fathered their children. Close friend George Ullman addressed this in his book.
Rudolph Valentino
18 years old, 1913
Just arrived in America;
He didn't speak any English
"Oct 15, 1928: I met Mrs. Coppola today she is the mother of the baby named for Rudolph Valentino. Of course being Italian, the name is spelled Rudolfo. The baby died at birth September 29 and is in a crypt on the top tier of the Valentino corridor. The mother came today and stayed several hours reading her bible and praying. I wish I could do something to comfort her in her great grief.
"November 21: Mrs. Coppola was happier today than I have ever seen her. I asked her why and she told me a strange story of Valentino coming to her last night and talking to her. She said his spirit came to her house and knocked on the door.
"When she let him in he told her that her baby was happy and not to grieve so much. .... Mrs. Coppola and Pete became friends. She came at least 5 times a week. She always brings flowers from her own garden. These she divides equally between her baby and Valentino. ...
"She tells Pete that she sees Valentino's spirit occasionally in her dreams and frequently hears him walking about the house at night. She met Valentino's brother and sister who come to the cemetery often and they all pray together."
... as the rain fell on me stretched canvas print
*Two panels, side by side; framed or unframed, choose style
Browse for more wall art on Zazzle
The Lady in Black:
"March 7, 1929: The Lady in Black is no longer a mystery. She told me a lot about herself today. She is very poor which explains why she wears the same dress every week. A black and white hat and a long cape, reaching to her ankles complete her costume. Her husband left several years ago with a small child to support. She earns all she can doing housework of the hardest sort.
"Valentino represents the only romance in her life. She went to the studio once to see him work but was too bashful to ask for an introduction. She says however that he glanced her way and smiled while looking directly into her eyes. That moment she will treasure forever. A few weeks later he left for New York where he died. She failed in her endeavor to meet him while he loved and now she spends what time she be can by his side in death."
August 29 1929: Pete wonders how the Woman in Black is doing. He last saw her several days ago. A note says he would never see her again.
There is no other information about her given. I've read several accounts of Valentino's Lady in Black. The most common is that she was a woman named Ditra Flame. Beyond that the details may vary. Did she or didn't she know Valentino? They may have grown up together, maybe they never met, as the lady talked about in the diary.
Actress Rita Flynn places a wreath at Valentino's grave
Fifth anniversary of his death
Did she bring a single red rose? Twelve red roses and one white rose? A bunch of violets? Flowers picked from her own flower garden? How often did she visit? How many ladies in black were there? Was it all just a publicity stunt?
Were there impostors or could there really have been more women dressed in black visiting Valentino's grave?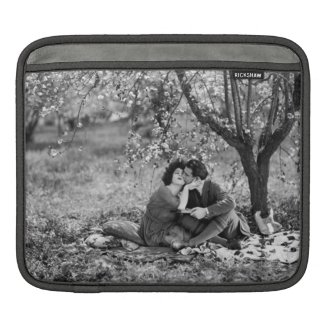 Vintage Photo Sweet Picnic Kiss Rudolph Valentino 1921
Browse & Create other laptop / iPad sleeves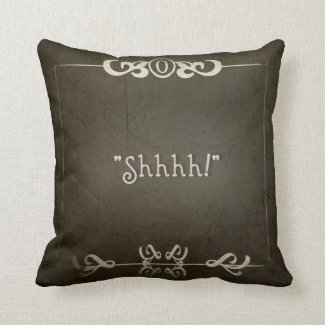 SILENT MOVIES~ "Shhh!".. fun Media Room pillow by ARTKISSED
Check out or create more Zazzle Pillows
"December 16, 1929: We had a real spiritualistic manifestation today. A woman came in and introduced herself as a medium. She said she had spoken with Valentino upon numerous occasions, but he always disappeared before she could ask him anything she wished answered.
"She had therefore traveled from somewhere in New England that she might hold a seance by his crypt. Perhaps she wasn't asking my permission but I told her to go ahead. I really don't care what people do just so they aren't noisy and don't steal or break anything.
"The medium ran around in circles crying, 'Hear! Hear! He knocks. Rudy knocks.'
"She behaved like an insane person. Others attracted by her cries came running down the corridor. Sure enough there was a tap, tap, tap to be heard from above.
"We investigated and found a large yellow-hammer had gotten into the attic of the mausoleum. How that bird had been able to get in remains a mystery today. But he was flying around crazily and making the tapping noise. The bird and the spiritualist left the cemetery about the same time. I don't know which was the most crestfallen, but neither returned."
-- End of
New Movie Magazine excerpts
Suicide attempts at Valentino's Grave
January 1936: "Another woman attempted suicide at the grave of Rudolph Valentino the other day. A few people became greatly excited but the story is not new, this was not the first suicide try there. Valentino has been dead nine years, but his tomb is visited by scores every day.
"Many of these leave flowers. More leave tears. Four have attempted suicide. All four were women who were, to use a coined phrase, Valentino mad. The screen has had its Carlisle Blackwells, Wallace Reids and Clark Gables, all public idols, but no other star has equalled Valentino's grasp on feminine emotions."
-- Reading Eagle, January 27, 1936
The Four Horsemen of the Apocalypse lobby card 1921
Alice Terry, Rudolph Valentino
Screenplay by June Mathis


Haunting his old studio?
The studios where Valentino's movies were filmed are possible places of hauntings. Early ghost pictures? Have these ever been published?
"A man from a California wayside town visited the old Metro studio, also haunted, where the actor made his first success, in The Four Horsemen. He took Kodak pictures. When the negatives were developed, queer shapes weird figures appeared on the prints. Distinguishable on a post was a shadowy form of Rudolph Valentino."
An August 1976 newspaper article spoke about how the Valentino mystique lingers fifty years after his death. About his funeral:
"Hollywood Memorial Park Cemetery was strewn with flowers dropped from an airplane overhead. Teeming mobs covering one end of Santa Monica Boulevard to the other stretched their fingers skyward in order to catch some of the petals that descended 'like tears shed from the very heavens themselves.'"

Other articles in this series:

The Lady and The Ghost of Valentino Rudolph speaks to his wife from beyond
Falcon's Lair Rudolph Valentino's legendary Haunted Mansion
Valentino speaks about, "When I Come Back;" Rudolph and Natacha leaving on their honeymoon
Take a tour with a Valentino Fan
Related books and pages of interest:
Dark Lover: The Life and Death of Rudolph Valentino
One of the most popular books about Valentino.
Intimate Biography: Rudolph Valentino - The Great Lover + The Four Horsemen of the Apocalypse
This DVD set gets good reviews but others do, too. I chose this one because it contains a movie and a biography as well as the audio of his voice. Good extras, good compilation for the price.
American Afterlife: Encounters in the Customs of Mourning
Lou Costello Memorial Bracelet for his son
Who inherits your affiliate marketing pay & online sales earnings: When our Affiliate Marketing work outlives us :What happens to our online income after we die? Who controls about our social media pages like facebook after we're gone?
1930s Fan Girls chase Clark Gable, tear his clothes, nibble on his ears
Speaking of Ladies in Black, The The Metropolitan Museum of Art in New York had an exhibition, Death Becomes Her A Century of Mourning Attire which ran
October 2014 – February 1, 2015.
Sources not cited elsewhere
The Victoria Advocate, August 29, 1976
Screenland 1922
Motion Picture November 1928
Photoplay November 1926