Number five on the list of Famous TV Dads Costume Ideas is Bandleader Ricky Ricardo
Cuban Bandleader Adult Costume Size Large
Jacket and Pants. A wig is sold separately.
This is a fun costume. Ricky is our first musical TV father, though Andy Taylor was quite the guitar player!
On the show, Ricky and his wife Lucy had one child, known as Little Ricky, who played drums like his dad. Ricky worked at The Tropicana Club and Lucy always wanted to be in the show!
Lucy and Ricky were portrayed by married couple Lucille Ball and Desi Arnaz. Ricky Ricardo was a fictionalized version of the actor's own life. They created Desilu Productions which went on to produce / provide the facilities for the production of programs including
The Dick Van Dyke Show, The Andy Griffith Show and Star Trek.
Adult Straw Skimmer Hat
to tip your hat to everyone in the room
The Men's Ricky Ricardo Halloween Costume
comes with a ruffled shirt & matching black pants.
TV executives hadn't wanted Arnaz to play Lucy's husband on the
I Love Lucy
show at first.
They thought it would be unbelievable to viewers that she would be married to a Cuban bandleader. But it was true. Desi Arnaz and Lucille Ball were in fact married! The couple convinced them that their idea of bringing their real life relationship onto the screen would be a hit, and they were right.
On top of that, they got to see a lot more of each other. The cool thing about famous couples costumes like Lucy and Ricky is they work for Halloween and for 50s parties, Hollywood parties. Everyone will always know who they are.
Find quality
Conga Drums, Percussion
instruments, high customer ratings.
Ricky Ricardo played guitar as well as conga drums.
The Barbie Collector I Love Lucy Lucy and Ricky Doll Giftset
by Mattel are very popular. I Love Lucy Barbie has received 5 Star Customer Ratings.
Inspired by the Lucy espisode,
The Diet
The
I Love Lucy Mattel Barbie Collection
Can you remember the famous
I Love Lucy
episodes these dolls are inspired by? :)
A great excuse for a party to celebrate
I Love Lucy
and try out the new costume before
Halloween is
I Love Lucy Day!
It comes on
October 15th
.
The show premiered October 15, 1951.
Some genuine Desi Arnaz music such as you'll find on
Babalu
will get your party started!
Select more Music from
Desi Arnaz & His Orchestra
Even included is the famous song from the show,
We're Having A Baby (My Baby And Me) & There's A Brand New Baby At Our House.
All ready for other events like that 1950s party or your next baby shower!
From what I can glean with research,
Babalu-Aye
is an Orisha Spirit of Healing in the West African and Cuban Santeria religion.
Desi Arnaz is said to have based his song,
Babalu
on that of singer Miguelito Valdes.
Here's a CD where you can hear an earlier
Babalu.
Mr Babalu 1949-1950
I Love Lucy tee shirts
The shirt combines the I love concept the
I love Lucy show and Lucy our eve of human evolution -- from the designer
Many other T-Shirts Available, Customize Them!
More Lucy T-Shirts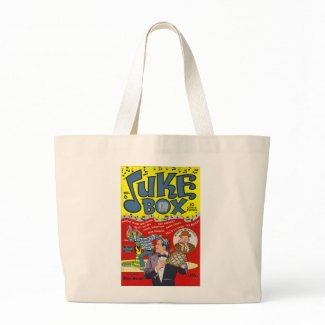 Carry all your goodies in the eco-friendly
Juke Box vintage cover Desi Arnaz Canvas Bag
by
Jakestuff
Shop for other
tote bags
online at zazzle.com
The Desi Arnaz autobiography was simply called,
A Book
What other TV Dads will be on the list
of costume-worthy Papas?
Who do you think belongs on the list?
** This 10 Famous TV Dads Costume Ideas Series
began with Andy Taylor from The Andy Griffith Show
. The dads are in no particular order
.
Andy Taylor, Gomez Addams, George Jetson, Paul
Teutul Sr. and Ricky Ricardo are the Famous TV Dads so far. Who will be next?!