When our Affiliate Marketing work outlives us
What happens to our online income after we die?
Are you an affiliate marketer or an online publisher who incorporates affiliate ads into the content on your blog or other web site? Are you an Amazon Associate or use Google AdSense?
Does the site you're working with allow you to name a beneficiary for the funds you earn in the case of your death?
How would they handle the transfer of funds from one account to another? Different sites have different policies and their policies tend to change.
This isn't something people want to be thinking about at the time of someone's death. It's a loving and selfless thing for us to do something now so they'll know what to do.
If there's a significant lag time, your account can go dormant and your account could begin being penalized. It could be closed and your income could be lost altogether.
The first thing to do is let someone know that you're working online. Make note of your passwords and any other pertinent log on information.
You probably don't want your beneficiaries to know this information now but arrange it so they'll receive it when you die. Don't forget intermediary or money management sites such as PayPal.
One thing I noticed when looking for information about this topic was emails from family members of a person who'd suddenly died, had an accident or taken ill. These weren't necessarily elderly people.
They may not have had a really big online income that made them think in advance to create special arrangements.. Don't assume you have a lot of time to get this in order.
If you have an Etsy, Amazon or eBay store, who will know how to find, package and ship products when they're ordered? Someone will need access to that email account if the shop is to stay active. Maybe you should have instructions that they at least should put your shop on vacation for a while? You could leave instructions to do this especially if you're injured or sick and expect to get back to work.
Here is some information I've found from a few online companies. Some of the info was found on their sites, some from personal emails. Always double check for yourself when you have the need. It can be a starting point.
Accessing a deceased person's Google account:
"If an individual has passed away and you need access to the contents of his or her Google account, in rare cases we may be able to provide the account content to an authorized representative of the deceased user. We extend our condolences and appreciate your patience and understanding throughout this process.

"At Google, we're keenly aware of the trust users place in us, and we take our responsibility to protect the privacy of people who use Google services very seriously. Any decision to provide the contents of a deceased user's account will be made only after a careful review, and the application to obtain account content is a lengthy process." .....
"If you are the authorized representative of a deceased user and wish to proceed with an application to obtain the contents of a deceased user's Google account, please carefully review the following information regarding our two stage process..."
This is a part of Google's Inactive Account Manager feature. Check with them for information about your Google AdWords account, etc.
-- excerpts from Accessing a deceased person's account, Google.com
Google AdSense:
Getting paid: As a rightful heir to a deceased person, how do I get payment for any unpaid earnings?
Because the AdSense system doesn't know that an account owner is deceased, the system will automatically continue to make payments using the payment settings in the AdSense account. If you are the rightful heir and need payment of accrued earnings to be redirected, please upload the requested documentation electronically here or fax or mail your request and appropriate legal documentation to:

Google, Inc.
Attn: Google Legal Support, AdSense Support
1600 Amphitheatre Parkway
Mountain View, CA 94043
(650) 618-8507, Attn: Google AdSense Support
-- From Google AdSense Help page retrieved January 14, 2014
Also from Google:
How do I change my payee name or address?

Though our Terms and Conditions don't permit transfers of account ownership, we do allow you to update your payee name to fix misspellings or to make adjustments for changes such as marriage, death, or company mergers. You can freely change your payee address at any time. ....
Payment Claims for a Heir
Form asks you to Create new login, update email address and upload a Death Certificate. Your Gmail address should appear where it says Contact email address
Amazon.com
"As long as someone contacts from the email address that is associated to the Associates account we would be able to help them with any account information that is needed....
"If we are able to receive one of the requested documents from the list below from the corresponding person we would be able to take the requested action."

Please provide one of the following below:

* Estate Executor: A court-issued letter of administration for an estate subject to probate

* Spouse/Family Member: A death certificate for the deceased (will list spouse's name)

This information can be faxed ...or if you prefer, can be mailed to the address listed below.

Attn: Associates Department
C/O Amazon.com
1550 S 48th Street
Grand Forks, ND 58201

Once the above listed information has been faxed or emailed please contact us back using the link that is listed below.
You can use this specialized link to provide us with the information we requested above:
http://affiliate-program.amazon.com/gp/associates/contact/

If you're unable to provide the above documentation or you can't write from the account holders e-mail address, please respond to this message to let us know. We'll need you to provide all of the following information about the account:

- The Associates Associates ID
- The Associates primary e-mail address on the Associates account
- The Associates payee name
- The complete Associates payee mailing address

You can use this specialized link for questions and to provide them with the information we requested above,
-- From personal email to Amazon.com Associates Help Contact April 2012; any company information shown was already available to the public
Zazzle: Death or Incapacity

In the unfortunate event that a member of our Seller community who is a natural person dies or becomes permanently incapacitated, Zazzle will take all necessary steps to work with their successors and assigns. However, Zazzle will need the following documentation from such deceased or incapacitated Seller's successors, assigns or their legal representatives for verification purposes:

Death Certificate
Proof of Succession
Power of Attorney
-- excerpt from Zazzle Non-Exclusive License Agreement retrieved Jan 14, 2014
Commission Junction:
"Commission Junction would act in accordance with standard legal death procedures, which may include requesting and reviewing a copy of the death certificate and/or will.

"If you need additional assistance, please update this incident through the Support Center."
-- From personal email with Help Center April 2012
Think about the different kinds of residual income you might have from an online site. Writing on Yahoo, Wizzley, etc.? Selling on a site such as Zazzle, Etsy, eBay or ArtFire?
Many of these online pages overlap. Amazon.com allows us to be affiliates and to sell items.
On Yahoo, we can write for profit, have our email and Yahoo owns the photo-sharing site, Flckr.
There are big affiliate networks such as ShareASale and Commission Junction (CJ). Some of us work directly with merchants, big ones like Amazon or smaller ones. They pay through direct deposit or check.
This article really isn't about all the other online parts of our lives.

People have been talking about digital media and what happens to our iTunes library and our Kindle eBook libraries. I've heard that we should think of our movies and MP3s as if we're just leasing them instead of owning them even though we paid for them.
Other things of value that we have online, documents and photos.
Do you use Cloud storage? Here's a part of Apple's iCloud terms:
Apple iCloud: No Right of Survivorship

"You agree that your Account is non-transferable and that any rights to your Apple ID or Content within your Account terminate upon your death. Upon receipt of a copy of a death certificate your Account may be terminated and all Content within your Account deleted."
Make sure people know about your Flickr and other accounts so they're not deleted or terminated and all of your photos lost forever. This can be a big loss to your business and your family.
How many places do you have your important photos and documents saved? Does a family member have the password and login ID to your Apple and/or Flickr account?
We just faced the anniversary of the death of a young adult in our family. Someone's social media accounts become an issue as well. Facebook may become a memorial page.
If you have a business page or are selling ads on Facebook, I still need that information.
The Facebook blog discusses memorial pages
"When an account is memorialized, we also set privacy so that only confirmed friends can see the profile or locate it in search. We try to protect the deceased's privacy by removing sensitive information such as contact information and status updates.
"Memorializing an account also prevents anyone from logging into it in the future, while still enabling friends and family to leave posts on the profile Wall in remembrance.

"If you have a friend or a family member whose profile should be memorialized, please contact us, so their memory can properly live on among their friends on Facebook.

"As time passes, the sting of losing someone you care about also fades but it never goes away. I still visit my friend's memorialized profile to remember the good times we had and share them with our mutual friends."
-- excerpt from 2009 Facebook blog, Memory of friends departed endure on Facebook
Facebook will no longer limit who can view the accounts of its deceased members. Until now, Facebook would change the privacy settings on a deceased person's account — known as a memorial account — so that only their friends could view the page. But going forward, Facebook will leave privacy settings as the account's owner had set them, so anyone who could view their account while they were living will be able to view their memorial account as well.
-- The Verge, 2014
"We are respecting the choices a person made in life while giving their extended community of family and friends ongoing visibility to the same content they could always see" 2014 Facebook blog post, Remembering Loved Ones.
Facebook Member Memorialization Request:
Choose Who Controls Your Page, Your Account After You Die
Memorialization Request "After someone has passed away, we'll memorialize their account if a family member or friend submits a request. Learn about what happens when an account is memorialized. If you'd like a loved one's account to be memorialized, please use this form to let us know."
Optionally you can request that there be proof of your death.
If you can, please provide a link to an obituary or other documentation about the death. This is very helpful to the team that reviews memorialization requests.

** All information is for the United States and all retrieved January 14, 2014 unless stated otherwise. I'm not an expert at any of this and cannot give guarantees, but found a need to gather this information and wanted to share with others. I expect to hear from a few more sources and will post more information when and if I receive it. Programs change or shut down completely unexpectedly sometimes. Some of the information here may be outdated and/or may not apply to you. This page will be updated if possible. Major updates will be noted with a date.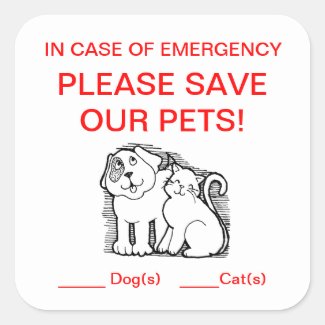 Pet Rescue Sticker by zolostuff
Make photo stickers at zazzle