Do you keep chickens?
Hens been on your mind lately?
Carole Lombard
and Edmund the Rooster
In the mid-1930s Carole Lombard, then just dating Mr. Clark Gable, had an assortment of pets, including dogs and cats, some of them rescues. She also had some ducks, a hen named Jessie and a rooster named Edmund.
Every once in a while I talk about animals, how to help our pets, their appearance in films, mascots, the pets of celebrities, animal milestones, etc. Today:
What characters in Hitchcock movies had bird names?

Carole Lombard's birds

Favorite British TV shows with farming or nature themes

Remember Spofford?!

Could you have predicted the Chicken of Tomorrow?

How did Colonel Sanders start his KFC business?

What can Martha Stewart tell us about selecting chickens to raise?
The ducks were babies when the studio gave them to Lombard. The rooster and hens given to her by her servants - as a gag.
She'll have to give up the rooster because of a clause in her Bel Air subdivision contract stating no poultry. His crowing is bothering her neighbors. She doesn't want to move. Barbara Stanwyck said a sapphire ring Lombard wore in the early 1930s when still married to William Powell was the size of a hen's egg.
In 1939 Carole Lombard will move when she marries Clark Gable.
Carole Lombard will have to part with Edmund Rooster
Bird-named characters in Alfred
Hitchcock movies...
Marion Crane in Psycho
Captain Lesgate C. A. Swann in Dial M for Murder
Others??
In the late 1960s, actor Hans Conried performed the title role in Spofford! He is a retired chicken farmer who 'declares war on the big-city commuters who invade his hometown.'
This light comedy set in modern day Connecticut. The show played in New York and traveled across the country.
How did some old, iconic businesses get started, promote themselves?
"The grocery store A&P had long sold poultry feed for customers who kept chickens, and in 1947 it sponsored a contest to design the Chicken of Tomorrow, promising "a chicken with breast meat so thick you can carve it into steaks."
Henry Saglio, a successful Italian America, of Arbor Acres Chicken Farm in Glastonbury, CT soon bred a flock of completely white-feathered chickens. He went on to breed White Rocks that had extra meat, reached maturity quickly and laid more eggs. The bird was a hit, taking second place in the 1948 competition.
July 1951 Saglio and Arbor Acres Farm chickens reportedly won that Chicken of Tomorrow competition. It was estimated that three out of every four chickens eaten in the US are offspring of Arbor Acres chickens.
Arbor Acres White Rocks were judged best of all pure-bred stock in the industry and white-feathered chicken was on its way to revolutionizing the industry. Designer chickens?
Saglio was elected to the American Poultry Historical Society Hall of Fame in 1977 and was cited as "the individual most responsible for the direction taken by the broiler industry."
-- The Pittsburgh Press, August 14, 1987
A large Colonel Sanders statue on display
Probably at The Harland Sanders Museum and Café Corbin, KY
Who do you think of when you think of fried chicken? KFC?
How did Colonel Sanders start his Kentucky Fried Chicken business?
Good Neighbors : Rosemary and Thyme
The great British comedy Good Neighbors, aka The Good Life showed a couple determined to live by self sufficiency. They kept animals and farmed their own vegetables. Today we might call what they were doing urban or organic gardening by sustainable means.
Our own garden is forever getting larger. Friends of ours are considering keeping chickens. Make sure your community doesn't have any ordinances like the one Carole Lombard was facing.
In one episode, Tom and Barbara Good have difficulty with their next door neighbors, also their best friends, because of the noise they're creating with some early morning equipment.
Another nature-themed British program, this one a drama is Rosemary & Thyme. It stars Felicity Kendal and Pam Ferris. Professional gardeners, Rosemary Boxer and Laura Thyme solve murders in some gorgeous and eerie gardens in Europe. This show aired originally 2003-2006.
Martha Stewart keeps chickens. She has several varieties.
Related Pages of Interest:
The Top 10 TV British Comedies on Amazon Prime: Incl Good Neighbors Richard Briers, Felicity Kendall
Top 5 Hitchcock Chicken Scenes
Frank Thornton Are You Being Served? Richard Briers
Alfred Hitchcock's Blue Food Dinner Parties: The practical joke so nice he played it twice
Ducks and Geese in Movies: Fowl in Film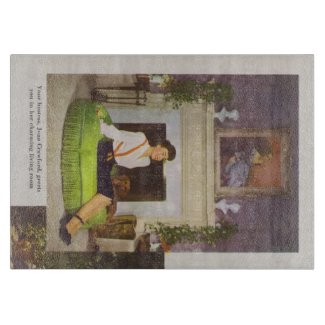 Check out other Kitchen Cutting Boards, dishes, pitchers, sugar bowls and more
You don't have to work at Mildred's Restaurant
Canary in Pink Jewels Ziegfeld? Louise Brooks Tote Bags
by
hermoines
Browse Canary murders in pink Bags online at
Zazzle.com
Books:
Hans Conried: A Biography; With a Filmography and a Listing of Radio, Television, Stage and Voice Work by Suzanne Gargiulo, Leonard Maltin
The Great A&P and the Struggle for Small Business in America by Marc Levinson
Fried & True: More than 50 Recipes for America's Best Fried Chicken and Sides
The reunions, block parties and picnics are coming up this summer. Avail. in Digital / Kindle or paperback
Other Sources:
The Hartford Courant, The Pittsburgh Press, The Schenectady Gazette, The New London Day, Motion Picture Magazine 1937; Col. Sanders image by Joel Kramer