The Top Five Chicken Appearances in Alfred Hitchcock Films
Much has been written about recurring themes in Hitchcock's work. Several

people have made studies of birds in his films. Between live birds, statues and avian art objects there is a lot that can be studied. I'm narrowing it down to the occurrences of chicken.
When do his characters eat and talk about chickens? When does Hitchcock himself bring chicken, uh, onto the table?
There are spoilers so if you haven't seen these films, be forewarned. Also I'm no expert on movies or cooking. Finding copyright/royalty-free images & video wasn't always possible so I got creative. These are in no particular order.
Don't be a... You know. Read on.
1) Rope 1948 Starring John Dall as Brandon Shaw, Phillip Morgan as Farley Granger and James Stewart as Rupert Cadell.
Shaw and Morgan have strangled a former classmate to death, thinking it's the perfect murder. Publisher Rupert Cadell was their prep-school housemaster.
"A suspicious Rupert quizzes a fidgety Phillip about this and about some of the inconsistencies that have been raised in conversation. For example, Phillip had vehemently denied ever strangling a chicken at the Shaws' farm, but Rupert has personally seen Phillip strangle several."
Phillip Morgan (Granger): I never strangled a chicken in my life!
Rupert Cadell (Stewart): You're quite a good chicken strangler as I recall.
2) Topaz 1969

Starring Frederick Stafford as André Devereaux and Karin Dor as Juanita de Cordoba.
It's the most viscerally interesting use of chicken that I could find in a Hitchcock film. Some accounts call the scene reminiscent of the birthing process.
Two members of Juanita's loyal staff agree to have a picnic up on a hill where they will photograph the unloading of Soviet missiles. In preparation for this picnic, a camera is placed in a hollowed out ham sandwich.
A camera is also stuffed into the backside of a chicken in a manner that would make Julia Child step forward and strongly object. As luck and Hitch would have it, a while into their picnic, their position is given away by hungry seagulls who squawk and feast upon that hollowed out bread.
Couldn't find photos or a video from this scene but I did find something similar.
Mr. Bean's Christmas Dinner. Rowan Atkinson is Mr. Bean. His losing a wristwatch in his holiday turkey is reminiscent of their placing the camera into the chicken.
Lesson to learn: Be sure there are no take any metal objects, especially those that are ticking or clicking out of your bird before you sit down to dinner. Check, just in case your host/hostess may have neglected to do so. No one in a Hitchcock film, that I can recall, ever walked around with a turkey on his head though.
3) The Birds 1963 Starring Tippi Hedren, Rod Taylor and Jessica Tandy.
Lydia (Jessica Tandy) complains that their chickens won't eat. She thinks it's bad feed. Is this the first strange thing that the Brenners notice amiss at their farm. The first ominous happening before the arrival of .... The Birds??
In one of Hitchcock's trailers for the film, he sits down to a plate of chicken, starts to eat, but thinks better of it. (approx 5:05)
The Hitchcock Wiki includes a discussion about the creation of its final scene.
"This breathtaking image, a combination of 32 different exposures and Albert Whitlock's stunning matte painting, has been referred to by Hitchcock as, 'the most difficult single shot I've ever done.'"
"Approximately a third of the birds in the shot were dummies, mostly used in the background and on the barn roof for atmospheric purposes. A few were chickens and ducks which had been purchased from a local slaughterhouse, and dyed to mask their natural color.
"The foreground was shot in three panel sections; the few live sea gulls available were shot and re-shot for each piece. Just above the heads of the crows was a long, slender middle section with more of the same gulls spread apart. The car going down the driveway, with the birds on each side of it, was another piece of film, as was the barn, and so on."
The last two examples are fun because they're only Chicken Kisses that could be found. Couples who have to decide whether to eat their chicken or kiss, kiss or eat their chicken. Oh when you're Cary Grant and Grace Kelly -- or Cary Grant and Ingrid Bergman -- how do you decide. Why did the chicken cross the road? Because inevitably the chickens come out on the losing side, these couples would rather kiss.
4) To Catch a Thief 1955 Starring Grace Kelly and Cary Grant.
Grant as John Robie Kelly, as

Francie Stevens. The couple has a wild ride where Francie nearly runs over a woman and a live chicken. After losing a police car that was tailing them, they pull off the road to eat a picnic from a wicker basket, chicken and beer.
Robie drinks directly from the bottle and Francie pours hers into a glass.
When Francie said, "The cat has a new kitten," John Robie decided it was time to get the upper hand...
Get a poster print of their picnic, To Catch a Thief
Francie: You want a leg or a breast?
Robie: You make the choice.
Regardless of which you think came first, people often talk about Hitchcock's dislike for eggs. Did Hitchcock have food phobias? To Catch a Thief contains egg scenes of note. In an interview, he said he knew he'd already shown the snuffing out of a cigarette into food once before in a movie. He did it again here to show his dislike for eggs.
Early in the film, an egg is hurled at Robie by a member of the kitchen staff. It hits a window beside his head, splattering.
Later, Jessie Stevens mashes out a cigarette in a fried egg.
5) Notorious 1946

Starring

Ingrid Bergman and Cary Grant
The most romantic and probably the longest kiss in any of his films. She roasts him a chicken. Despite several breathy comments about the chicken
and how they'll eat it
(

she tells him that it caught fire

), the poor bird is ignored.
An honorable mention would go to the film Frenzy 1972.
Alec McCowen as Chief Inspector Oxford is less than delighted with an overcooked bird prepared by Vivien Merchant as Mrs. Oxford.
The 1946 film
Deception
has a fun scene with Claude Rains, Bette Davis and Paul Henreid. Hollenius' nose knows a good bird. He also orders "a nice brook trout." This Warner Brothers movie was directed by Irving Rapper.
You may remember talk of a brook trout popping up in a memorable scene in Hitchcock's 1959
North by Northwest
. The fish is significant in the 1936 screwball comedy,
Libeled Lady
with Jean Harlow, William Powell, Myrna Loy and Spencer Tracy directed by Jack Conway.
Another dinner takes place in the film
Suspicion
. Characters are discussing how someone might be murdered, without leaving any trace of a poison. All the while they're stabbing at little game hens?
What other Hitchcock Chickens do you remember?
Hitchcock characters have lots of ideas for costumes, be it a fancy dress party, Halloween, what have you. The title character from The Lodger, Mrs. Danvers from Rebecca, dress as villains, gun-wielding housekeepers, glamorous lead characters.
Hitchcock's characters, their makeup, hair, accessories, fashion influence style to this day. The Birds' Melanie Daniels (Tippi Hedren) continues to be probably the most popular of Hitchcock's female characters to be portrayed for a costume party, fancy dress
or Halloween party. You can be gory or glamorous. :-)
At Heidi Klum's 2013 Halloween Party, Georgina Chapman and Keren Craig of Marchesa Fashion were stunning as Melanie Daniels from The Birds (Ms. Craig) and
Georgina Chapman was amazing as
Marion Crane/Janet Leigh from Psycho.
Ms. Chapman even donned greyscale makeup to bring the black and white noir-style heroine to life. Her makeshift costume consisted of a shower curtain worn toga-style. An accessory was a knife and drops of chocolate sauce-colored blood. Very chic and historically accurate.
Tutorial for greyscale makeup:
In the mood to dress as a chicken or turkey? Remember Paul Simon's 1976 appearance on Saturday Night Live where he came on stage dressed as a turkey to sing Still Crazy after all these years?
There are so many
Bird Costumes
to choose from whether for you, your kids or the whole family. Get ready to shake those tail feathers.

When your kids are called on to dress like one of Old MacDonald's critters or you're in need of a costume to promote your new food truck, no need to squawk. Just pick out the best one to suit you.









Julia Child took her chickens seriously, no messing around.
You ought not mess with a chicken, particularly when the chef is wielding a significantly large knife.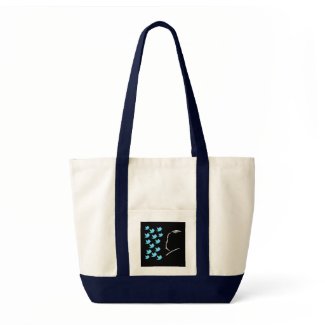 Hitch and Tweets Tote Bags
bring your laptop and supplies
Create one-of-a-kind
customized canvas bags
Related Pages of Interest:
Ducks and Geese in Movies: Fowl in Film
Carole Lombard's Rooster, Chicken of Tomorrow competition 1940s; Hans Conreid is Spofford, What Hitchcock film characters had bird-related names?
Find a wide array of movie photos and posters of all sizes and styles

If you're a movie fan, you may enjoy participating in TCM Parties on Twitter. As they say, If you're "longing for a film community, join other classic film enthusiasts."
Whenever you want to chat about a film you're watching, log onto Twitter and use the hashtag #TCMParty. Chances are someone else is watching it, too.
The Girl
The 90-minute television drama, The Girl, is an HBO/BBC drama, starring Sienna Miller as Tippi Hedren and Toby Jones as Hitchcock, with Imelda Staunton as Hitchcock's wife, Alma, and Penelope Wilton as his loyal assistant, Peggy Robertson. It gives the story of the making of The Birds from the perspective of Ms. Hedren who was its star.
Georgina Chapman's Photostream
The National Parks Service has a page devoted to President Roosevelt's pets. Apparently the barn owl the one-legged rooster didn't have names, but most of the pets, including the hen and Bill, the lizard were named.