Hey Stella!
Barbara Stanwyck
Publicity Still for Stella Dallas
"

Offhand how many girls or women whose names are Stella can you name? Not very many we think. However we may be wrong and perhaps you can rattle off the names of 10. So if you name happens to be Stella you don't have to go any further....
"What has caused the interest in this particular feminine name and inspired this search in the motion picture Stella Dallas, the famous story of mother love and sacrifice which comes to the Aldine Theatre on Friday.
Poster for the 1925 silent film
version of Stella Dallas

"Barbara Stanwyck, John Boles, Anne Shirley and Alan Hale are the stars of the new Samuel Goldwyn production, Miss Stanwyck playing the title role, Mr. Boles her husband and Ann Shirley her daughter.
"Perhaps this new and modernized motion picture production which brought fame before to Belle Bennett, Ronald Colman and Douglas Fairbanks, Jr. will again rejuvenate the name of Stella."
-- excerpts from The Sunday Morning Star Wilmington NC, August 22, 1937
When the silent film version of Olive Higgins Prouty's story, Stella Dallas came out in 1925 a marked increase in the use of Stella as a birth name was noted over the next few years.
Prouty also wrote Now, Voyager. It was made into a 1942 film which starred Bette Davis, Paul Henreid, Gladys Cooper and Claude Rains.

Do you share a name with a famous movie character? In High Anxiety, Mel Brooks played Dr. Richard H. Thorndyke. The H was for Harpo. His mother loved the Marx brothers. :-)
Stella is a Latin name meaning Star. Looking for celestial names? Maybe you're into astronomy or science fiction. In the 16th century Sir Philip Sidney wrote a collection of sonnets, Astrophel and Stella. In some texts, the title is amended to Astrophil and Stella. Was this the first appearance of the name?

Stellaluna is a popular children's book written and illustrated by Janell Cannon. It's about a mother fruit bat protecting her child. The images are as wonderful as the story. I've heard of a mother of twins who named her children Stella (star) and Luna (moon).
What other movies are there with a character named Stella? Maybe even a title character? There was even a radio soap opera called Stella Dallas. 1930s movies are getting more popular. Check out Stella Adler's The Art of Acting, a great tool if you want to become an actor.
In 1937 that local newspaper was running a contest in conjunction with the film's opening to see how many women or girls named Stella they could find. A business can use something like this as a promotion. The first ten people with this name get in free.
I Found Stella Parish, starring Kay Francis 1935
Maybe the first one that comes to people's minds is A Streetcar Named Desire by Tennessee Williams.
The 2nd Annual Tony Awards in 1948 saw three women share the award for Best Actress in a Play. They were Judith Anderson in Medea, Katharine Cornell in Antony and Cleopatra and Jessica Tandy in the newly opened A Streetcar Named Desire. Interesting to note that there were no pre-announced Tony nominees before 1956.
Tandy played Blanche Dubois. Some others in that very first cast were Karl Malden as Harold "Mitch" Mitchell, Marlon Brando as Stanley Kowalski and Kim Hunter as Stella Kowalski.
Hollywood impacting fashion: When Clark Gable appeared without an undershirt in It Happened One Night (1934) sales of undershirts plummeted. In A Streetcar Named Desire, Marlon Brando made the undershirt and t-shirt back cool again and sales picked up noticeably.
In the 1951 film, A Streetcar Named Desire directed by Elia Kazan, the cast was virtually the same with one difference. Marlon Brando as Stanley Kowalski, Kim Hunter as Stella
Kowalski, Karl Malden as Harold "Mitch" Mitchell. Vivien Leigh was Blanche DuBois.
Leigh won an Oscar for Best Actress at the 24th Academy Awards presented in 1952. Hunter and Malden received Oscars for Best Supporting Actress and Supporting Actor respectively. The film had even more nominations.
In a 1980 Sidney Lumet film called Just Tell Me What You Want, Myrna Loy plays Stella Liberti. The movie also stars Ali MacGraw and Alan King. This was Myrna Loy's final feature film.
How Stella Got Her Groove Back
with an all-star cast, 1998. Angela Bassett is Stella. The film is from the Terry McMillan book.
The first thing my friend thought of with the name Stella was Stella D'Oro Italian Cookies and Toasts. The
biscotti can be dipped in wine or coffee, cappuccino is nice. We have relatives who make their own biscotti. You can dip it in chocolate, yum.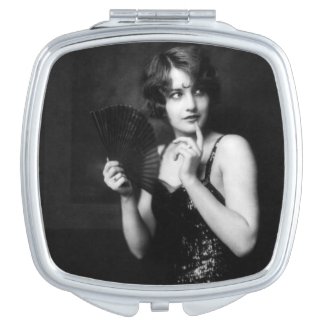 Vintage Ziegfeld Girl Makeup Mirrors
by
naughtybits
See other
French Compact Mirror
Choose size and shape of compact
Double Indemnity(1944) Pillows
by
RetroQueen
Browse for
Pillows
at Zazzle
Links to Books and Related Pages of Interest:
Nurses in Movies: Drama
Keeping Time with Barbara Stanwyck and Robert Taylor
Academy Awards Pre-1950: Auctions, Collecting, Returning
Mermaid and Aquatic Baby Name Ideas
Stella Adler - The Art of Acting: preface by Marlon Brando compiled & edited by Howard Kissel