Streets for Beatles. John Lennon Drive, Paul McCartney Way, George Harrison Close & Ringo Starr Drive August 18th or anytime: Have yourself a Street Naming Costume Party.
August 8, 1969 the iconic photo of the Beatles on the white lined crosswalk outside Abbey Road Studios is taken.
The image was used on the cover of their 11th studio album, Abbey Road.
In 2014, we celebrate the 45th anniversary of the Beatles zebra crossing photo being taken.
August 18th, 1982 The City of Liverpool named four Streets in honor of the members of the Beatles:
John Lennon Drive
Paul McCartney Way
George Harrison Close [its Liverpool Postal code is L6 9HU]
and Ringo Starr Drive
The four intersect in between Molyneux Road, Wightman St, Coleridge St and Farnworth Streets. If you wanted to go to Merseyside Mobile Entertainment, you'd be in luck since it's within walking distance.
John Lennon Airport (JLA) in Liverpool is not on John Lennon Drive. Liverpool was the UK's first airport to be named after an individual when it was rebranded in 2001 as a lasting tribute to the Liverpool-born, former Beatle, John Lennon. The airport has been in existence since 1933.
Down to business....
Regardless of where you are located, gather your roadies because it's a prime time to have a Street Naming Party! Music choice would be easy, Streets for Beats?!
Ringo Starr - Octopus's Garden 2005
If you want to make it fancy dress, an obvious choice would be Beatles Costumes, but add others.
Do you have favorite characters from iconic television programs? These would be relatively easy costumes. Shop your closet, your local thrift store.
Dress as Lovely Rita, the meter maid. How about Della Street from Perry Mason, most popular Barbara Hale in the 1957-1966 tv show.
Lois Lane of Superman fame. This character has had many incarnations from comic book to 1950s tv show, to the big screen. Who's your favorite Lois Lane? Phyllis Coates? Noel Neill, Margot Kidder? There have been several.
In the mood for a little noir, a little atmosphere? Use your imagination and create the neighborhood that would have a Sydney Greenstreet.
Street Fighter costumes, such as Street Fighter Akuma with his bright orange hair, would liven up the party.
Phyllis Coates was Lois Lane in the film, Superman and the Mole Men (1952) and in the first season of the TV series The Adventures of Superman. Each time her Superman was George Reeves.

Some Mothers Do 'Ave 'Em is a BBC Britcom. It starred Michael Crawford and Michele Dotrice. The show originally ran 1973 to 1978. Best of my knowledge, Crawford didn't do any pre-Phantom of the Opera stuff on the program. Frank wore a beret and trench coat. "Every half-decent impersonator was doing an impression of him, particularly his main catchphrase, Ooh Betty." Betty was his wife.
Activities... Make Street Signs with your kids' names on them, Family Parking Only.... Would you be more of a Way, Avenue, Street, Boulevard or something else? Okay, just watch DVDs of the shows, ask trivia questions. Think of other characters who have street, city, landmark names.
Baby you can drive my car Lyrics (1965) excerpt...
I told a girl that my prospects were good And she said baby, "It's understood Working for peanuts is all very fine But I can show you a better time" Baby you can drive my car Yes I'm gonna be a star Baby you can drive my car and maybe I love you Beep beep'm beep beep yeah....

Abbey Road is the perfect album to play Abbey Road (Remastered)
Many celebrities, politicians and other notable people have streets named after them.
In Los Angeles alone, you'll find streets named after stars such as Charlie Chaplin, Clark Gable, Elvis Presley, Gene Autry, Douglas Fairbanks, Mary Pickford and Humphrey Bogart.
There is a Frank Zappa Way in Zappa's hometown of Baltimore, MD. This isn't the only street Zappa has named after him.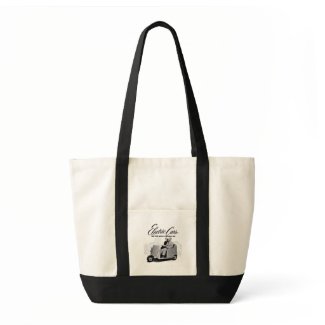 Retro Vintage Kitsch 50s Electric Car 3-Wheel Bag The first electric cars?
by blackandwhiteonly More Electric car items
According to Los Angeles city regulations, no city street in Los Angeles may be named after a living person.
But when George Burns turned 90 (in 1986), the city of Los Angeles made an exception for the venerable and renamed a street in his honor. The northern end of Hamel Road became George Burns Road.
Nine years later, in celebration of George's 99th birthday, the city renamed the eastern end of Alden Drive Gracie Allen Drive, in honor of George's wife and partner, Gracie Allen.
The two streets cross each other just two blocks west of the giant Beverly Center mall.
-- some info from Seeing Stars
In 1998
the street formerly known as South University Avenue (U.S. Route 119) was changed to to Don Knotts Boulevard. This happened on Don Knotts day in the actor's home town of
Morgantown, West Virginia. I read that he was also named an honorary deputy sheriff with their County Sheriff's Department.
In Fontana, California you can drive along
Hagar Way, named for hometown hero,

Sammy Hagar.
A borough in New Jersey where the late actor James Gandolfini well known for
The Sopranos, grew up renamed a portion of Park Avenue to become James Gandolfini Way.
What other streets do you know of that are named after celebrities?
Visiting Japanese musicians in the Louis Armstrong New Orleans International Airport
Airports named for hometown celebrities:
John Lennon Airport (JLA) in Liverpool to Louis Armstrong New Orleans International Airport (MSY). Don't know if a direct flight is even possible. Looks like the distance is 4478 miles or 7206 kilometers west, Liverpool England UK to New Orleans Louisiana in the US. In 2001 the New Orleans airport changed its name in honor of the famous native-born musician's 100th birthday.
September 28th, 2002, Tina Turner's hometown, made famous in her song Nutbush City Limits, named a stretch of State Highway 19 the Tina Turner Highway. Turner lived in Nutbush, a small town about 50 miles northeast of Memphis, until she was 17.
"Notwithstanding any other provision of law to the contrary, that segment of State Route 19 from the Nutbush City Limits to the Brownsville city limits in Haywood County is hereby designated as the Tina Turner Highway as a lasting tribute to this native daughter of Nutbush, Tennessee, who has continued the exceptional musical legacy of this State as an artist and entertainer of singular stature."
-- excerpt from the legislation, General Assembly of the State of Tennessee, January 2002
You may like to play John Prine's
Dear Abby
in honor of Abbey Road? Find the song on his CD
Sweet Revenge
.
Beatles Hollywood Walk of Fame Star Locations
1725 Vine Street: Cecil B. De Mille
1737 Vine Street: Boris Karloff
1750 Vine Street: John Lennon (ceremony date/received September 30, 1988)
1750 Vine Street: George Harrison (received April 14, 2009)
1750 Vine Street: Ringo Star (received February 8, 2010)
1750 Vine Street: Roy Orbison
1750 Vine Street: Garth Brooks

1750 N. Vine Street Paul McCartney (received February 9, 2012)
The Beatles as a band have a star under the silver gazebo at the intersection of Hollywood Blvd and La Brea Ave: 7080 Hollywood Blvd.
Elvis Presley also has a star there. In 2013 just before John Lennon's birthday, his star was vandalized, but it was cleaned in time for his birthday.

On May 10, 2006, seven police officers killed in the line of duty while working for the LAPD's Hollywood division were memorialized with a special star on the Walk of Fame in the same area.
Related Pages of Interest:
Hollywood Walk of Fame: Family Members, Couples, Married Celebrities with stars near one another
Animals on the Hollywood Walk of Fame
Tributes & Memorials, Choosing Songs, Creating a memorial at a wedding or other event