Blue food figured into the premiere episode of an American institution. Carlin was the first host of Saturday Night Live: Season One, Episode One on October 11, 1975. He dished about blue food or really the lack thereof.
Other monologues included his thoughts on religion and baseball vs. football. He didn't participate in any of the sketches.
He was in his late 20s when Alfred Hitchcock threw his 1964 Christmas blue food party. I don't think he was on the guest list, but how cool would it have been if he'd been there??
Now we know. He and Hitchcock were kindred spirits. They were two creative and colorful men who happened to share a single culinary question.
Every so often their hands would wring.
Seems they were troubled by just one thing.
They'd open the fridge, shake their fists and say,
"Where's the blue food?!"
Where is the blue food?? (a portion)
I couldn't find a full version of his Blue Food routine on YouTube. In the early 1960s, Carlin had been part of a double act with comedian/actor Jack Burns. The pair produced an album, Burns and Carlin at the Playboy Club Tonight
available on MP3. You may be able to find it on its original vinyl.
This wasn't his only album, Carlin won more than one Grammy Award as well as receiving The American Comedy Awards' Lifetime Achievement Award in 2001.
By 1964/1965 Carlin was on his way up. Burns you may recall played Deputy Warren Ferguson on The Andy Griffith Show in the mid-1960s. Carlin, too was making TV appearances.
The TV Guide ad for the first episode said:
NBC Saturday Night-Live This is a big one! Don't miss the exciting premiere of a new series that's a whole new dimension for TV! It's live from New York spotlighting the comedy and music stars of today -- and tomorrow.
Baseball vs Football, George Carlin compares the two
That first Saturday Night Live featured The Not Ready for Prime Time Players: Jane Curtin, Gilda Radner, Laraine Newman, Garrett Morris, John Belushi, Dan Aykroyd and Chevy Chase.
Musical guests were Billy Preston, Janis Ian. There were other special performers including Jim Henson's Muppets.
You can stream episodes of Saturday Night Live and also get them on DVD.
Join Amazon Prime - Watch Over 40,000 Movies We chose Amazon Prime
because we prefer their wide selection of movies and documentaries to other streaming video sites, and the yearly price is about the same. But you get added benefits to joining Amazon Prime.
We found more documentaries, foreign films, more British television shows and many more old color and black and white films on Amazon.
Having several of the videos free to watch with Amazon Prime is great.
There are always movies you want to pay to rent or own. There seems to still be some special films we want to own on DVD.
[This page is part of a short series.]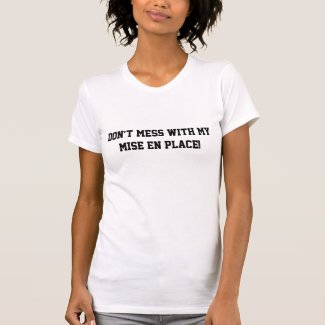 Don't mess with my mise en place! tees
Put
photos on t shirts
at Zazzle.
Related page of interest:
The Blue food dinner party the joke so nice Hitchcock played it twice