Boris Karloff wishes you a
Happy Thanksgiving

Boris Karloff, whose real name was William Henry Pratt, was born on November 23, 1887. He would be 126 in 2013. Fun that Karloff and Harpo Marx share a birthday. Boris is apparently a year older than Harpo.
Karloff was born in London, England. He's best known for his roles in Frankenstein (1931) and Bride of Frankenstein (1935). He was also known for his work in The Mummy (1932) and of course the animated holiday classic, How the Grinch Stole Christmas (1966).
Here is an old time radio show, Boris Karloff's Treasure Chest. It's the 1950 Thanksgiving episode meant for the whole family, particularly the children. There are a lot of old songs, which Karloff introduces giving a history behind each song.
"Did you enjoy your Thanksgiving Dinner boys and girls?" He tells us how much he and his family ate and goes on to gobble like a turkey! He sings a song from his youth in England, a song about roast beef. :)
The audio quality goes back and forth and fits the time period. Great introduction, if you're unfamiliar, to these songs. And very fun to get to hear the show.
Some of the songs included:
Burl Ives singing Abraham Lincoln's favorite song Blue Tail Fly
Blow the Man Down Work songs, sea shanties
The Rio Grande
I've Been Working on the Railroad
Johnny Appleseed Song, part of the 1948 Disney short film, Johnny Appleseed (sung by Dennis Day. You may recognize his voice from The Jack Benny Show and his own radio show)
The Old Chisholm Trail sung by Tex Ritter
Micheu Banjo (Mr. Banjo), a Creole folk song in both English and in Creole
In 1950, Boris Karloff was part of an abbreviated stage version of
Peter Pan.

It starred Jean Arthur as Peter Pan, Boris Karloff in the dual roles of George Darling and Captain Hook and Marcia Henderson as Wendy. You may be able to find an audio recording including an LP album of the show as well as other memorabilia.
Peter Pan with Jean Arthur as "Peter Pan" in her final Broadway role and Boris Karloff
as "Captain Hook/Mr. Darling" ran on Broadway 1950/1951. A recording is available on MP3 or CD/Vinyl. Find CD searching J.M. Barrie's Peter Pan or better, Original 1950 Peter Pan.
Peter Pan with Boris Karloff and Jean Arthur; Part One (From 1950 Adaptation For Children) This MP3 version is broken into parts
The Old Chisholm Trail Lyrics
(short excerpt of Tex Ritter's version)
Come along, boys, and listen to my tale
Tell you of my troubles on the old Chisholm Trail
Come a ti yi yippy, come a tee yi yay, ti yi yippy yi yay

On a ten-dollar horse and a forty dollar saddle
I'm a going to punch in Texas cattle
Come a ti yi yippy, come a tee yi yay, ti yi yippy yi yay

I'm up in the morning before daylight
Before I sleep the moon shines bright
Come a ti yi yippy, come a tee yi yay, ti yi yippy yi yay.
Riddles:
* What is it that everyone has seen but will not see again?
* I don't have it, I don't want it, but if I had it I wouldn't take a million dollars for it.
Frankenstein Clothing, Apparel, Fashion for men, women, kids Customize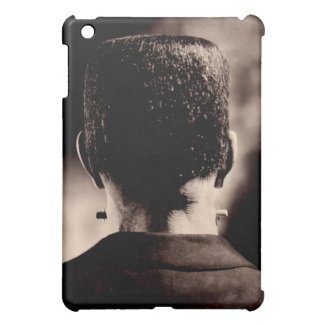 Frankenstein iPad Case
by
teebag
Shop for Frankenstein Cases online at
Zazzle.com
Mr. Karloff had one child, a daughter Sara Karloff, who has been very gracious in sharing her remembrances of her father with his fans.
Several sources have reported that at the time of his daughter's birth Karloff was filming Son of Frankenstein and reportedly rushed from the movie set to the hospital while still in full makeup!
Please enjoy some other appearances from Mr. Karloff. This is Your Life, 1957 and a fun Halloween Shindig episode in the 1960s. As always thank you to the folks who uploaded these audio and video files. Don't forget to give them Likes and comments.
This is Your Life
Boris Karloff 1957
Ralph Edwards served as host and producer of the show from 1952 to 1961
Great nostalgic television. Is your favorite here?
Watch Old Thanksgiving TV Episodes, Holidays on Retro TV
Watch Old Christmas, Winter Holiday Shows, Retro TV
Herman Munster/Frankenstein Trivia & Costume Ideas: Part of the 10 Famous TV Dads series
Favorite Chicken Scenes in Alfred Hitchcock Movies Dinnertime
Shindig Halloween 1965 Show
Boris Karloff and Ted Cassidy (Lurch on The Addams Family)
Jimmy O'Neill reminding fans of a young Bobby Sherman