Vic Norman, played by Clark Gable, is a less than principled advertising executive who knows that underhanded methods and shocking images can mean sales.
Based on the novel by Frederic Wakeman the 1947 film, The Hucksters stars Gable, Deborah Kerr, Sydney Greenstreet, Ava Gardner and Adolphe Menjou.
As the film was being developed and produced, one method of generating buzz was a series of episodes on the George Burns and Gracie Allen Radio Show.
The George Burns and Gracie Allen radio show, ran from 1933-1950. They transitioned to the new medium of television where their show would air for 8 more years.

Clark Gable had been announced as playing the lead in the film version of the Wakeman story. The idea was simple. Gracie felt that George had more experience in radio than Gable and should be the star of the film.
In the fall and winter of 1946, at least four episodes of their radio show dealt with her antics trying to finagle it so that George Burns would replace Clark Gable in The Hucksters. One show featured columnist Louella Parsons. Gracie tries to get Parsons' endorsement for George to star in the film.
Audio of Jack Carson's appearance on Burns & Allen October 1946
"Don't you think it's a little embarrassing to be called Radio's Glamor Boy?"
Another show features guest actor Jack Carson. Carson mistakenly thinks Gracie wants him to replace Gable. He does his 'famous' Clark Gable impression including a bit as Rhett Butler. George Burns and Jack Carson have an acting contest devised by Gracie Allen to see which man is better prepared to replace Clark Gable. With Gracie as the judge, you can guess the outcome....
Maxwell House Coffee Time
Burns & Allen Show ad
Nov. 21, 1946
The series of episodes concludes with Clark Gable's appearing himself, defending his right to star in The Hucksters as the show description says.
All created fun for the Burns & Allen program and lots of promotion for the upcoming movie.
There's a Clark Gable MP3 old time radio collection. It includes over eleven hours of Gable's appearances on radio.
Some on programs like Lux Radio Theater where he recreated his movie hits with actresses like Myrna Loy, Judy Garland and Joan Crawford.
One poster for The Hucksters advertised Gable's New star, Deborah Kerr, who was new to American audiences. Apparently the studio liked to tell people, "Kerr rhymes with star."
The Burns & Allen radio show had an amazing assortment of film and music stars of the era. Just a handful of them include Jack Benny, Marlene Dietrich, Alan Ladd, Frank Sinatra, Cary Grant, Claudette Colbert, Ray Milland, Ann Sheridan, Hedy Lamarr, Walter Pidgeon, Bing Crosby, the Marx Brothers, Pat O'Brien, Paul Heinreid, Richard Widmark, Rita Hayworth, William Powell, Cecil B. DeMille and of course, Clark Gable.
Gracie or Bette Davis? Who taught Paul Henreid to light 2 Cigarettes at once?
Glamour Boys, Errol Flynn, Clark Gable, Humphrey Bogart....
Gracie- James Mason, the Cats, a Chair and a Whip
Actors Final Roles; The Misfits: The final film of Clark Gable and Marilyn Monroe; The last movies of Tyrone Power Jr. and Tyrone Power Sr.
While many of these stars mentioned current or upcoming projects, I don't recall any other time that a series of episodes of the Burns & Allen show dealt with a project not somehow related to George Burns and/or Gracie Allen. It's fun to hear actors who we're used to seeing as dramatic being funny on this show.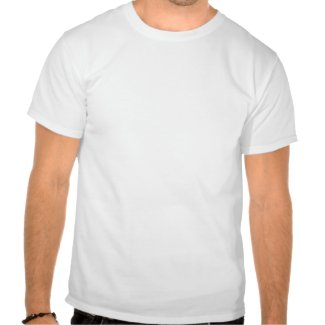 Ad Man ringer t-shirt by teebag
Do you represent White Hat SEO, Marketing?
Check out more Advertising T-Shirts at Zazzle
Some items on this page are one of a kind and may sell out but similar items are available.