First couple to share a bed on
American television?
Many American movies show married couples sleeping in separate beds and television shows carried on that tradition.
It didn't matter if they had children and it didn't seem to matter how old they were. But when did this rule for US television fade away?
The sets of early TV couples, the furniture we saw, didn't stay too static. They may, for different reasons, have a double bed one week, then twin beds the next.
A week when all the episode calls for is a quick walk-though of the room, there may be a double bed. Then suddenly they're in bed and they have twin beds. Hmmmm.

*Herman and Lily Munster are sometimes mistakenly named as the first couple to share the same bed on American television in November 1964.

The record for the first tv couple in the same bed actually goes to Mary Kay and Johnny Stearns, a real-life married couple who were on the show, Mary Kay and Johnny which aired on the DuMont Network in 1947.

The first not really married couple to share a bed on television was actually Samantha and Darrin Stephens on Bewitched in October 1964. Those rascals!
Live Like I Love Lucy
Bedroom Set Ad
Some 1950s television shows such as I Love Lucy and The Burns and Allen Show featured real-life married couples. Each show had a long run and viewers knew the actors were married in real life.
Ozzie and Harriet Nelson are a little confusing. Their show, The Adventures of Ozzie and Harriet ran 1952-1966. We saw them with both twin beds and on occasion a double bed. A Day in Bed, Season 4, Episode 21, airing March 23, 1956
shows that
they had a double bed
but we don't necessarily see them in it.The most his wife does is sit beside him.
For what it's worth, I seem to recall that on
The Andy Griffith Show
(1960–1968), the widowed Andy Taylor slept in a double bed.
Lucy was pregnant on the air. Like Ozzie and Harriet Nelson, Burns and Allen had their two children on their show. But networks had the couples that sleep in separate beds.
George and Gracie tended to have separate beds. In at least one episode they showed their beds were pushed together! It's an episode where Gracie hires a safe cracker.
One theory for there being separate beds was that the network powers that be didn't want to be seen as sanctioning or promoting non-married people being in a bed together.
They wouldn't show unmarried actors in bed together even if they were portraying a married couple.
Why then did Lucy and Ricky, Ozzie and Harriet Nelson and George and Gracie Burns have separate beds?
Other classic television couples sometimes are given the record of being the first to share a bed. Carol and Mike Brady on The Brady Bunch, for instance in 1969. That is out of the running since all of these other shows preceded them. The other one is Fred and Wilma Flintstone. Were they married in real life? :-)
Not surprisingly, we do see at least suggestions of Gomez and Morticia's having a double bed on The Addams Family. Even when they go off for a second honeymoon in January 1966 at Last Chance Motel, there is a double bed.
The weather is terrible, which pleases them very much. Gomez exclaims, "Who knows? We may have an indoor hurricane!"
[Last Chance Hotel appx 5:05]

The Flintstones ran concurrently with Bewitched and The Munsters. I've yet to find a date that shows when they first showed Fred and Wilma sharing a bed.
Safe to say that The Flintstones hold the record as the first televised animated prehistoric married couple to share a bed on American television. That should be correct. The Munsters and The Addams Family 1964-1966, while The Flintstones was 1960-1966.

I've not been able to find the first same-sex couple to share a bed on television. Someone suggested it may be something with Jodie Dallas (Billy Crystal) on Soap 1977?
I read that the first kiss between a same-sex couple on TV was 1991 on L.A. Law. Abby Perkins (Michele Greek) and C.J. Lamb (Amanda Donohoe). in 1986, Mariette Hartley was in a TV movie, All My Loves with Lynn Redgrave where they shared a kiss. Were there were TV kisses before this?

There is a legend of the one foot on the floor rule. The Dick Van Dyke Show ran from 1961 to 1966. Husband and wife, Rob and Laura Petrie (Dick Van Dyke and Mary Tyler Moore) had separate beds.

Legend was that if Rob were to sit on Laura's bed, he had to have one foot on the floor [we see Harriet doing on the show with Ozzie in bed].
Once married couples were allowed to share a bed onscreen, the rule was revamped for a time that when unmarried adults were seen sharing a bed regardless of the situation, one person had to have at least one foot on the floor.
Many of these so-called firsts are debatable. Fans debate the dates the programs were aired, filmed, etc. Were the Munsters really people in bed together?! Does it count if they were animated?

You can own a set of The Munsters: The Complete Series
on DVD. There are special features on the characters and actors such as, Yvonne De Carlo: Guilded Lily. No watermarks, no commercials.
When, do you suppose, was the first time a wife sent her husband to go sleep on the couch on American television -- or the reverse situation? :-)
Related Pages of Interest
Herman Munster, Frankenstein trivia costume ideas, Famous TV Dads Series
Samantha Stephens Pave Heart Necklace, Tuesday Flashback Feature, Bewitched
Rob Grows a Head of Lettuce: Baldness cure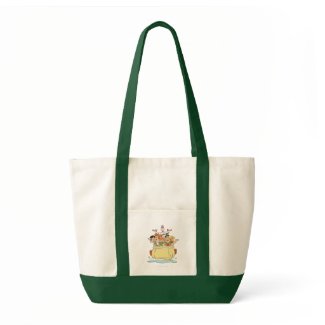 Flintstones Families Bags
by
hannabarbera
We gave one of these bags as a gift last Christmas and she loves it,
we were really impressed with the quality
Check out, Customize more Bags on
Zazzle
-- some info from Wikipedia
Portions of this text appeared in a past article from this blog
Advertisement public domain photo - Wikicommons