I Remember Better When I Paint : Music and art can have a positive impact on the life of a person living with Alzheimer's.
Instructive and Inspiring
Are you familiar with the work of Dr. Oliver Sacks on music therapy and memory? You and your loved one may find a connection through creating or appreciating music or art. You can get in some exercise and fun.
Consider what stage of the disease your family member is in, what kind of day he or she is having. There are many sources in the community and online with ideas.
Start with something easy, free-form. Make a greeting card, a scrapbook page. Make something as a gift or memento for yourself. Have a variety of materials, colors, options and patience.
The holidays can be a particularly trying time for people with diseases such as Alzheimers. Consider what we can do for them and for ourselves as caretakers to make this time more peaceful and pleasant. Make more special memories.
I recall when we went through taking care of a relative who had Alzheimer's and some other medical issues, at times she found marching to music to be easier on her legs than walking. It was a lot more fun, too.
I Remember Better When I Paint : DVD
Narrated by Olivia de Havilland, I Remember Better When I Paint is a documentary about the positive impact of art and other creative therapies have on people with Alzheimer's and how these approaches can change the way we look at the disease.
The personal stories which are related include that of Yasmin Aga Khan, president of Alzheimer's Disease International, who discusses the experiences of her mother, Rita Hayworth, who had Alzheimer's and also painted.
Among those featured are renowned neurologists who explain how creative activities engage areas of the brain that are not damaged or less damaged by the disease and thus help reawaken a sense of personality, identity and dignity.
The DVD also includes seven bonus films:
"Organizing an Outing", "Organizing a Creative Workshop", "The Importance of Physical Exercise", "Recreating Social Bonds", "The Hearthstone Method", "The Memory Gardens" and "Art and Care Until the Last Stages."
I Remember Better When I Paint: Art and Alzheimer's:
Opening Doors, Making Connections : Book
The book has received high marks from customers. It would be helpful on its own and would be a fine companion to the video.
-- Some information from manufacturer, Amazon
Olivia de Havilland is perhaps best known for the screen epic Gone With the Wind where she played the role as Melanie Hamilton opposite Clark Gable and Vivien Leigh.
Ms. de Havilland appeared in eight films with Errol Flynn including The Adventures of Robin Hood. She is the sister of the late actress Joan Fontaine.
The sisters were both nominated for the Best Actress Academy Award in 1942.
Fontaine won that year for her role in Suspicion (an Alfred Hitchcock movie) over de Havilland's performance in Hold Back the Dawn.
Olivia de Havilland won the 1947 Academy Award for Best Actress in a Leading Role for her work in the film To Each His Own.
She also won the 1950 Best Actress Oscar for her work in the film The Heiress. There were many other award wins and nominations in her career.
The Hilgos Foundation
is tremendous resource for information. They produced the book and documentary, a segment of it is above.
I Remember Better When I Paint:
documentary narrated by Olivia de Havilland on positive impact of art, museums, music & creativity on people with Alzheimer's.
Once married to Orson Welles, Rita Hayworth was an iconic actress and dancer active from the 1930s through the 1970s. She danced with Fred Astaire in You'll Never Get Rich.
Some of her best known films include Gilda, Cover Girl, The Lady From Shanghai, Salome and The Story on Page One. Rita Hayworth was an American servicemen's pinup.

Her marriage to Orson Welles lasted 1943-1948. They had one daughter.

Rita Hayworth died in 1987 from Alzheimer's Disease at the age of 68.

According to a 1987 The New York Times article, Hayworth "had been under the care of her second daughter, Princess Yasmin Aga Khan, who by publicizing her mother's tragic illness had drawn national and international attention to Alzheimer's disease, about which little was known until recent years."
When public figures discuss their experiences with the disease it can make it easier for the rest of us to face our situation and get help.
There is annual Rita Hayworth Alzheimer's Gala was held at the Waldorf Astoria. I've also read of an annual Alzheimer's Association Rita Hayworth Gala taking place Mother's Day weekend at the Hilton in Chicago.
--
An excerpt from my web page, Alzheimer's Movies, Books and Songs (This page includes a list of celebrities who have and who had Alzheimers and dementia.)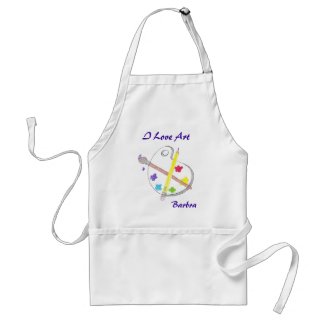 I Love Art Apron
by
IArtist40
Customize an apron
at zazzle.com
Links to related pages of interest:
Alzheimer's Disease Programs at Museums: Art appreciation, therapy. Regularly updated. Don't hesitate to check with your local museums to see what might be available
Short Films: One Too Many (Éramos pocos), Helmer & Son
List of Famous People with Alzheimer's Disease, Dementia
Kanreki, Turning 60, Japanese tradition, Celebrations
Croning Ceremonies for Women 50-60, pride in aging
Cinematic Journeys From One Traumatic Transition to Another: Puberty, Aging, Alzheimer's
Nursing Home Week, Seniors, Relatives Considering Moving
Musicophilia: Tales of Music and the Brain, Revised and Expanded Edition, Oliver Sacks Available on Kindle, paperback, audiobook, etc.