Personalities: The homes of Old Hollywood Stars
Put personality in your home
Carole Lombard at home

Bill Haines helped Carole Lombard decorate her house. He said, "If you are considering doing a house or room to fit your personality, it is advisable to look at yourself in the mirror and see what colors become you, your eyes, your mouth, your lipstick. Try different colors behind you and see what shows you to the best advantage. ....
"Wealthy Romans had special rooms in their palaces which were done in backgrounds to make women stand out effectively and be more attractive. The backgrounds were planned to frame a woman's beauty rather
than to dominate the room."

William Haines was an actor in Hollywood. He had a talent for decorating and put that talent to use when he had fewer roles in movies. After opening an interior design shop in Hollywood he was decorating the homes of some of the biggest film stars.
Think about how easy or difficult your idea would be to change. Kids' rooms are maybe the most apt to change as our children grow up and their taste changes. How expensive is your idea? Chandeliers are popular now, jewelry for your room.
They can be really old Hollywood or shabby chic, even designed for a coastal room since there are so many different light fixtures out there. Home decorating is something you can always change to suit your mood, the seasons or changes happening in your circumstances.
Haines knew about glamorous lighting. He designed the original Ice Crystals sconces for the May house in 1953. They look like something frozen, art deco in feel, geometric bling. The house belonged to Tom and Anita May of the May Company, the department store chain. The Mays were big fans of Bill Haines' work.
I'm seeing people take found objects and unusual finds at flea markets then repurpose them. Try LED lights. You can make something one-of-a-kind. Turn one thing into something entirely different. It looks expensive. It can look old Hollywood. Make it for a party or make it a permanent fixture for your home.
Her dressing room employs colors to match her personality
pale blue walls, white furnishings, lemon yellow upholstery -- Picture Play Fall 1935
Reading about her dressing room's being remodeled was common.
Carole's bedroom is described as being directly above her living room, the same
size, with a lower ceiling. "I found a fireplace on the long side of the wall and opposite the bed, which looked like an enormous Empire couch in faded plum
color.

"The walls were of a color unknown to me. Carole told me it was puce, and then laughed as I looked very blank. If you are as much in the dark as I was, I'll confess: it is flea color or pinkish beige! ..."
"Carole you see frankly admits that she's just a leetle bit insane. But divinely so, her friends insist. Remember originality is the keynote of this beautiful girl's personality.
"Adapt yourself to the circumstances or you'll be the victim. Probably you'll find Carole in her playroom, which itself expresses her craving for the unusual. The bar and piano are done in blue and pink plaid."
She also had a wide assortment of pets, dogs and cats (some of them rescues), chickens and ducks.
Interior Design for Blue Ladies
Color is so important.

Carole Lombard has a Blue Room. It is "designed so that Carole looks her best and every other woman (with different coloring) looks her worst."
Joan Crawford loves all colors but won't let Bill Haines use anything but blue and white and more blue until he's been put to it to invent new shades of blue for her. He only recently achieved a lovely greenish-blue which he calls the Crawford color.
Joan Crawford made a public service announcement for a children's charity. It was shown in theaters
They say that the blue-eyed Crawford, a lover of star sapphires, had dresses made in a new shade of blue, that was dubbed Joan Blue. Lombard also had blue eyes.
Remember though, there is a rule that kitchens and dining rooms do not look good in blue. It is the least appetizing color. Mr. Alfred Hitchcock knew this.
Binnie Barnes had a house that was all white with touches of pink and gray. It was designed to show off her red hair and light complexion.
Barnes began making movies in the 1930s and appeared in the movie 40 Carats in 1973 with Liv Ullman, Edward Albert and Gene Kelly.
Jean Harlow said her favorite 'color' is white. Much of her home and her dressing room was white.
A lot of William Powell's house was operated by push-buttons and other gadgets of the day. Walls opened and closed making rooms bigger or smaller. They said that tables and chairs appeared and disappeared. He also was known for having a very large bed.
When Powell was older and retired from acting, he was still interested in modifying his home. He told an interviewer that he was an 'amateur architect.'
In 1935 some said they could see a neon illuminated harp in the bay window of the home of Harpo Marx. It was formerly Polly Frederick's home, later Norma Shearer and Irving Thalberg lived there while their Santa Monica home was being built.
-- Silver Screen 1935
I remember reading that Harpo had said he wanted enough children so there'd be a child's face in every window of his home when he returned from work in the evening. He had several kids and pets.
"When Gary Cooper first returned from Africa and had for the first time in his life a house to himself I went to lunch with him in it. It was designed he told me, for entertaining.
"There were a great many heads of stuffed animals hanging on the walls. But the divans were wide and comfortable and Gary explained that it wouldn't matter if anyone spilled something on one of them."
-- Picture Play 1936
Create what you've always dreamed about....
"What would seem utterly mad in the city or town becomes charming at the shore. You might want and entire white and blue home with a star spangled
living room! Joan Bennett always did and now it really exists!"
She used to dream of such a place when she was a little girl looking up at the blue ceiling of her nursery, a ceiling that had sparkly stars.
Joan Bennett planned her dining room in blue and white. It's "planned so that the one large room gives the effect of two separate rooms.
"She let her fancy run free in the living-dining room of her Malibu beach home." In the living room end- star-spangled and all done in blue and white. Stars are features on the curtains and on the walls.
-- Movie Classic Summer 1935
Joan Bennett has the living room of her Malibu beach home "about a huge portrait of her father, Richard Bennett, arranging all the furniture and the colors of the room to emphasize the picture."
Joan Bennett is famous as being a film noir femme fatale. She's known for her roles in director Fritz Lang movies The Woman in the Window (1944) and Scarlet Street (1945). In 1966, she played
Elizabeth Collins Stoddard on

the TV show Dark Shadows.
There's a very brief 1914 video of the famous Broadway actor Richard Bennett, with his wife, actress Mabel Adrienne Morrison with daughters Constance Bennett, Barbara Bennett and Joan Bennett. Joan Bennett had a portrait of her father in her living room.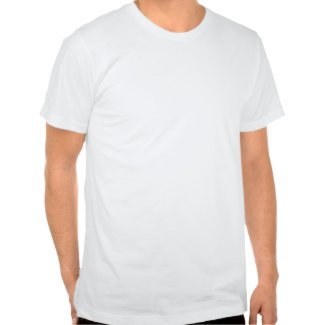 William Haines vintage 1930 portrait Tees
by
Jakestuff
Create a tee shirt
at zazzle.com.
Actress Wearing a Flower Poster
by
hermoines
Browse other
Clara Bow vamp Posters
Norma Shearer had a large home dressing room just off her bedroom. "The curtains? You'll love 'em if you have a flare for the modern. They are of hand-blocked linen of a citron color with the design blocked on in white, the design being an incredible blue and green leaf pattern."
Seeing and reading about Bill Haines work suggests that he may have been involved in the design of her dressing room, but that wasn't suggested in the article.
Over at MGM, Ms. Shearer aka Mrs. Irving Thalberg has "a suite finished in chartreuse green and topaz with a background of beige which it is explained is a reflection of Norma's personality." This is from a newspaper article on the luxurious dressing rooms of the stars. More on their dressing rooms in a future article.
-- The Wilmington Delaware Star, 1935
Virginia Bruce's sitting room-bedroom
in the home of her parents 1936
Virginia Bruce wanted a rocking chair in her room. "It is white, upholstered in blue Chinese cloth. This with the little rosebuds and Dresden ashtrays that Virginia likes around, give it an old fashioned air.
"You can see that although the room is quite modern, it has this old-fashioned girl touch."
She was the last wife of actor John Gilbert. They had a daughter born in 1933.
Bruce played a Ziegfeld showgirl in The Great Ziegfeld. She also appeared in movies such as Yellow Jack with Robert Montgomery, Escapade with William Powell and The Invisible Woman with John Barrymore.
Hiding a feature or sectioning a room. You might want to do this if you're having a party. Maybe you have storage or the cat box in a small space. You want to break a larger room into smaller sections. Have a work space or play area for your kids?
Billie Burke said she hates to look at her fireplace in the summertime. She hides it with a decorative screen. In front of the screen she might have a low table and on that a large bowl of flowers.
The article suggested buying a cheap wooden fireplace screen. Paint or cover it with wallpaper in a pattern that you like. "Brass nails studding it at the edge are extremely good if you care to add them."
--Movie Classic summer 1935
Recent Auction of William Haines items
In August 2014 there was an auction of over 30 custom William Haines designs commissioned for homes in 1960. "He did the entire interior, which has never been published,' said Peter Loughrey, director of the auction house [Los Angeles Modern Auctions]. 'It's also an intact commission, with the original finishes, upholstery fabrics and lampshades, which is very rare. For people who care about seeing exactly how it was made in 1960 this is how Haines wanted it all to look.'"

Among the pieces: a fern print-covered sofa (estimated at $4,000 to $6,000) and a matching piece with a backless, armless section (estimated at $5,000 to $7,000), two lacquer-topped coffee tables with walnut legs (estimated at $5,000 to $7,000 each), three swivel stools (estimated at $1,500 to $2,000 each) and a yellow Chinese pottery table lamp (estimated at $1,200 to $2,000).

A Tang-style horse lamp, estimated at $7,000 to $9,000, is bolted on a triangular side table with planter ($1,500-$2,000). A Seniah (Haines' name spelled backward) chair is valued at $3,000 to $5,000. That chair sold for $6,875.

Although the article says the Tang-style horse lamp was bolted to the William "Billy" Haines, designer table with inset planter, the items sold separately.

According to the auction house prices realized page, the table went for $1875 and the lamp for $46,250. While all of the Haines pieces did well, the Tang style lamps and those with his fern print sold particularly well, going above and beyond their high estimated prices.
-- Los Angeles Times May 14, 2014 and
Los Angeles Modern Auction: prices realized
pages
** This is the first in a recurring theme of articles that will appear. When there are new posts, links to others will be added.
Norma Shearer in a Kimono Posters
pre-code
Choose size, paper type, framed or unframed by
hermoines
Browse more Talkies Posters at
Zazzle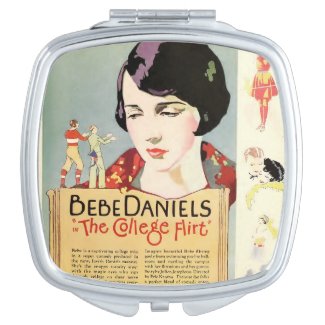 Bebe Daniels 1926 silent movie exhibitor ad Mirror For Makeup
by
Jakestuff
Check out another
Vanity Mirror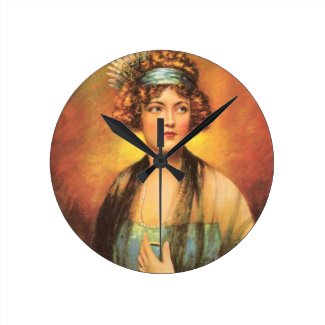 Marion Davies 1919 vintage portrait Clock
by
Jakestuff
Look at other Marion Davies Wall Clocks at
zazzle.com
Books and Links to Related Pages of Interest
Sapphires, Gem Symbolism Old Hollywood Carole Lombard Joan Crawford, Joan Blue Mae West
Carole Lombard and her chickens
Wisecracker: The Life and Times of William Haines, Hollywood's First Openly Gay Star by William J. Mann
William Powell and Carole Lombard
Lon Chaney Johnny Depp Knives Hands and Love: Knives, Hands and Unrequited Love Alonzo and Nanon, Edward and Kim, The Unknown, Edward Scissorhands
Jan Brady helps welcome in The Year of the Horse, Celebrities born in the Year of the Horse. Props we see in multiple TV shows and films. How about The Brady Bunch horse statue?
Alfred Hitchcock's Blue Food dinner parties, the practical joke so nice he played it twice
Knit with Joan Crawford
For the bride, birthday girl or business woman wanting buzz: Decorate your car with bling, perfect gifts
Quotes and photos not otherwise credited from Silver Screen 1936
Magazine & newspaper articles were often as much for publicity as information. But here they're also for your enjoyment and you can get some info about decorating and about our favorite stars.