"The first thing to do if you want to dress like your Hollywood hero is rob a bank"
Gable wears his opera hat
at just the correct angle
"During one year Basil Rathbone paid into the

coffers of Watson and Son over $7000 for suits and overcoats alone. Not to mention his purchase of sundry shirts, hats and shoes from the other Hollywood haberdasheries." The reporter is visiting the
Hollywood tailor

shop for a first-hand story.
Marlene Dietrich walks in accompanied by Josef von Sternberg. She went into a fitting room (alone, they specify) to try on a dress suit she'd ordered for use in the film Morocco.
"You know she can wear a dress suit with more aplomb than the average male."
While she is trying on her suit, in walks Rod La Rocque, husband of
actress Vilma Banky.

He "has more suits than any other man in Hollywood."
"'Look here,' he said. 'I'm not entirely satisfied with the way my clothes look on the screen.' ... 'They look great on me in the flesh but on the screen every wrinkle is magnified to two or three times its actual size. Let's see if we can work out something a little different.'"
They tried to come up with something that would get rid of wrinkles around the arms for a screen test. The clothes get a screen test just like the actors do.
We find out that Warner Baxter likes light shades of blue and brown worsteds. He likes his clothes to fit snugly. Buddy Rogers is among their regular customers. He prefers soft fabrics.
-- 1931 article
Why did Dietrich go to the store for her tux? She wanted to wear a men's tux. There must have been something different about this tuxedo. Morocco was Dietrich's first talking picture.
It wasn't the only time she'd wear a tuxedo or menswear in movies. Rathbone is known for his portrayal of Sherlock Holmes the movies in the late 1930s and 1940s.
In 1934 Marlene Dietrich had an interview where she was asked why she wears
Maurice Chevalier and
Marlene Dietrich
trousers. The interviewer notes that Ms. Dietrich is wearing a suit with no vest. She also wore a striped shirt with a broad black four in hand tie, silk sox and low heeled shoes. A small beret worn over one eye completed her ensemble.
As to why she wears trousers and menswear, she said that to her they're more comfortable than many dresses. Some women look more feminine in masculine clothes ..."even better than they do in frills and laces!"
"Also it takes too much time, trouble and money to be a well-dressed woman in Hollywood. Motion picture stars are always buying some terrifically expensive gown wearing it once or twice and then discarding it because they 'can't afford' to be seen in the same dress more often! ...
"In my present wardrobe though, I have ten suits, a few pairs of extra trousers, a sweater or two, some shirts and a polo coat. That is all I need, the style will be good two years from now.
"I wouldn't advise every woman to wear trousers however because they don't fit every figure.... my shoulders are wide like a pair of masculine shoulders."
In 2010 Jerry Mayer's Dietrich & Chevalier: The Musical was playing in New York. Chevalier and Dietrich "fell in love while they were married to others."
In the photo of Clark Gable above, it's asked that you note his accessories "winged collar, bow and boutonniere." He and Mr. James Blakeley below are giving us "simple authentic pointers on what's correct" when it comes to formal dress, circa 1935. Their facial expressions are mighty fine and formal as well.
From what I've read top hats were often called opera hats because they were worn to the opera. There was not a real difference between the two.
Powell and Clive Brook as Philo Vance and Sherlock Holmes
in Paramount on Parade


Clive Brook played Sherlock Holmes three times 1929-1930. Paramount on Parade was the last time he played Holmes on screen.
Do you think the Sherlock Holmes coat and deerstalker hat were considered a costume and made to measure by the studio whereas Mr. Powell was expected to purchase his clothes (and hats) for Philo Vance and Nick Charles? From all I've read, yes, Powell did purchase the clothes he wore on screen apart from period costumes.
Sherlock Holmes costumes
and accessories for you, the family
Powell played detective Philo Vance multiple times including Paramount on Parade.
The Kennel Murder Case

, 1933 was the last time he'd play Vance. In 1934 he and Myrna Loy made a new film called The Thin Man. They played Nick and Nora Charles and things changed with his on-screen detecting.
Worth noting that in 1922 there was a silent film version of Sherlock Holmes starring John Barrymore.
Roland Young as Watson. It was
William Powell's first movie appearance.
Robert Montgomery has "broad shoulders and a generous pocketbook"
he's "The answer to a tailor's prayer"
(In a couple of years he'd be the new father of baby Elizabeth Montgomery, too)
Who paid for what male stars wore on the screen?
"Feminine wardrobes are made almost always by the studios not so the men's. A male star must furnish his own dress suit, riding togs, street wear and in fact
"James Blakeley in
correct formal dress,
opera hat and pumps
to go with tails" 1935

practically everything except 'costumes' which are almost always rented or made to order by a rental company according to specification sent them by a studio. ....
"Every important male star has three copies of every costume worn. One is for himself; one is for his double, and this fits him if his own becomes damaged and the third is for his stand-in man who relieves a star of the irksome business of posing while electricians are adjusting lights."
-- 1930 article
Stars' Stand-Ins
Interesting account of backstage life
Cary Grant's stand-in, Malcolm Merrihugh was asked what he thought about his job and to list his duties. Nowadays job descriptions are apt to say 'other duties as assigned.' This one ends with 'does everything in general.'
In 1940 a casual Cary Grant was
divorced from Virginia Cherrill
and said to be engaged to
Phyllis Brooks (seen here).
He was soon to marry
Barbara Hutton.
"A good stand-in takes care of his principal's make-up box, his clothes, sees that they're pressed and hung properly, checks the assistant director to find out when the star is working, sees that he's at work, keeps the dressing room orderly.
"He makes and breaks dates on the telephone, does secretarial work, acts as companion, runs errands, sees that certain people come on and off the set and does everything in general. ...
"The star gets his stand-in better than the wage minimum and when the stand-in works for the star, puts a little more in the pay envelope. Grant's a swell fellow when it comes to that extra help."
Even thoug

h
Merrihugh

was six feet tall, he would wear Cuban heels to make up the difference in height when necessary. He says that he liked working with Grant, who once took a director aside and told him not to yell at his stand-in, not to discipline him in front of others, and to do it quietly if he needed to be corrected. --
1938 interview
"We are the shadows," Lillian Kilgannon, stand in for Marlene Dietrich said. "We stand in while the set is being lighted, sometimes for an hour or more, so that all my be in readiness for the star who may then do the scene in five minutes. ... We just step out. We are the shadows."
William Holden retrieves a collar button from under the bed.
Accessories can be tricky for men and women.
He's preparing for a date with Brenda Marshall (1941)
Joan Crawford classic movie magazine cover Watch
by
Jakestuff
Shop for more
Wristwatches
at Zazzle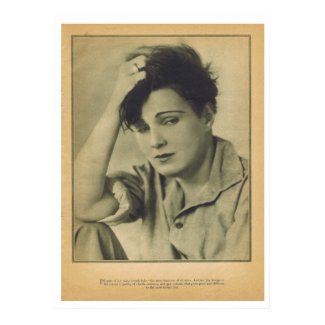 Leatrice Joy silent movie star poster
by
Jakestuff
Browse more Posters at
Zazzle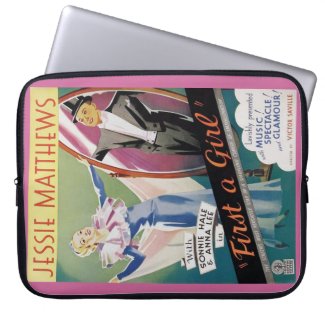 Anna Lee First A Girl 1935 movie advertisement Laptop Computer Sleeve
First a Girl with Anna Lee, Sonnie Hale, Jessie Matthews was adapted from the 1933 German film Viktor und Viktoria.
It was remade into the 1982 American musical comedy Victor Victoria starring Julie Andrews, James Garner, Robert Preston, Lesley Ann Warren and Alex Karras.
"The Thief of Bagdad" Bag
by
moviebuffs
Carry your top hat, your gift swag or supplies in this cool bag
Links to Related Pages of Interest:
Classic Film Actors talk about work, clothes, tools of the trade, money
William Powell's tux, Bob Cummings' underwear, Spencer Tracy's work clothes, Marlon Brando's T-Shirt "Hey, Stella!"..... Tour their closets.
Dressing Male Stars of the 1930s and 1940s
Robert Taylor, Charles Laughton and the Internal Revenue Service...
You can tell them Clark Gable left his Jacket at your place
Samantha Stephens and Endora: Famous TV Moms, trivia, costumes
Unless otherwise stated images and information, including quotes, paraphrases taken from sources in the public domain.
Silver Screen, Talking Screen magazines