"Is it true what they say about Hepburn - that she's Box Office Poison?"
In 1932 a circular promoting the idea "Double your Attendance with a Double Feature" was sent to exhibitors. Double features were likened to double-headers mean packed stands at baseball games.
By 1933 there were already requests by theater owners for an end to the studio requirement of double features, theaters' being forced to buy certain films to get others.
-- Archive of the Motion Picture Producers and Distributors of America, Inc.
What was the story with Hepburn's being called Box office poison? What did they mean by that? I looked at some of the goings on as Hepburn went from Bringing Up Baby to Holiday and moving toward the making of The Philadelphia Story in the late 1930s.
A very public full-page advertisement appeared in The Hollywood Reporter on
May 3, 1938. It was taken out by The Manhattan Independent Theatre Owners Association, an uncredited Mr. Harry Brandt (their president) in particular.
The studio system effected many people and businesses including small-town independent theaters exhibiting movies. They couldn't get certain films without taking others. Their tactics for making a point were maybe not the best.
"Wake up Hollywood producers! Practically all of the major studios are burdened with stars – whose public appeal is negligible – receiving tremendous salaries necessitated by contractual obligations. ....
"Greta Garbo, Marlene Dietrich, Mae West, Joan Crawford, Kay Francis, Katharine Hepburn, Edward Arnold, Fred Astaire, Norma Shearer, Dolores del Río, John Barrymore ... Garbo, for instance ... does not help theater owners in
the United States ... Kay Francis ... still receiving many-thousands a week ... is now making B pictures. ... Dietrich, too is poison at the box office. ..."
Box office poison? For the most part the stars scoffed at the insinuation.
Bringing Up Baby was released February 1938. It wasn't the success they'd hoped it would be.
It would be rediscovered as a classic. In 1990, just two years after it was formed, Bringing Up Baby was selected for preservation in the National Film Registry of the Library of Congress because it is "culturally, historically or aesthetically significant." They choose only 25 films per year.
Hepburn was allowed to buy out her RKO contract following the making of that film.
Holiday was the third film Grant and Hepburn had done together. First was Sylvia Scarlett in 1935.
"Sylvia Scarlett - a real disaster - with Cary Grant. Our first picture together. It
Hepburn and Grant
Sylvia Scarlett
"It's a bit nippy tonight.
You'll make a proper
little hot water bottle."

was a strange experience. ...It just did not seem to work -- just not funny. I had my head shaved for three-quarters of the picture and played a boy.
"Brian Ahern was in it and Teddy Gwenn played my father. Cary Grant's
performance in the picture was magic. He was his true self - a real cockney - slightly plump and full of beans. His energy was incredible, his laughter full and unguarded. Teddy Gwenn and I were his stooges. It was a great setup, which didn't quite work."
-- Me: Stories of My Life, Katharine Hepburn
Filming of Holiday took place February-April of 1938 with the film's being released mid-June.
It was while they were filming Holiday that the now famous Hollywood Reporter ad came out. Ms. Hepburn was declared to be box office poison just as she was trying to get her career back on track. The ad was rerun in papers all over the country, often alongside photos of the stars whose names were mentioned.
"Mr. John Mannheimer, the executive secretary of the Independent Theatre Owners' Association in New York, declared that the organization was not attacking the stars personally. 'These stars, if given the right kind of vehicles,' he said, 'would be the same stars as of old.'
"He added, 'Pictures are being ground out regularly on the same old big scale, under the system of long-term contracts, with stars who eventually will become obsolete, and we have to foot the bill.'"
-- The Sydney Morning Herald May 5, 1938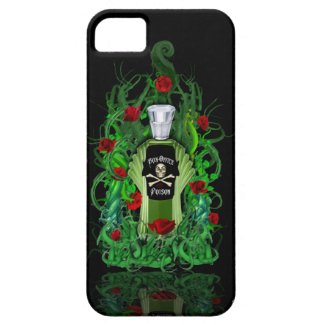 Box Office Poison iPhone Case in Black iPhone 5 Covers by imperialpalace
Look at more Box office poison Casemate Cases at zazzle
No one had to publicly call out actors whose careers were . And their responses, that it wasn't really or entirely their fault was justified. Cary Grant had left the studios altogether and went independent.
In 1936, Bette Davis (not on the poison list) was on suspension from her studio,
Warner Brothers. It was because she'd been so fed up with what she deemed to be the inferior movies she'd been given, she breached her contract and made movies in Britain. If you wanted to work in Hollywood, most actors signed very restrictive studio contracts.
Davis wrote to Jack Warner while on suspension in 1936, "I am also ambitious to be known as a great actress and I might; who can tell. I'd be willing to take less money if in consideration you give me my rights. But if I continue to appear in more mediocre pictures I will have no career left worth fighting for."
Katharine Hepburn knew she needed to make a change in the films she was doing.
"During this period my career had taken a real nosedive. It was then that the box office poison label began to appear. The Independent Theatre Owners were trying to get rid of Marlene Dietrich, Joan Crawford and me. It seems they were forced to take our pictures if they got certain ones which they really wanted.
"Actually, I felt sorry for them. I had made a string of very dull movies. Break of Hearts [with Charles Boyer], Sylvia Scarlett [with Cary Grant, Edmund Gwenn, Brian Aherne], A Woman Rebels [with Herbert Marshall] and Quality Street [with Franchot Tone].
"On the good side, Alice Adams with Fred MacMurray, Stage Door with Ginger Rogers, Bringing Up Baby with Cary Grant and Holiday with Cary Grant. The last four were good pictures but I had apparently become someone the independents had avoided because of the four dull preceding.
"I did Holiday on a loan-out from RKO who were anxious to get rid of me and had offered me Mother Carey's Chickens which I turned down. We made a deal. I would pay RKO $75,000 and they would let me do Holiday for Columbia. Harry Cohn (Columbia) had offered me $150,000."
In June of 1938, Holiday, the George Cukor film was opening in theaters. Hepburn plays Linda Seton and Grant is Johnny Case, fiancee of Linda's sister Julia (Doris Nolan).
"Columbia studio executive Harry Cohn devised a slogan for all billboards that read, 'Is it true what they say about Hepburn - that she's Box Office Poison?'"
"Unfortunately the plan backfired in Hollywood, where a roller derby was about to open. The roller derby's backers were determined to affect all film attendances and sent men around to write on all the posters for Holiday replying to the question with the words: 'Wes Anderson [star of the derby] thinks it's true.'
"Columbia tried to stop the defacement by legal process but were told by their attorneys, 'It's only an opinion - and by a non-expert.'"
-- Kate: The Life of Katharine Hepburn, Charles Higham
The graffiti affected attendance in Los Angeles.
The independent theater owners were not aligned with any particular studio. It's similar to independent theaters of today vs. chains. What does an independent business have to gain by not being part of a franchise?

The theater owners hoped that if studios controlled costs of their
A-grade
pictures, including reducing star salaries, there may be an end to the enforced double feature policy. This meant that independent movie exhibitors to buy and play them alongside popular pictures. An implication was that the stars were not bringing the audiences, the stars were washed up.
So-called B movies were a place for up and coming actors, technicians, directors, etc to work. They were under contract and they'd keep working.
Different sides took out ads and editorials in the press. Some in the film
industry and even in the press talked about how the theater owners had taken the wrong tactics to be heard. Discussions and negotiations would have been better in a private rather than public forum.
Terry Ramsaye, editor of the Herald talked about tarnishing the theatre allure. He pointed out what had happened.
"Studio budget jargon of A and B classification of films have been added to the customers vernacular, teaching them in effect that the studios actually made bad movies on purpose."
-- Hollywood 1938: Motion Pictures' Greatest Year, Catherine Jurca
Bad reviews were also held up as keeping people away from theaters. Exhibitors couldn't afford to rent two expensive pictures for each double bill.
It wasn't only the independent theater owners. Women's clubs, parent-teacher organizations and the education establishment complained that double bills were too long for children. Sitting through two films hurt their eyes and caused behavior problems.
But the powers that be at the major studios, according to an article in Variety at the time, said that more consumers wanted the double features to stay. They
thought they were getting two for the price of one.
Regardless of what they thought of the quality of the product (some of the B movies) and their dwindling audiences, theater owners had to come up with ways to attract audiences. Film makers like William Castle who could not only bring in a film on budget but get out there and sell them were great for generating interest and revenue.
As all this was going on they kept making movies. Bringing Up Baby led to Holiday.
... A post about the film, Holiday follows
Related Pages of Interest:
William Castle Film Maker, Showman; Scream for Relief
The Philadelphia Story: Katharine Hepburn, Cary Grant, James Stewart Romantic Comedy
Desk Set Katharine Hepburn Spencer Tracy
Bringing up Cary Grant and the Oscars
The National Film Registry, These Amazing Shadows
Sources:
Me : Stories of My Life
by Katharine Hepburn
Kate: The Life of Katharine Hepburn
by Charles Higham
Grand Design: Hollywood as a Modern Business Enterprise, 1930-1939 by Tino Balio
Katharine Hepburn: A Remarkable Woman by Anne Edwards
Irene Dunne: First Lady of Hollywood by Wes D. Gehring
Hollywood 1938: Motion Pictures' Greatest Year by Catherine Jurca
Acting in the Cinema by James Naremore
** I've been unsuccessful finding a scan of the original article and list from the 1938 Hollywood Reporter magazine. Some people give slight variations of the stars, sometimes adding Shirley Temple to the list.
***About links:
Please note that links will open in separate windows for your convenience. You can close them and go back to this blog article in its original window.
[I've read in books and online that Hepburn had paid everything from $22,000 to $220,000 to buy out her RKO contract. The above from her autobiography. I rarely go with something found online alone.]