Fashion and hands forever linked
The human body has always served as an artists staple subject matter. Styles
Bejeweled hand clasp
on a swimsuit cover up
Fashion show in The Women 1939
change and the depictions are different.
One of the most public and still most personal body part is the hand. We may be adorning our own with rings and bracelets or the very latest in nail art. Put a ring on it. Hand work in art and fashion is prized.
Religions join hands in ceremonies, hands are seen in iconography, we pray, shake hands, wave hello and goodbye. Palmistry is used to foretell your future, whether you're a believer or not.
The Beatles will forever want to hold your hand. It makes them feel happy inside. Delightful as it would be to hold hands with any of The Beatles (is there a place where I can sign up?), holding hands with someone can be one of the sweetest, most loving, even most comforting things we do.
The hand and heart is popular in folk art even as a cookie cutter design. What the hand is doing, how it's positioned, as Fonzie knew - be it thumbs up or down, can be vitally important.
Rosalind Russell won't miss a thing in this dress
Fashion designers have incorporated the hand into their clothing and accessories for years. Influenced by Surrealism, Italian fashion designer Elsa Schiaparelli incorporated hands, among other things into her accessories in the 1930s.
Her hand themed buttons and belts are museum pieces and collectors items now.
The Women
Gloves with golden extensions
We can't ignore Cedric Gibbons' contribution to The Women. As art director, his set designs added glamor, ambiance and just the right environment to each scene.
In The Women, major developments happen early on in a scene with a manicurist.
The theme of fingers, claws and Jungle Red nail polish carries throughout, so it's fitting that Gibbons created an outstanding piece of glowing hand sculpture to catch our eyes.
The spa and department store sets were said to take up several rooms alone. Why couldn't Mary's husband keep his hands off of Crystal??
Hands, and a nod to
Schiaparelli's designs of the day,

also served as inspiration for the costume designs in films such as The
My department store
doesn't have
a display like that


Women (1939) and 1942's The Man Who Came to Dinner.
Adrian produced outfits for a Technicolor fashion show in the middle of black and white movie The Women, much to the chagrin of director George Cukor.
Like The Wizard of Oz in the same year, The Women was a black and white film that had a color segment included. Though some find it jarring, most viewers adore the fashion sequence.
He was costume designer for the entire film. Rosalind Russell wore an eye-popping three-eyed dress early in the film. This served to define the character but also gave a nod to the Surrealist fashion movement.
Schiaparelli designed a line of gloves with elaborate ruffles and even mock

fingernails. Gloves with 3-D nails or claws can be found today, be they fancy dress costume-quality or high fashion designer quality with the price tags to match.
Some of the film's fashion show is online. The Women
(the original from 1939 particularly) is a great film that's pretty regularly shown on television, be it PBS or channels such as Turner Classic Movies, TCM.
Just some of the stars are Norma Shearer, Joan Crawford, Rosalind Russell, Paulette Goddard, Joan Fontaine, Lucile Watson, Butterfly McQueen and Mary Boland.
One of Schiaparelli's famous accessories was a simple silk evening belt with a plastic hand clasp from the designers fall 1934 collection. "The wearer is literally embraced around the waist by the belt," they said.
Ann Sheridan
The Man Who Came to Dinner
Orry-Kelly was costume designer on The Man Who Came to Dinner. Ann Sheridan wears a blouse with hand-shaped buttons.
She and her pretentious behavior frustrates the characters played by Bette Davis and Monty Woolley.
Some reviewers of the day referred to the garments as faux Schiaparelli gowns. Do you remember other movies with outfits like these?
Schiaparelli created a silk dress with a larger-than-life hand-painted lobster on the skirt for Wallis Simpson's trousseau when she was to marry King-Emperor Edward VIII.
The lobster motif is reminiscent of a brooch Joan Crawford wore in, I believe, Mildred Pierce. Fashion and accessories, especially for those who could afford the very best, was getting more surreal in the 30s and early 40s.
The collections of designers Rei Kawakubo of Comme des Garçons in 2007 and Hussein Chalayan in 2010 have incorporated hands in unique ways.
Kawakubo's hands are more decorative while in Chalayan's looks they may serve to be utilitarian as well. (This is based on seeing their partial collections.) Jewelry designer Margaux Lange is one who incorporates parts of the iconic Barbie doll into her jewelry.
How about the hand in architecture? The entrance to the car park of Estonian State Opera at the
Estonia Theatre
in Tallinn

has barrier gates. When you've paid for admittance they raise and allow you inside. Some of the gates are fashioned in the shape of an oversized hand holding a conductor's baton.
from The Owl and the Pussycat, with George Segal 1973
Not quite the same thing, but a famous costume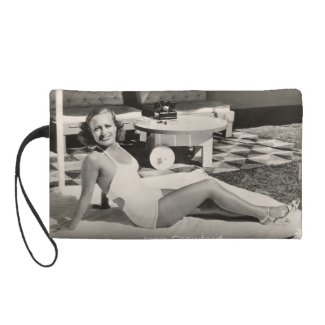 Joan Crawford in Bathing Suit Wristlet Purse
Several sizes/styles. By Jakestuff
The book, Architecture and Film
has a section on Cedric Gibbons. This is now available on Kindle. Film buffs will enjoy how many eras are discussed and historians, especially those who are makers and builders will really love it. Who built Mr. Blandings' Dream House?
George Cukor, Master of Elegance: Hollywood's Legendary Director and His Stars
by Emanuel Levy is just one where you can the director's feelings about the technicolor fashion show sequence. Imposed by the producers, Cukor felt that "it made the black and white footage that followed look bad." Since color was a novelty in 1939 it was inserted at least partly to get added attention for the movie.
Shocking Life: The Autobiography of Elsa Schiaparelli
Her autobiography is on Kindle. Are any of her pieces at your local museum?
Chromatic Cinema: A History of Screen Color is a good guide to early use of color in film.
Related Links of Interest:
Philadelphia Museum's Shocking! The Art and Fashion of Elsa Schiaparelli
Check out the Lobster Dress at The Philadelphia Museum
Remember Max Factor SophistiCat and Schiaparelli Perfumes?
Comparing The Unknown & Edward Scissorhands; Lon Chaney and Johnny Depp
Six movies where characters have possessed hands
It's spreading New Viral Art
Hand Shadows Lamps and Shades Customize or Create new A little bit of light or a lot
Palmistry Bagettes Bag Wristlet Purse by EndlessVintage
Browse Palmistry Bagettes Bags online at Zazzle.com