Hitchcock film actors on television series
Their Movie Roles, Their Television Series


These are just one or two of the actors' TV appearances
Barbara Bel Geddes
Jimmy Stewart
Vertigo
from moive trailer
MacDonald Carey as Detective Jack Graham Shadow of a Doubt 1943.
Detective Graham poses as a surveyor and takes young Charlie (Teresa Wright) on a date. He confesses that he's really a police detective and suspects that her Uncle Charley, who's living with them is the serial murderer known in the papers as the Merry Widow Murderer.
Joseph Cotten is the creepy Uncle Charley.
Carey played Tom Horton on Days of our Lives, from 1965 until his death 1994.
William Bendix as Gus Smith in Lifeboat 1944. This film has one of if not the most clever Hitchcock cameo. Bendix is holding a newspaper containing weight-reducing ad featuring before and after shots of the director. You'll recall scenes where boatmates must amputate one of Smith's legs due to gangrene.
"Look for Hitchcock to make three appearances in the film -- as a dead body floating face down in the water at the beginning of the movie and as the two models for a weight-reducing ad in a newspaper held by the injured crewman (Bendix)."
Orlando Sentinel, May 1988
William Bendix played Chester A. Riley in The Life of Riley.

Norman Lloyd as Frank Fry in Saboteur 1942 and Mr. Garmes, a patient in Green Manors in Spellbound 1945.
In Saboteur, Barry Kane (Robert Cummings), is a fugitive accused of starting a fire that he believes was started by Frank Fry. There is much exciting cat and mouse throughout the film but the most iconic scene is at the end where Lloyd's character, hangs from the torch of the Statue of Liberty. Kane, his adversary tries to save him. The stitching of Fry's jacket sleeve gives way, causing Fry to fall to his death.
This may have been the first time Hitchcock had someone hanging off of a national monuments by his fingertips. Like the name Marion Crane in Psycho, Mr. Fry is aptly named in this film
as a character

suspected of starting fires.
Lloyd played Dr. Daniel Auschlander in St. Elsewhere (1982–1988)
Lloyd Nolan
hanging onto the
Statue of Liberty
Karl Malden was Inspector Larrue in I Confess 1953.
After hearing that a priest was seen leaving the murder house, Larrue suspects Father Logan (Montgomery Clift). This is a fascinating exploration of present and past lives, looking for more than one explanation and much more.
Malden was Lt. Mike Stone in The Streets of San Francisco.
Reel Justice: The Courtroom Goes to the Movies is just one of the books about law, crime and film. Reel Justice has an interesting write-up about I Confess.
See what people in the business of dealing with law, crime and the judicial system have to say about how the film industry has handled this subject matter through the years.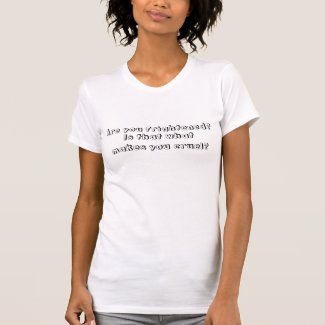 Hitchcock Film Quote inspiration Tshirt
"Are you frightened? Is that what makes you cruel?"


Change font style and/or color
Carolyn Jones was Cindy Fontaine in Alfred Hitchcock's remake of The Man Who Knew Too Much 1956. According to the AFI web site the character was also known as Elsa McDuff. Her role is small but the scene(s) are a break from tension. Jones was Morticia Addams in The Addams Family.
Barbara Bel Geddes was Midge Wood Vertigo (1958)
Midge was engaged to Scottie (James Stewart) back in college. She's something of an undergarment engineer, designing a bra that operates in the fashion of a cantilever bridge. What would the Victoria's Secret angels think of that? She's one of the few Hitchcock women to wear glasses and yet remain sane, pleasant, employed and presentable. Stewart is attracted to the more exotic Kim Novak (Judy Barton/Madeleine Elster) who will bring a lot of drama into his life and leave him hanging.
Bel Geddes had the role of the family matriarch, Miss Ellie in Dallas. She was the first performer contracted to star in the show.
Martin Balsam as Det. Milton Arbogast (private detective) Psycho 1960.
Detective Arbogast, called in by Marion Crane's concerned sister, finds out that Ms. Crane has stolen $40,000 from her employer. He tracks her down at the Bates Motel. That is both clever and very unfortunate for him. Det. Arbogast's earthly remains end in the infamous swamp on the Bates Motel property.
Balsam played Murray Klein on the All in the Family spin-off Archie Bunker's Place.
Lurene Tuttle the sheriff's wife in Psycho.
She played Lloyd Nolan's senior nurse, Hannah Yarby in the Diahann Carroll NBC series Julia (1968–1971).
She also appeared in a memorable episode of The Andy Griffith Show, Opie's Charity as Annabelle Silby who tells the everyone that her husband, Tom Silby was killed by a taxi cab, instead of telling the truth which is that he up and left. They have a big funeral and of course he comes home years later to the shock of all who see him.
Tuttle also appeared six times on Trapper John, M.D. 1981-1984, playing different roles.
Martin Balsam
Psycho 1960

Veronica Cartwright as Cathy Brenner in The Birds 1963.
Cathy Brenner is the teen daughter of Lydia Brenner (Jessica Tandy) and sister of Mitch (Rod Taylor). Her birthday party is invaded by aggressive birds who clearly have no regard for games, cake or human life. The scene at her school is one of the most famous in the film.
Although throughout the film the townspeople and the family are terrorized by birds, when they flee, Cathy is intent on bringing her pets along with them -- a pair of turtledoves who've remained in their cage throughout the film. The old Potter Schoolhouse in Bodega Bay still looks much like it did in the film though I hear it's a private residence now.
On Daniel Boone, Cartwright played Jemima Boone. She played both Violet Rutherford and Peggy MacIntosh Leave it to Beaver.
Suzanne Pleshette as Annie Hayworth in The Birds 1963.
Annie, the local school teacher is one of Mitch's ex-girlfriends. When Melanie (Tippi Hedren) spends a night at her home, Annie gives some backstory on the Brenner family, particularly fleshing out the character of Lydia. "She's afraid of being abandoned."
The scene where Mitch calls Annie's house to invite Melanie to Cathy's party is uncomfortable to watch.
Annie evacuates the children from the schoolhouse in a dramatic scene.
According to the Hitchcock wiki, Annie Hayworth's house was actually a facade built on vacant land. So don't bother looking for it on your trip to Bodega Bay. Pleshette went on to play Emily Hartley on The Bob Newhart Show (1972–1978).
Richard Deacon as Mitch's City Neighbor The Birds 1963
He was Mel Cooley on The Dick Van Dyke Show.
Suzanne Pleshette from The Birds
from film trailer
Alan Napier as Mr. Rutland, Mark's father in Marnie 1964.
Mark (Sean Connery) tells

Marnie (Tippi Hedren) before meeting his father

: "You're all right. Dad goes by scent. If you smell anything like a horse, you're in."
And then when they meet...
Mark: It's all right, Dad, she's not really a girl, she's a horse fancier.

Mr. Rutland asks Marnie: "Certainly can't find old Mark very interesting. Doesn't hunt, doesn't even ride."
Alan Napier

played Bruce Wayne's butler, Alfred in the Batman TV series from 1966-1968. Napier had been first to be cast in the series.
Arthur Gould-Porter as Freddy, the Bookseller Torn Curtain 1966. He had a reoccurring role as Ravenswood the butler in The Beverley Hillbillies.
John Forsythe as Michael Nordstrom Topaz (1969)
Forsythe is CIA agent Mike Nordstrom who enlists the help of agent André Devereaux (Frederick Stafford). Nordstrom is not a major character in the film.
John Forsythe in Topaz
Forsythe went on to a few successful TV series such as: Bachelor Father, Charlie's Angels and Dynasty.
William Devane as Arthur Adamson / Edward Shoebridge Family Plot 1976.
Shoebridge/Adamson murdered his adoptive parents, faked his own death and recreates himself as a successful jeweler in San Francisco called Arthur Adamson.
There are apparently some behind-the-scene tales of casting many of the roles, including the part Devane plays. Al Pacino may have worked with Pacino. What a pairing that would have been.
Family Plot was the final film directed by Alfred Hitchcock.

Devane was Greg Sumner on Knots Landing 1983-1993 and appeared on the television version of From Here to Eternity
* Small screen captures used to discuss significant scenes in and promote a specific a program or film.