Orson Welles, Citizen Kane and the Oscars
Citizen Kane has been called the best film of all time. A 25-year-old Orson Welles co-wrote the screenplay with Herman Mankiewicz. He directed and produced the movie. He also starred as Charles Foster Kane.
His radio drama, The War of the Worlds had been a sensation just a couple years earlier. He was young but now unknown and not a real newcomer.
Some critics boldly gave Citizen Kane the praise that it deserved. It was unlike anything they had ever seen before. The story hit too close to home for one of the most powerful men in the country, newspaper mogul, William Randolph Hearst.
In January of 1941, Only a few days after the screening, Hearst sent the word out to all his publications not to run advertisements for the film.
He didn't like how the movie appeared to be portraying not only him, but especially a character who paralleled his mistress, Marion Davies. Major theater chains refused to carry Citizen Kane. It was a flop.
Hearst began a campaign to discredit Welles and a smear campaign against him. His papers called Welles a Communist and questioned willingness to fight for his country. It didn't help that Welles himself, was a Hollywood outsider.
Some people must have been pretty mad, pretty influential and pretty frightened of this film. Movie industry friends of the publisher circuitously made monetary offers to destroy the negative and all prints of Citizen Kane.
-- What Happens Next: A History of American Screenwriting
by Marc Norman; Raising Kane by Pauline Kael
27 x 40 Citizen Kane Movie Poster
Orson Welles, Joseph Cotten, Everett Sloane
Bruce Headlam, Media Desk Editor at The New York Times has
a large version of this poster on the wall of his office
Page One: Inside The New York Times
is an award winning 2011 documentary about the iconic newspaper and newspapers in the digital age. You'll see this huge film poster on his office wall.
Also featured in the documentary with Bruce Headlam are journalists David Carr, Richard Perez-Pena, Tim Arango, Bill Keller and Brian Stelter. At the time it was made, Bill Keller was Executive Editor. Since then, they had female Executive Editor Jill Abramson, and now the paper's first African American Executive Editor Dean Baquet has been in place since 2014.
1942 the 14th Academy Awards: Citizen Kane had been nominated for nine awards. Despite it all, some expected the film to sweep the Oscars. The movie lost in every category except one. Welles won the shared the award for best screenplay with Herman Mankiewicz.
Mankiewicz, expecting the worst, had stayed home and listened to the Oscars on the radio. In one interview, Welles said of Mankiewicz, "Everything concerning Rosebud belongs to him."
Welles wrote a letter to his co-winner:
"Dear Mankie, Here's what I wanted to wire you after the Academy dinner,
'You can kiss my half.'
I dare to send it through the mails only now I find it possible to enclose a ready made retort. I don't presume to write your jokes for you, but you ought to like this:
'Dear Orson: You don't know your half from a hole in the ground.' Affectionately, Orson."

"It was almost an insult. The Academy Awards are notoriously influenced by sentiment. Welles was the outsider, and not a humble one, either on whom sanction could be generously bestowed.
"Envy, jealousy fear whatever - the Hollywood majority just didn't like him. In every category the award went to one of their own. (Even best screenplay was no doubt more a gesture to old-time pro Mankiewicz than an award to Welles) ....
"Best actor went to an old favorite, Gary Cooper for Howard Hawks's Sergeant York. I'd (pb) be the last to say these pictures were without merit. Ford and Hawks being two of my favorite directors, they were certainly at the forefront of the films of that year. But Kane was the film of the decade.
"The most telling Oscar was for music. Bernard Hermann was nominated twice that year -- for Kane and for All That Money Can Buy (another RKO release) and the Academy gave him the award for All That Money Can Buy.
"'My only award in my entire career in films from America is for Kane as a writer, you know. Toland didn't even get it as a cameraman.... They hissed every time our names were mentioned at the Academy awards that year.

"'Poor Toland had to wait for two years until he made How Green was my valley to get back into the good graces of everybody.'"
-- Orson Welles: Interviews (Conversations with Filmmakers)
by Mark W. Estrin (Ed.), from an interview Welles gave to director, Peter Bogdanovich.This is a great book.
Gregg Toland had been up for Best
Black-and-White

Cinematography and, particularly in hindsight it's amazing that he didn't win. It's amazing that many of his collaborators didn't win. Robert Wise, for Film Editing, is another example. There was no make-up award in those days.
Similar to the situation with Cary Grant, I see different reasons why Welles was not accepted in Hollywood at the time. His apparently not wanting to be a part of the in-crowd was certainly a part of it.
I read quotes from the nominees themselves that the audience hissed at the mention of Welles' name and at the name of the film. At an event like the Academy Awards, that's really sad. I read online that the audience booed It's been said that Robert Wise said it, but I've yet to find a quote from him or anyone who was there saying they heard booing.
At the risk of losing readers, I found that the Academy Awards page has audio files of some of the nominations being read that year. This includes Best Picture and Best Actor. See if you can hear hissing, booing or rumbling. This is when they were still at a dinner banquet.
Jimmy Stewart presents the Best Actor Award to Gary Cooper and he is not surprisingly very nice and cordial to all who are nominated and sounds happy about the winner. Who doesn't love Jimmy Stewart. :)
David O. Selznick presents the Best Picture to Darryl F. Zanuck for How Green Was My Valley. He says Welles is "that talented newcomer."
I think Mr. Mankiewicz said he could hear hissing over the radio. He heard the entire broadcast.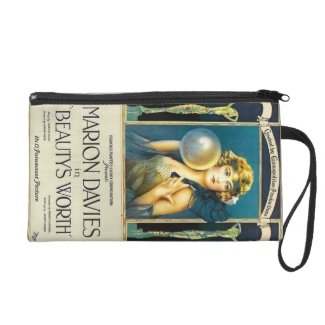 Marion Davies vintage movie images Wristlet Clutch
Choose size/style
by Jakestuff
See other Marion davies Bagettes Bags at zazzle
At the 71st Academy Awards in 1999 director Elia Kazan received a controversial Honorary Oscar. Kazan directed classics such as On the Waterfront. In the 1950s, he was said to have been a 'friendly witness,' naming names before the House Un-American Activities Committee which investigated Communist influences in Hollywood. 1999 was the only time I can recall seeing a segment of the audience have a negative response to someone on stage.
The most powerful demonstration of their feeling was to sit on their hands instead of clapping. Not sure, even though there was only radio in the 40s, what they would have to gain by that kind of behavior. We see some booing if a winner gives a political speech when a thank you speech is expected.
His daughter, Chris Welles talked on TCM about her father's making The Lady from Shanghai with Rita Hayworth.
At the 43rd Academy Awards in 1971, Orson Welles is presented with an Honorary Oscar. this is the year after Cary Grant received his Honorary Oscar. John Huston presenting an Honorary Oscar to Orson Welles for superlative artistry and versatility in the creation of motion pictures.
In his biography and on other occasions, Welles tells that on the night of the Oscars while accepting the award he "pretended to be abroad."
"I didn't go because I feel like a damn fool at those things. I feel foolish, really foolish. I didn't go not because i didn't have respect for it,after all all the people in the industry vote you something, you should show your appreciation. So I did, I made a piece of film and said that I was in Spain and I thanked them. ... John (Houston) introduced me and said at the end, 'Good night Orson wherever you are!' I was in Laurel Canyon!"
-- Orson Welles: A Biography
by Barbara Leaming
1971 is also notable since it's the year that George C. Scott won for his role in Patton. Scott refused both the nomination and the Oscar that he won. The film's producer went up to accept the award. Scott had declined nominations in the past.
Scott had said, "The whole thing is a goddamn meat parade. I don't want any part of it. Scott's Oscar is said to be or at least was at some time displayed at the Virginia Military Institute museum in Lexington where generations of Pattons attended.
"George C. Scott declined his nomination and the award, but Academy President Daniel Taradash noted that, '…a person responsible for the achievement cannot decline the nomination after it is voted. Actually, Mr. Scott is not involved. It is his performance in Patton which is involved.'"
-- from the Academy Awards web site
In case you're wondering... It was the 45th Academy Awards, March 27, 1973 when Marlon Brando declined his Best Actor Oscar sending Sacheen Littlefeather onstage instead. On the eve of the 1972 Oscars, Brando announced that he would boycott the ceremony.
Part two of this post: The journey of the Oscar itself follows: The story, some think well.... is terrific!
In My Father's Shadow: A Daughter Remembers Orson Welles
by Chris Welles Feder
Entertainment memorabilia- Collect Share Research Auction Bidding on early Academy Awards
Cary Grant and the Oscars, the 1940s and more
Marlene Dietrich documentary, Maximillian Schell
:This 1984 documentary was an Academy Award nominee itself. It won The National Society of Film Critics and New York Film Critics awards for Best Documentary. Dietrich made Touch of Evil with Orson Welles, and she made no secret of how she felt about the Oscars. This documentary is fascinating. It can be streamed or purchased on DVD.

2013 was the 75th anniversary of Welles' War of the Worlds broadcast. It was also the 70th anniversary of his wedding to legendary actress Rita Hayworth. There are celebrations of both on this fun page of alien shirts. You can listen to the broadcast.
*About links: Please note that links will open in separate windows for your convenience. You can close them and go back to this blog article in its original window.
* If you hold copyright to any photos and would like them removed, please contact me and I'd be happy to remove them.