Some are Noir and Detective movies, some pre-code
Listed in no particular order ; Who's your favorite?
Barbara Stanwyck
Night Nurse trailer
Are the nurses in your life like any of the characters in these movies? Here are some dramatic movies with nurses in them.
How have nurses been portrayed in movies, and how have they changed over the years?
1) Sister Kenny (Rosalind Russell) 1946
A biographical film about Sister Elizabeth Kenny. She who fought to help people who suffered from polio, despite opposition from the medical establishment.
Russell really wanted to make this film. Her nephew and actor, Alan Alda are former patients of Sister Kenny. Alda talks about her methods in his autobiography, Never Have Your Dog Stuffed: And Other Things I've Learned.
Senior nurses in the UK have been called Sister. Some nurses may be addressed as Miss, as teachers, for instance. The use of Sister has caused confusion on the part of some old movie buffs, particularly when you add in the difference in the uniforms nurses have worn over the years.

From what I've read some male charge nurses were actually called Sister or instead Charge (if they were a Charge nurse). This would be followed by the person's last name. In the 2000s, British hospitals have begun trying to remove the term Sister. Some patients are still more comfortable with the term Sister.
2) One Flew Over the Cuckoo's Nest 1975 Nurse Ratched (Louise Fletcher)
The movie also stars Jack Nicholson, Will Sampson , directed by Miloš Forman, is based on Ken Kesey's 1962 novel of the same name. Supporting cast includes William Redfield, Brad Dourif, Danny DeVito, Christopher Lloyd, and Scatman Crothers. Nurse Mildred Ratched was truly wretched. The book and movie have come to represent all that is and can be wrong with our mental health care system.
The movie went on to sweep the five big Oscar categories at the 48th Annual Academy Awards, Best Picture (to producers Michael Douglas and Saul Zaentz), Best Director, Best Actress (Fletcher), Best Actor (Nicholson) and Writing Adapted Screenplay Laurence Hauben and Bo Goldman. Do you think that Nurse Ratched any inspiration for Nurse Diesel in Mel Brooks' High Anxiety?
3) Rear Window 1954 Stella (Thelma Ritter) is insurance company home-care nurse to L.B. 'Jeff' Jefferies (Jimmy Stewart). She has a lot of great lines including handing out some of the best common sense and humor.
Thelma Ritter also played Nurse Clancy in the 1952 With a Song in My Heart, a biography of actress and singer Jane Froman. The movie starred Susan Hayward. She and Ritter both received Academy Award nominations.
4) Vigil in the Night 1940 Nurses Anne Lee (Carole Lombard) and Lucy Lee (Anne Shirley) are sisters. A fatal mistake is made and Anne Lee takes the blame.
5) Dr Kildare 1930s-1940s A series of films starring Lew Ayres as Dr. James Kildare and Lionel Barrymore as Dr. Leonard Gillespie. Dr. Kildare's nurse was Mary Lamont (Laraine Day) whom he marries. Nurse Parker (Nell Craig) has been with Dr. Gillespie for a long time and the two have a husband-wife-like relationship in some ways.
6) Magnificent Obsession 1942 Nancy Ashford (Agnes Moorehead)

"In the important 4th billed role of Wyman's confidant Nancy Ashford, Moorehead proves herself born to play a nurse.

"She has the sternness, the authority and the ironical humor to make her a ballsy, real and memorable woman in white though she would never play a nurse on the big screen again.
"Nancy's best and most entertaining qualities are illustrated by an early scene with Bob Merrick in his hospital room after his boating accident. the scene moves from verbal irony when, holding an oral thermometer, Nurse Ashford says ominously, 'It's absolutely immaterial to me, Mr. Merrick, but I'm going to take your temperature one way or the other,' to situational irony when Merrick wants to see the head of the hospital Dr. Phillips, not yet knowing that the much beloved doctor is dead and he himself has been the indirect cause of his demise. ... Moorehead is billed third in closing credits."
-- Quote from The Films of Agnes Moorehead
by Axel Nissen
This film was previously made in 1934 with Irene Dunne, Robert Taylor, Charles Butterworth and Betty Furness. Sara Haden played Nancy Ashford.
7) Witness for the Prosecution 1957 Elsa Lanchester as Miss Plimsoll.
In 1982 a CBS television production was made.
Diana Rigg Christine Vole
Deborah Kerr Nurse Plimsoll
Sir Ralph Richardson Sir Wilfred Robarts
Beau Bridges Leonard Vole
Donald Pleasance Mr. Mayhew
8) Misery (1990) Kathy Bates as nurse Annie Wilkes won the 1990 Academy Award for Best Actress. Directed by Rob Reiner and from a novel by Stephen King. Also starring James Caan, Kathy Bates, Lauren Bacall, Richard Farnsworth and Frances Sternhagen. Caan is a novelist who's rescued by obsessed deranged nurse Wilkes and brought to her remote home for care.
9) Kiss the Blood Off My Hands 1948 Jane Wharton (Joan Fontaine) A lesser known film noir which is a love story besides. Also starring Burt Lancaster.
The Florence Nightingale Pledge
** see below
10)

Night Nurse 1931 (Barbara Stanwyck). Also features Joan Blondell, Clark Gable, Ben Lyon. Interesting pre-code film featuring a bad guy Clark Gable in a rough story where a young nurse is thrown into a situation where she has to save two children.
11) Miss Pinkerton 1932 Joan Blondell is a crime solving nurse in this pre-code movie. "A private duty nurse gets herself mixed up in a murder investigation."

Miss Pinkerton is included in the DVD collection Forbidden Hollywood Collection Volume 5

In 1941, the character reemerges with The Nurse's Secret. Ruth Adams is played by Lee Patrick. The book, Detecting Women: Gender and the Hollywood Detective Film by Philippa Gates includes an interesting section comparing the two movies. Lee Patrick may be remembered from the movie Mildred Pierce as Mrs. Biederhof who played gin rummy with as Albert "Bert" Pierce (Bruce Bennett), the husband of Mildred Pierce (Joan Crawford).
Patrick also had supporting roles in Now, Voyager as Deb McIntyre and in Vertigo as " the driver mistaken for Madeleine (Judy)."
12) Undercover Doctor 1939 as Nurse Margaret Hopkins (Janice Logan)
13) Pinky 1949 student nurse Pinky "Patricia" Johnson (Jeanne Crain)
The film also stars Ethel Barrymore and Ethel Waters. A light-skinned African American woman falls in love with a white doctor, though he is unaware of her true race.
14) Registered Nurse 1934 Nurse McKenna (Beulah Bondi) is one of the nurses in this pre-code film.
15) King of Alcatraz 1938 Gail Patrick stars as Nurse Dale Borden. Gail Patrick is well known for her supporting roles in films such as The Awful Truth with Cary Grant and Irene Dunne and for My Man Godfrey with Carole Lombard and William Powell. In real life at one time Ms. Patrick had a children's clothing boutique.

According to the book, Motion Picture Series and Sequels: A Reference Guide by Bernard A. Drew, this is among the films that are based on the exploits of the late FBI director, J. Edgar Hoover.
16) Miss Susie Slagle's 1946 Margaretta Howe (Joan Caulfield) and Nan Rogers (Veronica Lake) both student nurses. Miss Susie Slagle (Lillian Gish) has converted her Baltimore home into a boarding house for medical students. Also in the cast are Sonny Tufts and Lloyd Bridges.
17) The English Patient 1996
Hana is a nurse (Juliette Binoche) who is caring for burn patient, Ralph Fiennes. The movie is based on the best selling novel by Michael Ondaatje, winner of the Booker Prize. See the film or read the book first? Ask your friends. It's up to you.
A few movies that feature nurses in smaller roles. Honorable mentions to:
Now Voyager 1942 Mary Wickes as Dora Pickford
Her part is not that big but she's memorable. The film is very good, with a terrific cast, Bette Davis, Claude Rains, Paul Henreid and Gladys Cooper.

The White Parade 1934 June Arden (Loretta Young).
With John Boles and Dorothy Wilson. Unfortunately this movie does not appear to be available.
Wit 2001 HBO TV movie Starring Emma Thompson. Susie Monahan (Audra McDonald) is her nurse.
Prison Nurse 1938 Marian Marsh plays one of the nurses who has to deal with an epidemic and other problems as she works at a prison in the 1930s.
This post is part of a series. Coming up some Nurses in Horror Movies/Evil Nurses and those in war movies. The previous post is a sampling of nurses in comedies and comedy/drama films.
Nurses in War and Military Films
Jeanne Crain Celebration Videos, What's My Line Appearance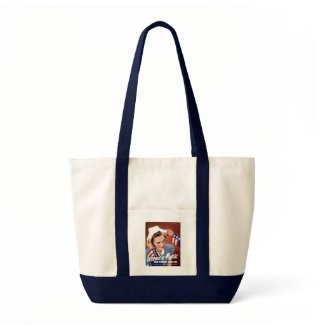 Become A Nurse Tote Bags
by
RetroCommunications
Create
photo bags
from zazzle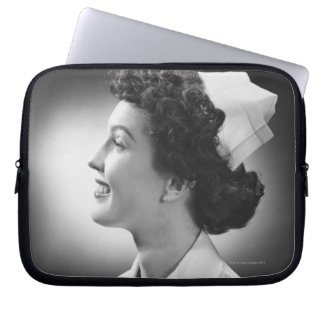 Nurse Posing Laptop Sleeve
by
retrofile
Shop for another
laptop sleeve
.
Hospital Gifts, Get Well Soon, Practical Presents, Custom Cards say what you want to say
** The Florence Nightingale Pledge:
I solemnly pledge myself before God and in the presence of this assembly, to pass my life in purity and to practice my profession faithfully. I will abstain from whatever is deleterious and mischievous, and will not take or knowingly administer any harmful drug. I will do all in my power to maintain and elevate the standard of my profession, and will hold in confidence all personal matters committed to my keeping and all family affairs coming to my knowledge in the practice of my calling. With loyalty will I endeavor to aid the physician in his work, and devote myself to the welfare of those committed to my care.
This modified "Hippocratic Oath" was composed in 1893 by Lystra E. Gretter and a Committee for the Farrand Training School for Nurses, Detroit. It was called the Florence Nightingale Pledge as a token of esteem for the founder of modern nursing. -- as found on several nursing web sites and those of schools of nursing.
This pledge is often recited at graduation/pinning ceremonies for nurses. It is also often included in programs honoring nurses during Nurses Week (May 6-12 each year) or on Nurses Day (May 6 each year). May 12 is the anniversary of the birth date of Florence Nightingale.