Not only is he the eighth Famous TV Dad but Homer Simpson was named the greatest fictional character "of the last 20 years" in
Entertainment Weekly
in 2010.
He ranked the second greatest cartoon character by
TV Guide
just behind Bugs Bunny.
Dan Castellaneta, the voice of Homer Jay Simpson, has won four Primetime Emmy Awards for Outstanding Voice-Over Performance. Homer and his family are important parts of American pop culture history.
Homer is married to Marge Simpson. They're the parents of Bart, Lisa and baby Maggie. On April 19, 1987, the family made its television debut, appearing in on
The Tracey Ullman Show
in a short titled,
Good Night
. The Simpsons' own series on Fox debuted December 17, 1989. Jessica Simpson is not believed related to them, though it's been suggested that they may be friends.
The Simpsons - Homer Deluxe Adult Costume
(right)
Not only does the costume include the Jumpsuit, but also a Detachable Belly Pad and the Mask.
You supply shoes & donut. Bringing donuts to the party is a pretty happy Homer-like thing to do?
Select from a variety of Simpsons Costumes and Masks including Marge, Bart, Duffman and Duffwoman.
While Herman Munster is green, Homer and his family are yellow. Adding a little bit more to the look, yellow hands for instance, could bring you over the top to win that Costume Contest and make your group costumes cohesive.
Yellow Face Paint
is only one option!

For Marge

,

you might consider something kitschy and chic.

Maybe a pair of

Luscious Lemon Kitchen gloves

, something like you've seen on

Desperate Housewives!

The

Marge Simpson Blue Wig
is also essential to her look! A link to a fun Blue Wigs page is below.
Homer is all but totally bald. I've read that
his hair loss
has been attributed partly to his working at the nuclear power plant. Also, he's been said to have pulled hair out each time Marge told him that she was pregnant. So a bald cap or maybe a comb-over wig and some 5:00 shadow may work if you chose not to wear a mask.
Homer, created and designed by cartoonist, Matt Groening, got his name from Groening's own dad. Homer is the safety inspector at the Springfield Nuclear Power Plant, but he causes some accidents at the facility! Be sure to practice Homer's signature, "D'oh!"
He is described as being, "crude, overweight, incompetent, clumsy, lazy, a heavy drinker, and ignorant; however, he is essentially a decent man and fiercely devoted to his family."
Their backstory is somewhat ambiguous. While they have changed slightly in appearance, the characters' ages are disputed and they don't seem to be getting much older.
Put an image or saying on Homer's beer mug!
One of the perfect props! So easy to reuse later, too.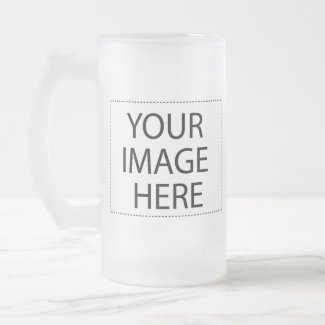 Design Your Own Custom Gifts - Frosted Glass Beer Mugs
Create & Customize unique
custom printed coffee mugs/beer steins
on zazzle
Check out the many designs that you can customize for your party
Yup, they're dishwasher and microwave safe.
Create a pacifier, one just right for Maggie or your little one!
Add your own text or photo to a BPA, PVC, & Phthalate free Pacifier.
Doh T-shirts
Make my own t shirt
at Zazzle
In 1989, Sam Simon, Matt Groening and James L. Brooks developed
The Simpsons
series. Simon has gone on to create the
Sam Simon Foundation
, which rescues dogs from a local kill shelter in Los Angeles. They train them to become certified service dogs.
The Simpsons Fabric Wall Scroll Poster (32" X 31") Inches
is shown at the top of the page
Thank you to multiple Wikipedia &
TV Guide
articles for information on the history of
The Simpsons
and the individual Simpsons characters for some information.
What other TV Dads will be on the list
of costume-worthy Papas?
Who do you think belongs on the list?
** This 10 Famous TV Dads Costume Ideas Series
began with Andy Taylor from The Andy Griffith Show
. The dads are in no particular order
.
Andy Taylor, Gomez Addams, George Jetson, Paul
Teutul Sr., Ricky Ricardo, Herman Munster, Ben Cartwright and now Homer Simpson. These are the Famous TV Dads so far. The guys are getting restless and we're gonna have to move them to a bigger room pretty soon.
Who will be next?
Only two more to go!
.....
Then what?!