Mollie Sugden, perhaps best known in the US for playing Mrs. Slocombe on the British comedy,
Are You Being Served?
died on July first.
Mary Isobel Sugden was born in Keighley in Yorkshire on July 21 1922. Her father ran an iron and steel company. She trained at the Guildhall School of Music and Drama in London.
She was best known for her comedy roles often playing battleaxes. She also appeared as the fearsome Mrs Hutchinson in
The Liver Birds
, but she played numerous roles through her long career. In the 1990s,
Are You Being Served?
had a spin-off called
Grace and Favour
. It was popular in the US as well titled
Are You Being Served Again?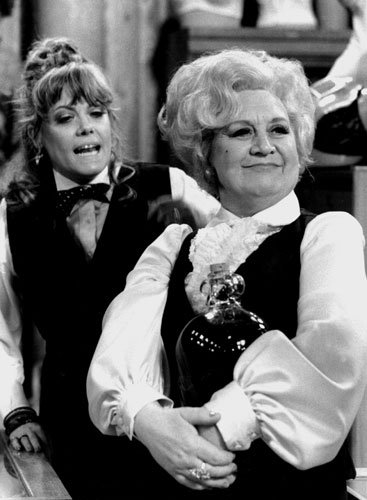 "I am unanimous in that."
In early episodes, Mollie Sugden had her hair dyed, bleached and re-dyed every time Mrs Slocombe changed her hair colour. It had been her own idea, but it meant that she sometimes had to turn up at her sons' school with her hair a multi-colored mess. Later, she saved her own hair by wearing wigs.
Mollie Sugden and her husband had identical twin sons, born when she was 41. She confessed that when they were very young she had to keep them labeled so that she could tell them apart and that "more than once I bathed the same one twice". She feared having both name labels off at the same time. Sugden's twin sons, Robin and Simon Moore, were at her bedside, according to her agent Joan Reddin.
Sugden lived in Surrey and was married to fellow actor William Moore, who died in 2000. She never fully recovered from his death, said Ms Reddin. "They were very much in love," she said. "She started to go down when he died."
An interview asked about
the high points of her career. "Oh there's been so many. I've been lucky. I've had a lovely, lovely time.
"Obviously ups and downs and worries, especially when the children were at the school, and if my husband was up north working - and he worked in
Coronation Street
for two years. ... So there were times, but on the whole I've had a lovely time."
Some photos & info from following sources & cited above:
The Telegraph
The BBC
Yahoo UK News
Guardian

Obituary of Wendy Richard
Also check out:
Seniors World Chronicle