This is part of my Tuesday Flashback Feature series. We reminisce about classic TV shows usually from the 1950s-1970s where gemstones or pieces of jewelry featured prominently in the storylines.
The Matched Pearl
Alfred Hitchcock Presents
Laurent Dubois is a jeweler who sells a magnificent black pearl left with him by Captain McCabe. He cheats McCabe out of some of the money owed to him.
Hubert Wilkens (Ernest Truex) buys the pearl at a high price, creating a huge profit for DuBois.

Mrs. Wilkens (Sharon Farrell) apparently wants a nice pair of earrings. Wilkens (Ernest Truex), returns to DuBois demandng to buy another pearl, a match of the first one.
Figuring that he can charge an even higher price for the second pearl, the jeweler agrees. Dubois returns to the pearl's original owner, Captain McCabe, to
see if a match can be found.
McCabe realizes that he was cheated and won't let it happen again. He refuses the first price the jeweler offers. Then he is promised much more money for this second pearl.
Dubois eventually gets the pearl. It's quite a good match. Later the jeweler discovers that he's been conned. The unscrupulous methods he'd used originally were found out and McCabe and Wilkens had teamed up to get the better of him. DuBois had purchased the same pearl twice.
Each Tuesday, we feature a different show, often a US sitcom. Information, including spoiler plot outlines come from various sources.
Particularly when the episode hasn't been viewed personally recently, information is as accurate as possible. When available, a show photo will be included.
Alfred Hitchcock Presents: Season Four.
"Master of suspense Alfred Hitchcock presents several short stories. The stories are invariably surprising, often containing elements of horror, comedy, suspense and the supernatural." With such a quality and iconic program, guides such as
The Alfred Hitchcock Presents Companion
are available.
Hitchcock's films are classics. Here's just one collection of his works.
The Alfred Hitchcock Collection: The Best of Hitchcock, Vol. 1 (Psycho / Rear Window / Shadow of a Doubt / The Man Who Knew Too Much (1956) / Rope / Topaz / Family Plot / Alfred Hitchcock Presents Vol. 2)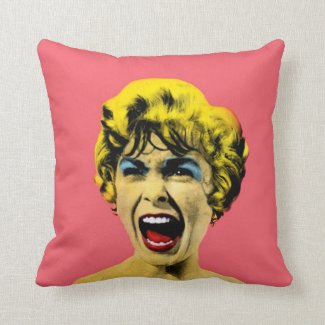 Psycho Pillow by Reservoircats
See here, there are more customizable Pillows