These artists let it all hang out. The work is anatomically familiar. It represents our internal organs often used as a metaphor for something greater. Some of the pieces are more literal. As in other posts, the artists aren't limited to any specific themes in their work, but this is one

motif where they've all found some form of expression.
Artists create their pieces in a multitude of media. Molly Uravitch works in ceramics.

(left
)
Annette Messager: "Inflating-Deflating consists of around thirty elements, mingled internal and external human body parts: arms, lungs, foot, stomach, organs, etc. all made of painted parachute fabric.
"Here our body is isolated in fragments, which mix and go through each other: the brain meets a breast, which is friends with a stomach, which in turns brushes against entrails. There is an interweaving of the inside and the outside, jungle of skin, organs, fluids and immersed body parts.
"
(image from
ArtNews
)
London Jewelry Week June 2008 saw a model in the Swarovski fashion show decked out in a bodysuit featuring sparkly stylized versions of the body's organs.
Artists mentioned earlier in this blog delve into the world of that which is typically left unseen.
Ela Bauer's jewelry features the use of some unconventional materials and forms that evoke images of what's beneath the surface. Some of Sandra Ono's sculptural pieces utilize acrylic fingernails to create that aura of something organic.
Psychiatrist Karen Norberg in Cambridge, MA knitted an anatomically correct model of the human brain
using 100 percent cotton yarn. The woolen brain is nine inches at its longest not including the spinal cord at the base.
From The Telegraph: "It was a labor of love. For me, there were two humorous aspects. One was simply to undertake such a ridiculously complex, time-consuming project for no practical reason.
"The second was the idea of making a somewhat mysterious and difficult object - a brain - out of a cuddly, cheerfully colored, familiar material like cotton yarn."
The Jacobs Gallery (Eugene OR) 2009 Mayor's Art Show Best of Show Award went to Marjorie Taylor's textile piece, Warm Glow or fabric MRI: Bill's Brain.

A wearble sculpture by German artist, Sindy Butz is titled Butterflies in the stomach. The piece utilizes glass, metal, zipper slides and may be manipulated.
Word is that small-scale pieces of artwork are hot in interior design right now.
At Skin Bag, you can get those little organ purses you've all but given up searching for.

(image below)



GIANTmicrobes are stuffed animals that look like tiny microbes. Sections include Maladies, Venereals, Menageries and Infirmaries

.

A White Blood Cell is available as a plush doll in two sizes or in miniature form in a petrie dish.
Feel that grumbling and gurgling inside telling you to get something like this for your very own?
Women's Sourpuss See Through Me Dress
has an anatomy theme with bones and anatomical hearts. Sourpuss dresses have fun prints and different styles. They get good customer reviews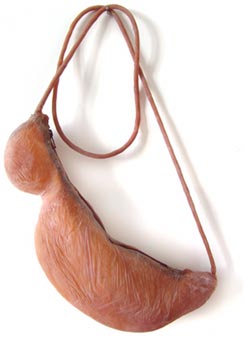 Anatomical heart necklaces
come in different metals, materials, sizes and prices. Nice gift idea for the medical student or the writer in the family.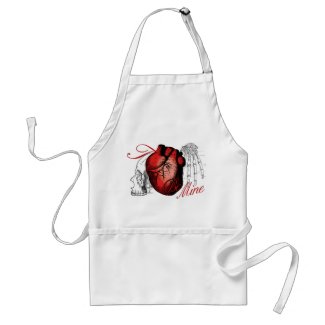 Gothic Heart Be Mine Apron
by
opheliasart
See more
aprons
from zazzle.com.
Kate & Anna McGarrigle's chemical love song,
Nacl [Sodium Chloride]
is available for download in MP3 format on Amazon.com.
"
...
Then unsuspecting chlorine felt a magnetic pull
. She looked down and her outside shell was full! Sodium cried 'What a gas, be my bride, and I'll change your name from chlorine to chloride!'"
Ah, love.
If you want to participate and learn even more check out this traveling show. The Grossology Museum Tour may be coming to a location near you.