We
heart
art and crafts. The art world isn't squeamish about showing off the
inner workings of what makes them tick. Illustrators have been working in the art of medicine since at least the time of Leonardo da Vinci's
Anatomical Drawing of Hearts and Blood Vessels
.
You may have heard about the Slow Food movement. A Smart Art movement is bubbling up as well. There are puzzles, plush toys and a lot more that are totally or partly for the purposes of teaching. They help us learn about the workings of, in this case, the human heart.
Heartland, The California Museum of the Heart
in Rancho Mirage is an interactive voyage towards heart health. You can actually walk through a large-scale model of the heart. This includes a textured wall which shows components of human blood. By touching a button, visitors can light up the various cells and hear about their form and fucntion.
Artists and crafters are inspired by this human organ perhaps above all due to the vital role it plays in the body and its symbolic significance.
Lyndie Dourthe's Boutique
is in France, and it has an online presence as well. Among the items available are intricately
sewn anatomies
, including eyes, ears, an open mouth complete with tongue and teeth and an assortment of hearts.
Are you homeschooling your kids or running a daycare facility? Maybe you'd like to help out a teacher. There are budget friendly heart models available.
Human Anatomy - Heart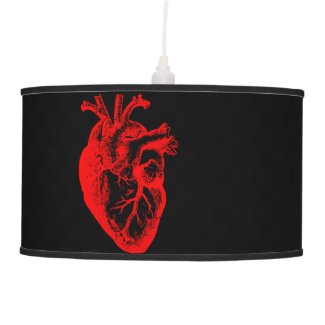 You can turn on your own heart light with a big-hearted designer's shade
I love / I heart heart anatomy Hanging Pendant Lamps
(above) or start from scratch on your own.

Would you could you if you could use heart-shaped soap, chocolate molds??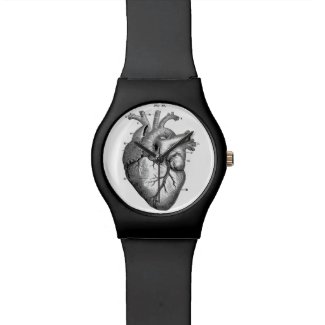 Anatomical Heart Watch Sleek
has many options on style and color
For Heart Health awareness
by ManhattanDaisyDesign
View additional Wristwatches
You can get your company logo imprinted on them and hand them out at your next event. Just picture it -- you're on edge, time is short, fingers are aching from too much keyboarding. You end up squeezing a ball that's in the shape of a human heart in your fist. Memorable.


I Heart Guts is "the brainchild of an anatomically obsessed illustrator who loves internal organs and all they do."