Sandra Ono, Amy Orr, Sally Heller, Nela Ochoa, Enrica Borghi, Laurel Roth, Jose Antonio Hernandez-Diez, Fabienne Laserre, Daniella Dooling and Andrea Vadner Kooij are among the artists who've been known to include this atypical medium to create their artwork.
Make tight fists and squeeze. Stretch your fingers. Repeat. Aaaaah. Look down at your hands. You may be wearing them right now! I'm talking about fingernails. Fake acrylic fingernails.
Sally Heller's pin-up girls originate from 1950s images. She also has a series of portraits of women created from painted false fingernails. These allude to pop art.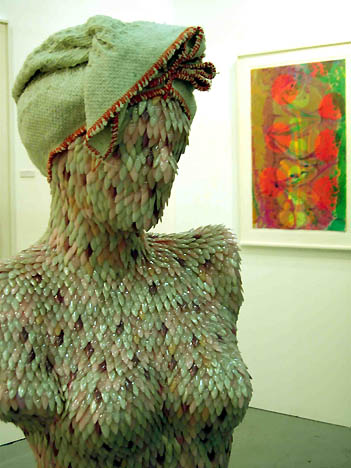 Enrica Borghi's artistic quest focuses on the use of salvaged materials obtained from what is conventionally regarded as

the women's universe

.
In 1995, at Alberto Peola Gallery in Turin, Borghi presented a collection of

Venus

busts, statues of classical tradition, clad with false nails, feathers or embellished with hair curlers and press studs.
Laurel Roth's Peacocks are adorned with rich, multi-colored plumage made of dime store beauty accents. Hair clips and false nails, heavily covered in nail polish, have the dynamism and vitality of a peacock's feathers.
Artist YaYa Chou, who is known for using unusual items in her work, incorporated false fingernails into her Gummi Bear Rug.
Kasey Cargill had fingernail art featured in a university art gallery in 2008. She said that she'd "steered clear of conventionality and created a series of work that's done entirely on fake fingernails. Attendees are handed magnifying glasses at the door, helping visitors to better see the tiny pieces."
Some of John Moore's lovely anodised aluminium jewelry pieces have been said to be reminiscent of the curve and shape of the nail.
At the top of the page, Jin Yu, a nail technician in South China's Nanjing city, created a 2008 Olympic-themed creation featured the Fuwa mascots, the emblem of the Beijing Games. Jin used more than 28,000 fake fingernails for the image, 3.7m long and 3.1m wide.
Want some clawful gloves? High-end designers such as Dominic Jones has leather gloves with nails. There are times when we just want to show our claws. For a more budget friendly fun pair, be they for a costume, a special date or not, try a pair of stylish black gloves with silver nails. Meow!

Maybe you're thinking costume, Wolverine or Freddy Kreuger? Or it's time for a Cosplay, Anime or Furry convention? Consider a DIY project ahead of time.
Do you want to be Catwoman or another feline come to life? You can find some children's mittens and gloves with little claws. So cute.
Daniella Dooling's work reminds us that "Enhancements to what's natural about our bodies constrict us and perhaps we feel not good enough naturally. Our culture can be insanely obsessed with its image and how it's presented to others." She participated in the

Dangerous Beauty

exhibition at New York's Chelsea Art Museum where one of her photos depicted a straightjacket made up of hundreds of fake plastic fingernails.
Sandra Ono uses inorganic and utilitarian products that are intended to be in close contact with the body -- materials like balloons, acrylic fingernails and Band-Aids -- to make sculptures that straddle the line between beautiful and grotesque.
Ono's work is somewhat in the same realm as that of Mitra Fabian, which I talked about in my Tape Art post in May.
False fingernails don't limit themselves to visual arts. The artist, Linda Ganjian has created Hand Dances. "Each dance is a microcosm of a production: the costumes are sculptural fake fingernails; the audio element is music or found noises; the set is carefully selected locations in the home; and the performer is the artist's hands."
In the song

Nine to Five

, Dolly Parton is said to have used her acrylic fingernails as an actual musical instrument that's credited on the CD notes.
Do you use fire in your process? Are you into lampwork, etc.? This is for those rare times when you do NOT want to include nails in your artwork.

A warning

from The Carlisle School of Glass Art: "Clothing -Long sleeves and long pants are the safest. Preferably natural fiber, synthetics melt. False fingernails are Synthetic, They will IGNITE!!! NOT RECOMMENDED FOR BEADMAKING!!!" Good idea to check on this if you're unsure.
So don't be afraid to go outside the box when looking for items to use in creating your art. And maybe consider smashing the box itself and using the pieces to make something fabulous!
Since someone out there is probably wondering: Artificial nails were first developed fin the 1930s for use in Hollywood films and photography. They were however, incredibly false-looking at this point. When Jean Harlow appeared on screen with long red nails they were seen as very glamorous and many women tried to emulate this look.

Red nails remained the height of fashion well into the 1950's. The 1950's manicure required a very steady hand because it involved painting the lower half of the nail red, but leaving the half moon section free of polish.
Nothing to do with art or craft but the Dr. Oz program had a quick and surprising mention of false fingernails in November 2009 in a segment on supermarket safety.