Are you giving an iPad as a gift this Christmas? Do you have a new one or know someone who's all excited about their iPad?! I hear that Oprah adores hers.
I know that when I got my iPhone I got a case for it the same day. I wanted to keep it as protected as possible.
Zebra iPad Folio Case
There are so many cases available now for the iPad. You don't have to limit yourself to one. Is there a holiday case for this time of year? Each bridesmaid has a case at wedding-time? Wow!
Wrap one up as a Secret Santa gift. Hide a fancy, funny, funky new iPad case under someone's plate at Christmas dinner? Have you seen some of these things? :)
For animal lovers there's no end to the choice cases. Silly, sentimental, naughty or nice, designers are coming up with the most clever things.
Pandas are so cute and
penguins cannot be beat
. These are just a tiny sampling of the animals represented on cool designer iPad cases. I can't help but bring in one for the 2010 World Series Champs, the San Francisco Giants.
Fear the Beard!
They were also the 2012 World Series Champs in a Big Sweep!
Head over to Zazzle where the iPad cases are more than abundant and you can find the
Ghostly Crooked Gargoyle
!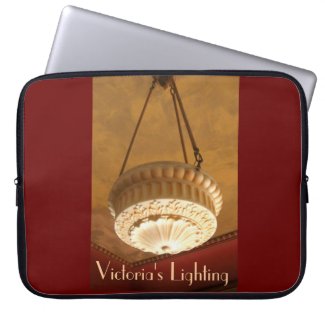 1900s Craftsman House light fixture Computer Sleeve
Create your own from scratch online at zazzle
If lovely old
Victorian/Craftsman Milk Glass pendant
lights aren't your style, perhaps you're going through a rough patch. Or you'd check in to take a peek at The Back Side of Him (A detail of a statue). Special people require special individualized iPad cases.
Zazzle allows you to personalize your cases. Say what you want, identify yours if you're getting more than one for your group. The cases at Zazzle are both protective and chic. Make it loverly.
Finally don't forget as many of us are traveling to see relatives this time of year, between the stress of the flying & airports and the family drama, we're visiting because we need to stay in touch. (Sometimes it can be a little lonely without the nuts.)
Many of these are available as iPhone covers. Your friends may see them and want one, too!