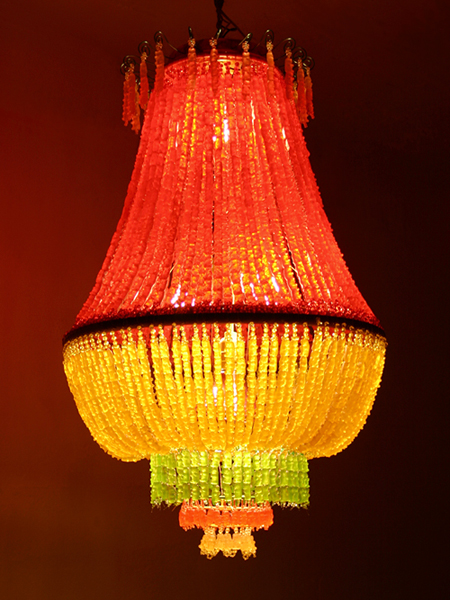 If you're a fan of Gummies, you know it. No one has to tell you.
Actual chocolate-covered Gummi Bears sound good? Milk Chocolate Covered Gummy Bears (1 Pound Bag)
Yum!
Back in early June, I covered the opening of a Palo Alto, CA art show where I saw some Gummi Bear paintings done by the artist, Jeanne Vadeboncoeur. Little did I know at the time the important role that candy, and specifically Gummi Bears played in the art world. Sticky subject, indeed.
If you've always wondered what's inside a Gummi, but didn't know who to ask, Jason Freeny of Moist Productions is here to make it scientifically clear with the Gummi Anatomie chart.
Maybe the most prolific artist I've found who incorporates Gummi Bears themselves into a series of impressive variety of sculpture is YaYa Chou. She has a Gummi Bear Rug and her

Gummi Chandelier

(above)

is from 2005.
From her statement: "In this series, I explored the relationship between food consumption and class. The bright colors and soft texture of children's snacks construct a romantic scenario which draws my attention to the dangerous ingredient behind them.
"By rearranging the embellished snacks in the forms of luxury commodity, I wish to pose the questions: Who consume these foods? Who has the choice to choose?"
The William Castle movie The Tingler with Vincent Price was released on July 29, 1959. If you're having a viewing party, consider a giant gummy worm as a substitute Tingler! William Castle would have been 100 in 2014, his birthday was April 24, 1914.
There's also a version for lighter shirts:
Gummy products have taken over our fashion, accessories and our homes. Where did it start? Nightlights? Greeting cards? Those tiny but addictive earrings? Who knows. They're here to stay.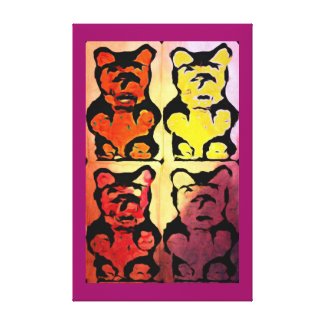 Gum Me? Canvas Print by straightarrows
Choose not only size & frame type but
Customize the number of panels and effects you'd like.
View more Gummy candy Canvas Prints at zazzle.com
Looking for a big, clean Gummi that'll come in handy after all your art exploring is through, something that smells as sweet as it looks? Gummygoods' Gummy Bear Soap.
World's Largest Gummi Bear cherry: 4.5 LBS
World's Largest Gummi Bears, Bigger than a football? Yes, it is. Multiple Colors and Flavors available
Yellow Gummy Bear Posters by bewarethecheese
Is it Gummy Bear Cheese on the Moon? Lunar Gummi?
View another fine art print at zazzle
Zazzle's t shirt designer use your own designs/photos