Golden Age Movie Quiz
Questions part two of two
It was the roaring twenties. Movies were silent and still pretty much of a
novelty. Twenties Hollywood had its share of gossip and scandal as well as glitz and glamor. Here are more questions from the Twenties and the Thirties to test what you know about the stars of classic movies, the movie stars' names and movie studios.
This is the era of Jazz, the flappers and vamps, great screen lovers and swashbucklers. For some questions I've placed the exact year it was asked. All are from 1920-1939.
Also Known As:
12) Who are the following: The Best Loved Boy on the Screen,
America's Sweetheart and The Lady of the Peacocks?
13) What is the real name of actress Arline Pretty?
14) What motion picture star's real name is Juliet Shelby?
15) Which two Valentino successors are these Luis Alonzo? Alfred de Biraben?
16) What Black Bottom dance expert first strutted as Lucille Le Sueur?
17) Anita Dooley is a villainous vamp. What's her reel name?
18) Who are Jack Krantz and Jack Crane?
19) What American is known in England as Walter Terry
20) Whose wife is Augusta Appel?
21) This is almost too easy. Who is Gladys Smith?
22) What aristocratic surname does Lucille Langhanke use?
23) Three girls have the same screen surname Sylvester Mazetti uses. Do you know what this is?
24) Whose nickname is Slug? (1932)
25) For whom does Douglas Fairbanks Jr have the nickname Billie?
26) Who was the first screen vampire? (1920)
27) What Hollywood he-mannikin started life as Lewis Joseph Cote?
28) Name the most famous horse in pictures? (1920)
29)
How many times did actress Carole Lombard marry a man named William?
News and Gossip
All were asked in 1934 unless stated otherwise.
30) The mother of what movie player asked the police to search for her daughter who had disappeared for several days?

31) Which feminine motion picture star has the smallest waist in Hollywood?
Get out your favorite corset, bullet bra and shoulder pads for that party. It's the latest thing in underthings.
32) Why has the popular Barbara Stanwyck retired temporarily from motion picture work?
33) Who are the two handsome screen heroes who almost came to blows over a blonde movie queen?
34) Which former screen star committed suicide in a fit of despondency over his failure to obtain motion picture work?
35)
Name the actress selected the most beautiful Technicolor subject for 1937 by the International Color Camera Club.
The History and Science of Color Film: From Isaac Newton to the Coen Brothers
36) Who is the screen crooner who asked to have the no-marriage clause taken out of his contract with his producing company?
37) Who did Universal Studio pay more than 40,000 for learning to speak English? (1938)
38)
Who has been seen with Herbert Marshall since his wife Edna Best went back to England?
39) This actress has a phobia about stairs. Her latest script is being rewritten for her so she won't have to work on them.
(1938)
40) This star was forbidden by her studio to be seen in public before the release of her first picture (1938)
41)
Most people regard the number 13 as bad luck. This actress not only considers the number thirteen her good luck number but has the number on her license plates.
42)
Birds, particularly with flapping wings irritate this actress frightfully. To see or hear those wings flap almost drives her insane. This fear springs from a bad scare she had as a young child. Who is she? (1930)
** A page to print out questions with the answers will be available. Hand out the quiz at your Oscar party, during a long car trip, your movie themed baby shower, at your next movie party. Please be kind and rewind. Great conversation starter.
Related Pages of Interest:
Part One of this Quiz: Questions 1 - 11
Movie Quiz Answers
The Impact of Rudolph Valentino
Scenes removed by censors in the early days of censorship; just what lines and images were they removing?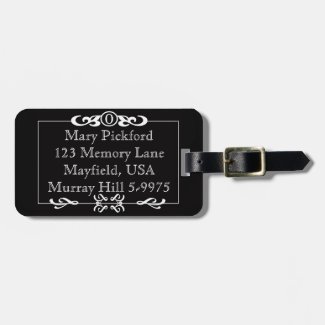 Customizable Silent Movie Luggage Tag
Attending a festival or screening?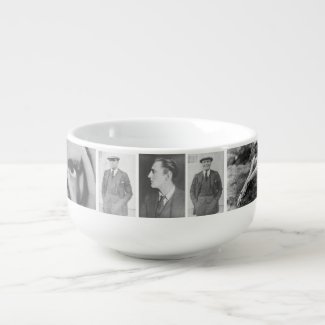 Classic Movie Soup Bowl, Popcorn, Ice Cream Ice Cream, Snacks Mug
Classic early image of actors John Barrymore. Theda Bara,
Louise Glaum, Pauline Frederick, Antonio Moreno,

Douglas Fairbanks (publicity photos taken on Fairbanks' 1918 trip selling war bonds. Also on that trip was Charles Chaplin and Mary Pickford)