Ten of the Greatest Stunt Women of the Early 20th Century
"You can imagine my feelings as the train came rushing toward me. I had to
Helen Gibson
has arrived
calculate the moment of my leap to the fraction of a second, for a miscalculation would send me between the cars of the train.
"When the right moment came, I flew from the station and landed squarely atop the train. I had calculated the jump correctly but the sudden shock of landing on a speeding train was greater than I had imagined and before I had secured a grip on the slippery car-top I had rolled to the end of the car."... And then, and then??

[Helen Gibson's quote to be continued.]
Most of these women were actresses, not only stunt doubles. Their careers may have started earlier and continued for quite a while after 1920. Some held even more jobs. Cleo Madison was an early woman director. Helen Gibson and Helen Holmes would go on to direct and produce.
From the look of it, when these stunt women got to wear pants and not 'long' dresses or flat-heeled shoes that was a luxury. A book could be, and in some cases has been written on each of these ladies.
Many of them appeared in silent film serials. These were short subjects that you'd see in chapters. Each would end in some type of cliffhanger -- there might have been someone literally left hanging on the edge of a cliff.
You could be brought up to date in your favorite magazine which might include images from each of the movies! Some of the some of the serials chapters built upon one another and some didn't. These films were made by many of the top film production companies of the day.
The movies, the storylines were made for turn-of-the-century audiences. These included women, some of whom were increasingly independent. Women were working in factories, offices, they had their own income and were spending it on leisure activities.
Here are just a
few of the many women who were performing stunts in movies 1910-1920. More in future posts. Hear some of their own words, their own experiences, learn the history of film and film making. Info on Actresses who did their own stunts, Lillian Gish in Way Down East included below.
1) Helen Gibson
Quote continued from introduction:
"....The next second I felt would send me to eternity but just as half my body had fallen between the cars, I secured a firm grip on one of the small air transoms that you see at the top of the car. In what seemed like a terribly long time was really only a minute the train was brought to a stop.
"The director was running about half crazy by the time and the camera man told me that it was sheer force of habit that kept him turning the crank for his wits had completely deserted him. We certainly were fortunate for the camera got it all. ...

"It is a rather weird coincidence that in my career as the Hazardous Helen there have been just eight occasions when I really did come within a fraction of an inch of losing my life. But I am not afraid; I am just going to keep carrying out the actions of thrilling scenarios. Only I hope the ninth narrow escape is a long way off." -- Helen Gibson, a.k.a. The Girl with Nine Lives 1916
Helen Gibson retired from the screen and lived to age 85.
2) Helen Holmes

a.k.a. The Railroad Girl
Helen Holmes 1916
The adventure film serial The Hazards of Helen a Kalem Studios serial that would run for over 100 episodes first appeared in 1914. Helen Holmes played the lead character. The first films were directed by
J.P. McGowan who would
Helen Holmes
climbing
Diamond Runners
become Holmes' husband. Holmes became a sensation and the pair left Kalem, producing their own films.
"Numberless times Miss Holmes has jumped from trestles to fast moving trains below. This seemingly easy stunt is one of the most dangerous that is
undertaken in the production of railroad films. It is almost impossible to keep your footing once you land on the train.
"Helen Holmes generally manages to do it, but once she lost her balance and rolled off the car to the ground below. She continued falling until she had reached the bottom of a steep and dangerous decline and although she worked no longer that day, the next morning at the usual hour she reported to the studio."
Helen Holmes was not fooling around!
She held onto the wheels of a locomotive for three miles in 1916
while wearing a dress down to her ankles.
No special effects in those days.
Kalem Film Studio was founded in New York City in 1907 by George Kleine, Samuel Long and Frank J. Marion. The company was named for their initials K, L and M.
It was similar to Essanay Studios also named in 1907 by George K. Spoor and Gilbert M. Anderson ("S and A").

Helen Holmes left the series to make other movies. Stunt woman and trick rider Rose Wenger, the wife of western star Hoot Gibson would become the new star of the Hazards of Helen
after an interim of transition. Rose would

become known as Helen Gibson.
3) Marin Sais
Marin Sais
The Girl from Frisco
Marin Sais was an accomplished horsewoman. She was the wife of Jack Hoxie, "ace of the outdoor epics." Sais is known for a number of films including The Girl from Frisco, 15 chapters starring Marin Sais and True Boardman. The skilled equestrian found a place in early film.
"Woman's growing independence added to the rapid action of the outdoor west form the theme of Kalem's latest series of which announcement was made early this week."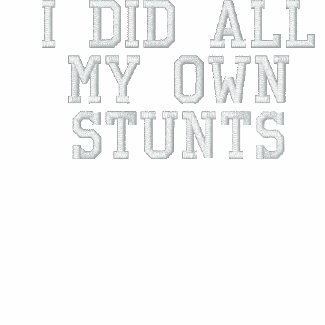 I did all my own stunts hoodie
:
Customize the text
Design your own
Jackets, custom shirts
at zazzle
4) Rhea Mitchell
Rhea Mitchell appeared in serials including The Diamond in the Sky. With some thirty chapters, this successful serial spawned the Sequel to The Diamond in the Sky. In 1919, WS Van Dyke directed the first million dollar deluxe serial thriller The Hawk's Trail with stars King Baggot and Rhea Mitchell. She worked in very early westerns with star W. S. Hart.
5) Olga Celeste

a.k.a. The Leopard Lady a.k.a. Princess Olga Celeste
Olga Celeste with a tiger 1916
"There is always danger in an animal act," she reminds us.

While she was working in movies in the 1910s, Olga Celeste had a decades-long career. She's well known for working as animal trainer behind the scenes of Bringing Up Baby in 1938 with Howard Hawks, Cary Grant and Katharine Hepburn.
"Working with animals in a picture drama is harder than in any exhibition or circus for the reason that the animals must really act for the films not just go through mechanical stunts rehearsed many times before, says the little trainer. Yes many of our animals are excellent actors. ...
"A leopard is much easier to train than a dog. Leopards are usually good actors. They are my favorites because they are never afraid. They will attack other animals even larger than they and they are not al all afraid to attack a trainer.
... "But we really are not afraid for one thought of fear would be instantly detected by the creatures almost before we were conscious of it ourselves. So we must eliminate all fear and nervousness. Close study and love for the animals helps us in this but the ability to command them is largely a gift. ....
"I love the animals those who are good because they try to please, those who are bad because they have so much spirit. And I guess that is after all the real secret to my influence over them. "
--
Olga Celeste, 1916 interview
She is quoted as saying "I'm not afraid of any animals .... except mice."
Anna Little
6) Anna Little
"Anna Little the black-haired beauty of western films has often taken her life in
her hands to provide excitement for the patrons of film theaters. In a recent picture The Valley Feud, she was in a cabin surrounded by enemies.
"Her object was to reach her horse stationed without and ride away to escape the men. Suddenly during a lull in the firing she burst from a window to her horse.
"The director to make the scene realistic had the mob of invaders fire real bullets so that the splintering of the wood would be noticed on the screen. Anna got away safely but to use her own expression, 'Never again!'
"More than one deadly leaden bullet came within an inch of her and the edge of the building was riddled."
In 1916, an article noted that her horse, Ranger had been badly injured on a journey and had to be shot. Anna was experiencing grief, but she was now working with a new pony and they were getting to be great friends.
7) Marie Walcamp
Marie Walcamp
The Red Glove
Marie Walcamp was in films such as Liberty, The Red Ace, The Moon Child and The Red Glove. She was called the Golden Haired Daredevil.

While filming The Red Glove, actor, "Alfred Allen was shot in the eye with a revolver and a blank cartridge.
For a time it was feared that he would lose the sight of his eye but the actor is now progressing satisfactorily."
-- 1919 article including Marie Welcamp
8) Pearl White

:: The Perils of Pauline, The Iron Claw...
"Here is another Pearl White stunt performed only to excite interest.
She was hoisted on a swaying girder
to the top of a skyscraper under construction."


-- 1918
"Pearl White refused to be doubled in a scene for the Pathé serial and as a result nearly lost her life. Sheldon Lewis the Iron Claw standing on the running board of a rapidly going automobile was to lift the girl into the car but Pearl fell beneath the wheels."
-- April 1916
"Pearl was filmed on flaming yachts, trapped in rising water in dungeons, jumping from trains, toppling into volcano cones, wing walking from one biplane to another, at the mercy of opium smokers in Chinatown.
"The lady performed her own feats until she became famous. Then Pathé felt she was too valuable to risk. A male double (with wig) executed most of the dangerous stunts in the later films."
-- The St. Petersburg Evening Independent 1959
She was driving a speeding bus that had been rigged with a bomb.... Oh no, that was someone else.
9) Cleo Madison,

Director, actress, stunt woman....
Cleo Madison
Trey o' Hearts
"For the purpose of injecting realism into the picture and the the specified
Cleo Madison in the raging river
business of the story might be carried out to the letter she allowed herself to be carried a half mile through the death-dealing rapids of the San Gabriel River.
"It was a task that would cause a strong man and a good swimmer to flinch but Miss Madison does not know the name of fear and it is not a question what her director Wilfred Lucas can prevail upon her to do but what he can prevail upon her not to do.
"The wasters of the San Gabriel river are icy cold. The channel of the river not only runs down a steep incline but the bed of the river is strews with boulders. Although she is not an expert swimmer she plunged into the cold water and piloted herself through the dangerous rapids without mishap. The result is one of the most convincing pieces of realism ever filmed."
Grace Cunard is another actress working as a stunt girl who would go on to direct.
10) Anita King
After a 72-foot drop the car is demolished but Anita King is OK



"The director had thoughtfully arranged a bounding platform to break the fall but he miscalculated. Miss King hit the bridge with tremendous speed, fire off into space. It seemed and struck the prepared platform with such force that the racing car bounced like a rubber ball and landed in the brush at the edge of the river below.
"The director and the camera man believed the intrepid little star had been killed and rushed to the scene. When they got there Miss King was smiling blithely at the wheel without a scratch. The force of the drop had snapped the spokes of the wheels like pipe stems but the pneumatic tires had taken the brunt of the fall and the brave little driver was uninjured."
-- The Spokesman-Review, Spokane, WA 1916
Florence rescues Norton from the railroad tracks
A favorite scene, Florence LaBadie in Million Dollar Mystery 1914. James Cruze was Jim Norton in this Thanhouser serial.
Actresses who did their own stunts:
Mabel Normand (the image of her motorcycle riding is famous). She had worked with Fatty Arbuckle and Charlie Chaplin. Some of the most thrilling early cinema stunt work done by men or women was seen in comedies. Check out early films of Harold Lloyd and Buster Keaton. It's hard to believe these people were working with real locomotives, not computer animation.
Lillian Gish and Gloria Swanson were among the many actresses who did some of their own stunt work.
Way Down East, Lillian Gish
1920 saw a landmark film, Way Down East directed by D.W. Griffith. The director had paid an unheard of $175,000 for screen rights to the melodrama. Mrs. Morgan Belmont was the first society woman to appear in a moving picture. In Way Down East she had taken stage name Diana Duncannon.
Some scenes had to be reshot with the stars sweltering in fur coats in the summertime in 90 degree heat working in fake snow. The film had its opening at the 44th Street Theater in New York City in early September 1920. In attendance were the cast members, the director, Lottie Blair Parker, author of the story. Also there were the gentlemen who first staged the play on Broadway years earlier. The film had so much applause that Griffith came out and spoke to the crowd.
Its climactic scene with Lillian Gish's character, Anna adrift on an ice flow nearing a waterfall is remembered to this day. There were some stunt doubles used in Way Down East, but from what I've found, Gish and Richard Barthelmess performed the scene themselves. It was set up by director, Griffith.
"How did Griffith do it? Crashing frumpling struggling like fighting beasts as they hurtled into each other the great cakes of ice swept on toward the falls. The ice jam had broken? And on one of the cakes, as yet barely caught in the swirl lay an unconscious girl, her yellow hair trailing in the icy water.
"Far behind, a frantic boy fought his way toward her. That was the situation that brought a big New York audience to its feet on the opening night of Way Down East, cheering madly as Dick Barthelmess caught Lillian Gish up in his arms and carried her to safety.
"Then the audience settled back, a bit ashamed of its own emotion and said, 'Right on the edge of the falls, weren't they? Oh but they couldn't have been! It would have been too dangerous. But -- well how do you suppose Griffith managed it??"'
Director D.W. Griffith preparing the ice flow for his film
Way Down East 1920
"I hope," she said, "that the snow scenes will be worth the sufferering they cost us. I don't think I ever experienced anything so severe as what we went through. Some days were so cold that the cameras froze."
-- Lillian Gish, Picturegoer magazine 1921
While they were safe in Griffith's movie, it wasn't always the case when filming winter movies. In Back to God's Country the original leading man, Ronald Byron died from exposure. Leading lady Ivy Close nearly lost her life while filming The Wheel when an avalanche struck.
Mary Astor was caught in a snowslide in the Canadian Rockies during the filming of Enticement a Thomas H Ince Production and narrowly escaped being buried in snow or hurled down the mountainside. Of course actors don't have to be filming snow scenes to be injured!
The Stanford Theatre in Palo Alto, CA has Silent Wednesdays. On October 8th, their schedule includes screenings from some rare serials:
The Son of Tarzan (1920), episode 5, Sunken Silver (1925), episode 9 and Daredevil Jack (1920), condensed. Both The Stanford Theatre and The Niles Essanay Silent Film Museum Theatres offer live music to accompany their silent films. Look to see what might be on a big screen near you.
** This is part of a series. Links to new entries will be added. Any significant changes/updates will be noted with dates. Please watch for announcements on Twitter.
Mabel Normand 1921 Motorcycle T-Shirt by Jakestuff
Check out other Mabel Normand T-Shirts at zazzle.com
Get your Gish on: Clothes, Gifts for your home, electronics, more
Related Books of Interest:
Women Filmmakers in Early Hollywood (Studies in Industry and Society)
The Girl from God's Country: Nell Shipman and the Silent Cinema
Serials and Series: A World Filmography, 1912-1956
You'll find many scholarly works devoted to the contribution by women (and minorities) to early cinema and to the arts in general. We are standing on their shoulders, as it's said.
Please check out bookstores and libraries regardless of your gender and enjoy finding out about the fascinating, funny and courageous people who worked in those early days.
Related Pages/Articles:
Dressing Male Stars: Rathbone, Gable and, uh, Dietrich.... They must have copies of their suits for their stand-ins and stunt doubles
10 women film producers of the early 20th century
Early 20th Century Women Movie Theater Owners, Managers, Exhibitors
Sources of images/quotes unless otherwise specified
Film Daily
1920
Motography
1914
Motion Picture
Magazine 1916
Moving Picture World
1916
Photoplay
Magazine 1914, 1916
Picture Play
1920
Picturegoer
1921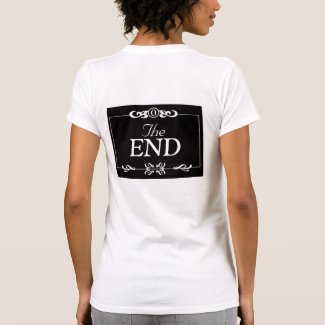 The End Silent Movie T-Shirt
by
StrangeLittleOnion
View more The end silent movie T-Shirts at
zazzle.com