Mr. & Mrs. Potato Head April 30
Celebrated 60th anniversary in 2013
How will you celebrate Mr. Potato Head Day this year? It's a fun April holiday that you can celebrate with the whole family. There's also National Potato Day August 19th.
"On April 30, 1952, Mr. Potato Head was the first toy advertised directly to children on television.
"In 1953, Mrs. Potato Head was added and soon after, Brother Spud and Sister Yam completed the Potato Head family." -- Mr. Potato Head Wiki So chip in and get them a gift. Maybe offer to sit for their tots and small fries so they can go out and celebrate? All eyes will be on them....
For 60 years of marriage, a diamond is the traditional anniversary gift. The Barbie Doll, Barbara Millicent Roberts, wouldn't make her debut until 1959, much less meet her dream man Ken, who came along in 1961.
Make a delicious potato salad? Go out for some fries? Dress like the Iconic Toy and Confuse a Crowd? Have Potato & Spoon races? They're very similar, but not quite as dangerous as Egg in the Spoon Races. Definitely Potato Sack races! If you used some old pillow cases no one would say anything.
Be sure to invite Cloris Leachman, Willie Nelson and Johnny Galecki from The Big Bang Theory to your party. All three have birthdays on April 30th.
Alice B. Toklas was born on April 30th, 1877.
Will you watch I Love You, Alice B. Toklas, the 1968 movie with Peter Sellers, Jo Van Fleet, Leigh Taylor-Young and David Arkin?
This 1970s commercial might have the best Mr. Potato Head costume ever?!

For dessert, there's a good excuse for having ice cream cones. The ice cream cone is reputed to have made its debut at the 1904 St. Louis World's Fair on April 30th, 1904.
An ice cream seller ran out of bowls and cleverly used rolled up waffles as edible bowls, instead. Do the Tater Tots ever phone and ask how he's doing? Do they ever take him out to dinner?
Need a Shopping List for yummy Potato Salad ingredients? Maybe you've got them in your pantry already?? There are so many recipe variations to be found online and in cookbooks.
Some very basic potato salad ingredients can be found here.
Add and subtract whatever you like.
Small Yukon Gold potatoes
Large hard boiled eggs
Drained capers
Mayonnaise
Dijon mustard
Chopped: Dill Pickle, Red Onion, Celery
Lemon Juice
Kosher Salt, Freshly ground black pepper
I hear Mr. Potato Head can now get a Senior Discount at Super Cuts and Banana Republic! Good for the little 'Tater Tots who depend on him.
Mr. Potato Head Celebrating 50 Years Of One Sweet Potato!
2002 : 50th Anniversary Publication
He came to life again in Disney's Toy Story movies decades later, where it was immortalized as a bona fide icon of the childhood toy box. Toy Story Mr. Potato Head
the movie, the potato himself.



The beloved spud gets the royal treatment in this special 50th anniversary kit, containing new and improved 50th anniversary facial parts, potato, and body, plus a wonderfully entertaining full-color book on the history of one of America's favorite playthings.
With enormous nostalgic appeal, this kit appeals to everyone from adults who owned a Mr. Potato Head kit in the 1950s to a new generation of youngsters drawn to a simple toy that encourages fun, imaginative play.
-- excerpt from description 5 Star Rating
Paul McCartney makes Mashed Potatoes - Really
Mashed Potato Time lyrics
excerpt, Dee Dee Sharp–
It's the latest, it's the greatest Mashed Potato, ya, ya, ya
A Mashed Potato started long time ago
With a guy named Sloppy Joe You'll find this dance is so cool to do
Come on baby, gonna teach it to you
Mashed Potato, feel it in your feet now Mashed Potato,
come on get the beat now Baby, come on honey, come on baby
And then they dance it through and through
They look for records they can do it to…
Paul McCartney walks you through the steps of making mashed potatoes
Though some think he was, Paul McCartney was not in the film
Cucumber Castle.
That movie featured the Bee Gees, Eric Clapton, Roger Daltrey, Donovan, Lulu, Marianne Faithful, Pat Coombs, Eleanor Bron, Mick Jagger along with Vincent Price. It would go well with the food/vegetable theme.
When I asked people for their
favorite mashed potato movie scenes
it was a toss up between a scene in
Animal House
with John Belushi and one in
Close Encounters of the Third Kind
with Richard Dreyfus.
In the movie Frenzy,
Alfred Hitchcock
used potato sacks to transport something other than potatoes.
Mr. Potato Head Costumes : T-Shirts Customize
Adult & Child Sizes
Mr. Potato Head Deluxe Toddler Child Costume
(Pictured) Includes foam overlay with attached ears, detachable eyes, nose, mustache, mouth, hat, eyes, nose and lips. Does not include pants, shirt, or shoes. This is an officially licensed Mr. Potato Head product.
Mr. Potato Head Classic Toddler Child Costume

Mr. Potato Head Adult Costume
Includes: Tunic and detachable male eyes, nose, moustache, mouth, female eyes, female nose, female lips and a hat. Does not include pants, shirt or shoes. Another officially licensed Mr. Potato Head costume.
Misfit Potato Head T Shirts
Do your own thing by
paintingmaniac
Misfit Potato Head Tshirts
Dad and daughter shirts? Family shirts?
Mr. and Mrs. Potato Head Holding Hands T Shirts
by
mrpotatohead
Retro Vintage Kitsch Texas Sized Potato Postcard Tshirts
by
curious_goods
More
Vintage T-Shirts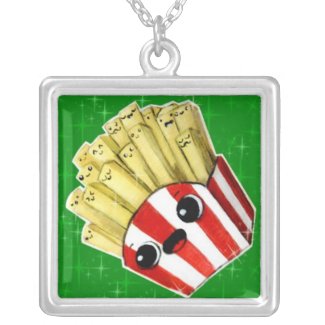 Cute French Fries Pendant
Make a
personalized photo pendant
at Zazzle. Choose size of pendant, style, color...
Mr. Potato Head Commercials, Toys, Nostalgia
A vintage Mr. and Mrs. Potato Head commercial
Mr. Potato Head play sets include his friends like Willy Burger and Mr. Ketchup Head. Are you an aspiring chef ready for Top Chef? On the TV show Perry Mason, District Attorney Hamilton Burger was played by William Talman.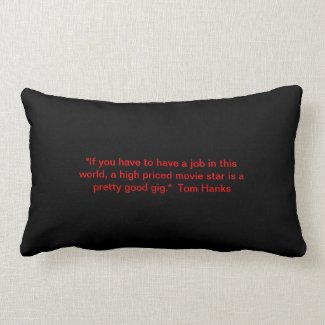 "If you have to have a job... " - Tom Hanks Throw Pillow
(customize, chg font style and size, chg line breaks if you'd like...) by
gwena2009
More
Large Pillows