Bring your team home for the holidays
Giants fans have a lot to celebrate this holiday season. Whether you're a fan of the NY Giants football team or the SF Giants baseball team, you and your team were winners in 2012! Look for your teams. 2012-2015 and beyond.
The New York Giants
won Super Bowl XLVI this past February, defeating the New England Patriots.
The San Francisco Giants won the 2014 World Series!!
They swept the 2012 World Series in Orange October, defeating the Detroit Tigers in four games.
Maybe you want to decorate your tree with a few Giants ornaments or devote a whole tree to the team. You can customize them, create photo ornaments.
Were you at the big game? Add pictures of yourself and your family! Add text, give the ornaments as favors and gifts. Several of the cards and even clothing items allow you to personalize. Just
"Customize it."
NFL New York Giants 2012 Super Bowl XLVI Championship Ornament
This is chrome-plated showing the two teams' helmets, the final score and the date of the game.This ornament is 6 1/2 inches tall. Get the trophy on your tree.
Having unusual colors, those other than the typical red, green, gold and silver are really refreshing at holiday-time and they show your personality, your true interests and style.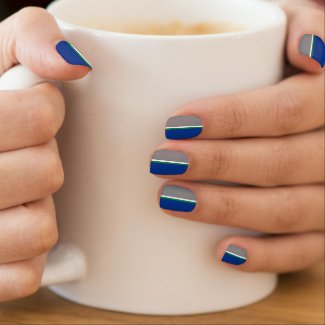 Football Blue, Silver, Green and White Minx ® Nail Wraps
Seattle Seahawks? What's your favorite team?
Many of the ornaments are not overtly holiday themed at all. Keep them out all year. They come in team colors. Keep them out for luck, as mementos, for decor in the man cave or living room.
Do you have more than one tree? Different decor for different rooms in the house? A sports themed tree would be fun for a game room or den where family and friends gather to watch the games.
Having an ornament making party before the holidays is a fun bonding experience and a good way to put some relaxing time in between all those things we feel like we have to do or should be doing. Use the team colors for something subtle or go all-out with the team mascot, the logo, football or baseball ornaments, ticket stubs!
Give the ornaments as favors or awards at holiday parties. We've heard of their being used at place settings around a table as favors. Personalize them with someone's name or favorite team?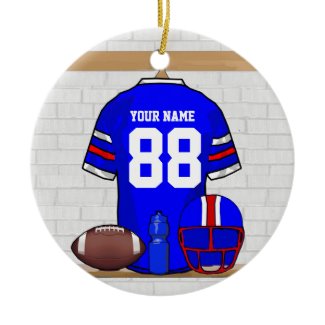 Personalized American Football Grid Iron jersey Ornament
Make your own
photo ornament
on zazzle.
Note that some of the ornaments allow photos, designs and text on both sides!
New York Tees
Make your own unique
custom t shirts no minimum
at Zazzle
The New York Giants Jingle Jam

Don't stop believing! A favorite sports fan song, for the Giants fans Christmas
Other Sports, Other Pages
Keep the sports lights, theme lights year round with hanging lights at home
Loudmouth Golf Pants, Shorts & Skirts
: Popular & Fun
Baby Golf: Custom Miniature Golf Invitations
Kids Motorcycle Jackets :
Baby Biker Jackets : DOT Helmets
See a
New England Patriot's Theme Christmas Tree on YouTube
Make some of your own ornaments, what are your team's colors?
Have a fun and happy holiday season