Five Tips for Photographin
g Children
Maybe you're compiling a photo album or making scrapbook pages, putting your annual holiday cards together. Are you taking photos to enlarge and frame as gifts for relatives? This is one of those times of year when we take even more photos than usual!
Whether it's on Thanksgiving day or a lazy day at home wrapping presents, you don't have to stress out worrying about getting
just the right photos!
Chances are the more you stress the more they will.
If they're getting dressed up for a special holiday card or calendar photo shoot, maybe photos with Santa, prepare ahead of time for a drama-free photo session. Think ahead about meals, naps, exercise, having the pictures taken in familiar surroundings. These tips are for any time you want to take photos.
Get a sweet expression
1) *
Get down to their level
. Focus on their eyes. Don't try to get the child to look right at you/the camera all the time and don't always look for a smile. A natural expression can be priceless. How many of us have photos of screaming or crying babies on Santa's lap?
2) *
Photo shoot props
: Make it fun. Props should include child friendly items. Little kids love to get inside things, a box, bathtub, washtub, laundry basket. How about something very fun like a big rocking boat,
a rocking motorcycle
or animal like a dinosaur??
*
Baby photography
can be some of the most fun. Traditional pictures include iconic family mementos, work and other items belonging to Mom & Dad.
Is Dad a member or the military or a fire fighter? Many heartwarming photos have been taken of tiny babies alongside a pair of army boots or fire fighter boots. Set Mom's stethoscope beside the sleeping baby?
3) *
Pictures of kids playing:
If your kids are running all over the place, try putting your camera in sports or action mode, if you're using the automatic settings. Is there a
burst
setting? Chances are your camera has something like this where you can capture fast-paced action.
4) *
Don't place your subject in the center
of every photo. You can control this either when you're taking the picture or maybe think about it when you're cropping it later.
What's the child looking at? This will be of interest later when you're looking through the photos.
5) * Wear a favorite piece of clothing,
carry a lovie/favorite toy. You may well keep your special shirts or onesies and pass them onto other babies to come. You'll want to remember that she looked so cute in that little shirt that said,
Candy Cane Princess!
or
Smart Girls Rock!
You don't want to be squinting in the years ahead as you look at photos trying to read what the shirt said because a flash hit the sparkles the wrong way.
When photographing sparkly things
, it can be best to shoot from a bit of an angle to avoid glare. Also check on which direction your light is coming from. Adjusting the light and/or using natural light will help.
If little ones want to dress up like Mom & Dad all the better! Maybe they want to show off a hobby. Take enough photos so you can choose the one that shows off your child, the scene you've set and what they're wearing the best. Because
What happens in preschool stays in preschool
?! :-)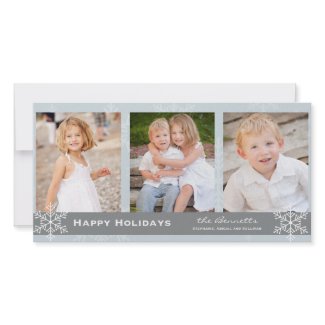 Blue and Grey Snowflake Holiday Photo Card Template
Add your own photos & text, choose from many other cards
Consider using vintage family photos alongside current ones
,
pictures of pets, too
Matching or complementary stamps are often available
Create your own picture card
on zazzle

Santa and other Christmas costumes, decorations for young and old
Trampoline & Santa Baby images from public domain pictures